Colorado offers some of the best backdrops for photographing fall color in the entire country!
In late September, early October, the areas around Telluride, Ridgway and Ouray come alive with shimmering golden aspens that sparkle against the jagged peaks of the San Juan Mountains.
My favorite scenic drives and historic byways will take you on an Autumn extravaganza like no other, filled with a tapestry of turning leaves bursting in brilliant yellows, oranges and reds!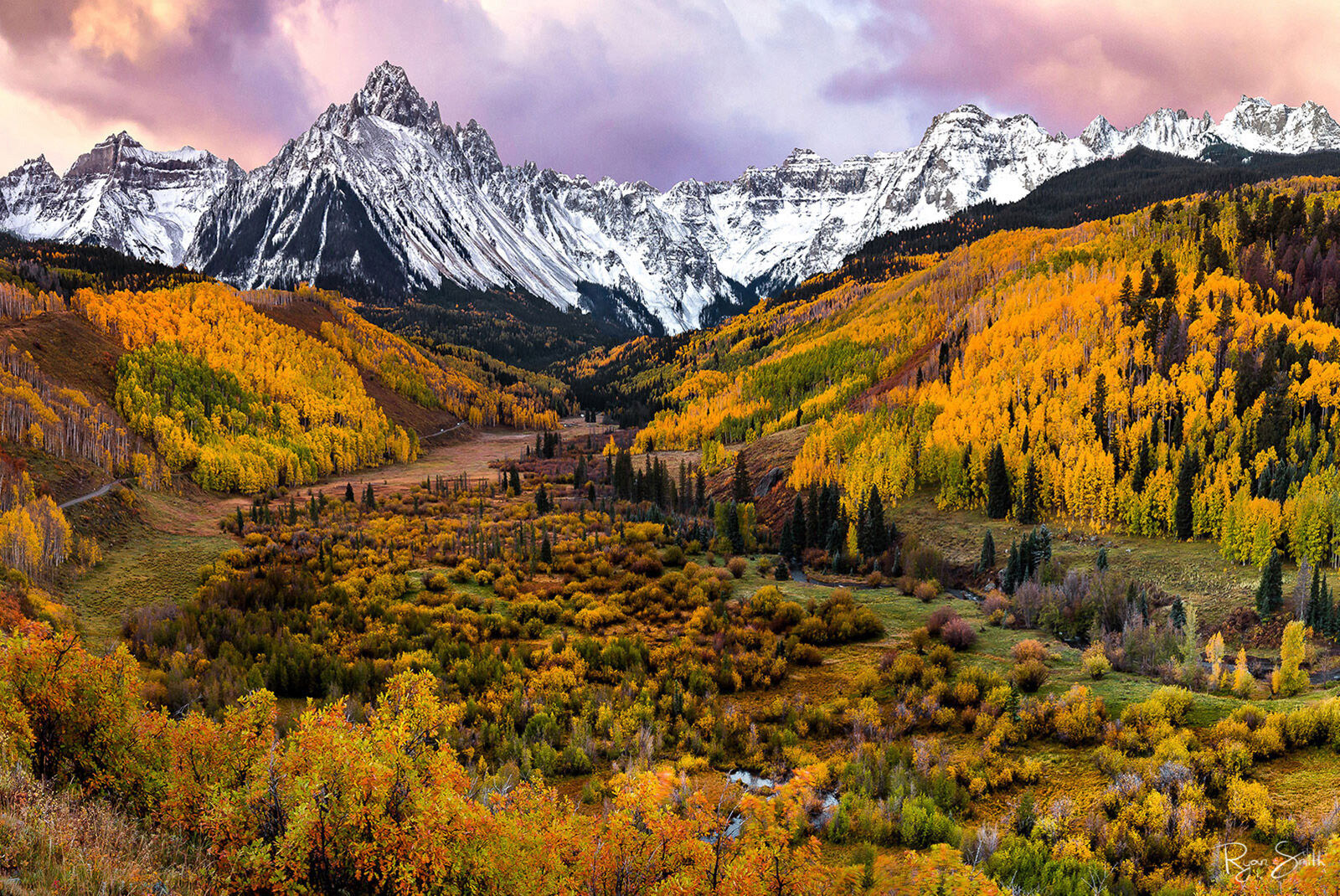 The stunning view are endless as this bumpy, hidden dirt road winds through a valley surrounded by jagged peaks and a tapestry of shimming leaves. With grand vistas, golden aspen trees and furry pines, you'll find yourself immersed in jaw-dropping scenery at every turn. Be sure not to miss the John Wayne ranch from the original "True Grit" western, or Wilson Peak, made famous by the label on Coors Beer
Last Dollar Road winds between Telluride and Ridgway, so you can begin hour journey at either end.
From Telluride: Take Colorado 145 west for approximately 5 miles where you will come to a turn-off for Last Dollar Road on the right.
From Ridgway: Follow Highway 62 west to the sign for Last Dollar Road. Turn left and continue left when you hit a fork in the road.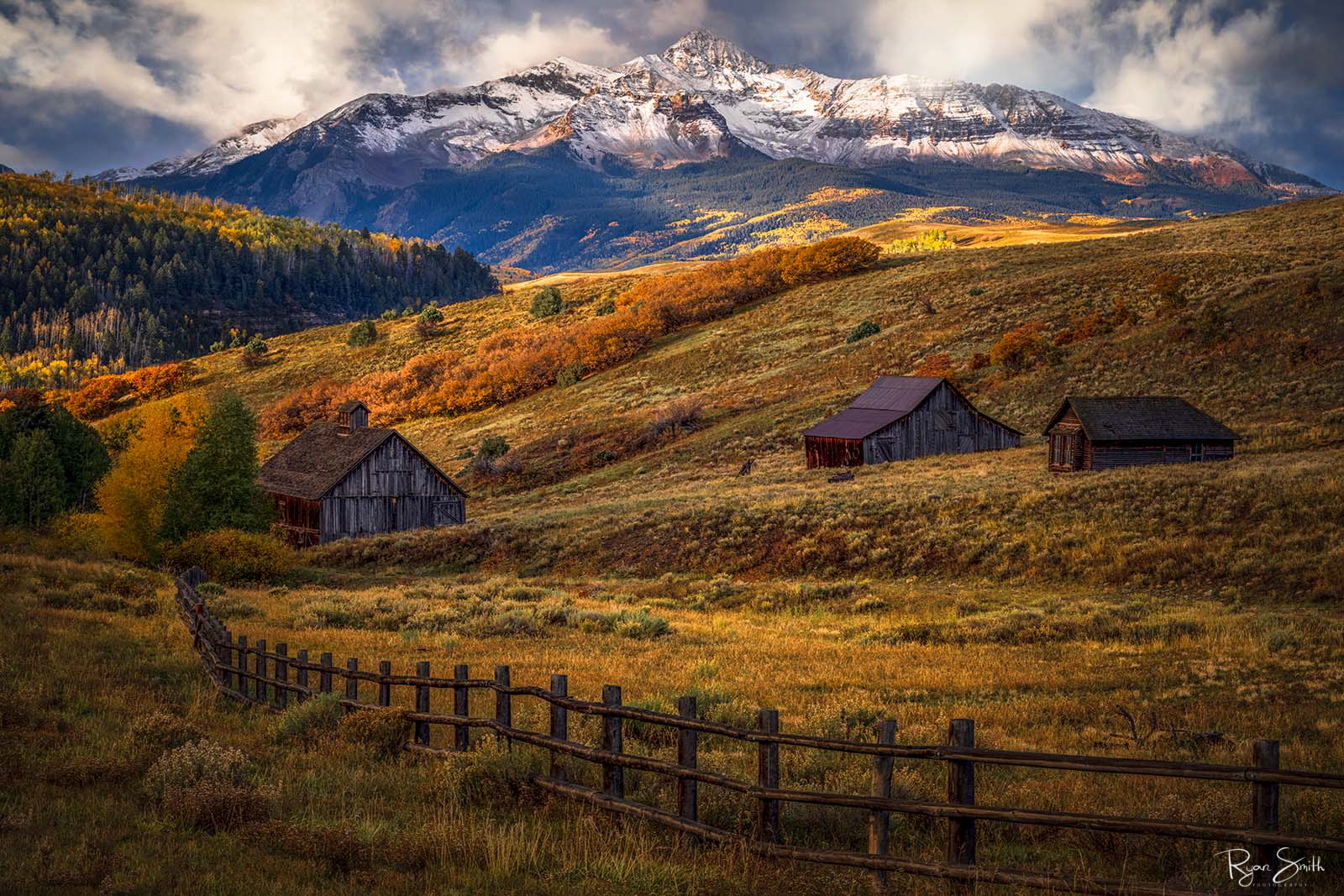 Historic Crystal Mill is one of the most photographed sites in Colorado. It's perilous perch above the Crystal River, surrounded by shimmering aspens and a backdrop of jagged peaks, gives this iconic location an undeniable aesthetic appeal.
Crystal Mill is located 6 miles east of Marble, near Crystal Ghost Town. The rough, one-lane, 4 wheel drive road is only open in the summer and fall months. The Mill can also be reached by foot, mountain bike, or guided Jeep tour.
From US Highway 50 at Gunnison, turn north onto Colorado Highway 135 to Crested Butte. From Crested Butte, take County Road 317 (Gothic Road) until you arrive at the trailhead for Schofield Pass Road.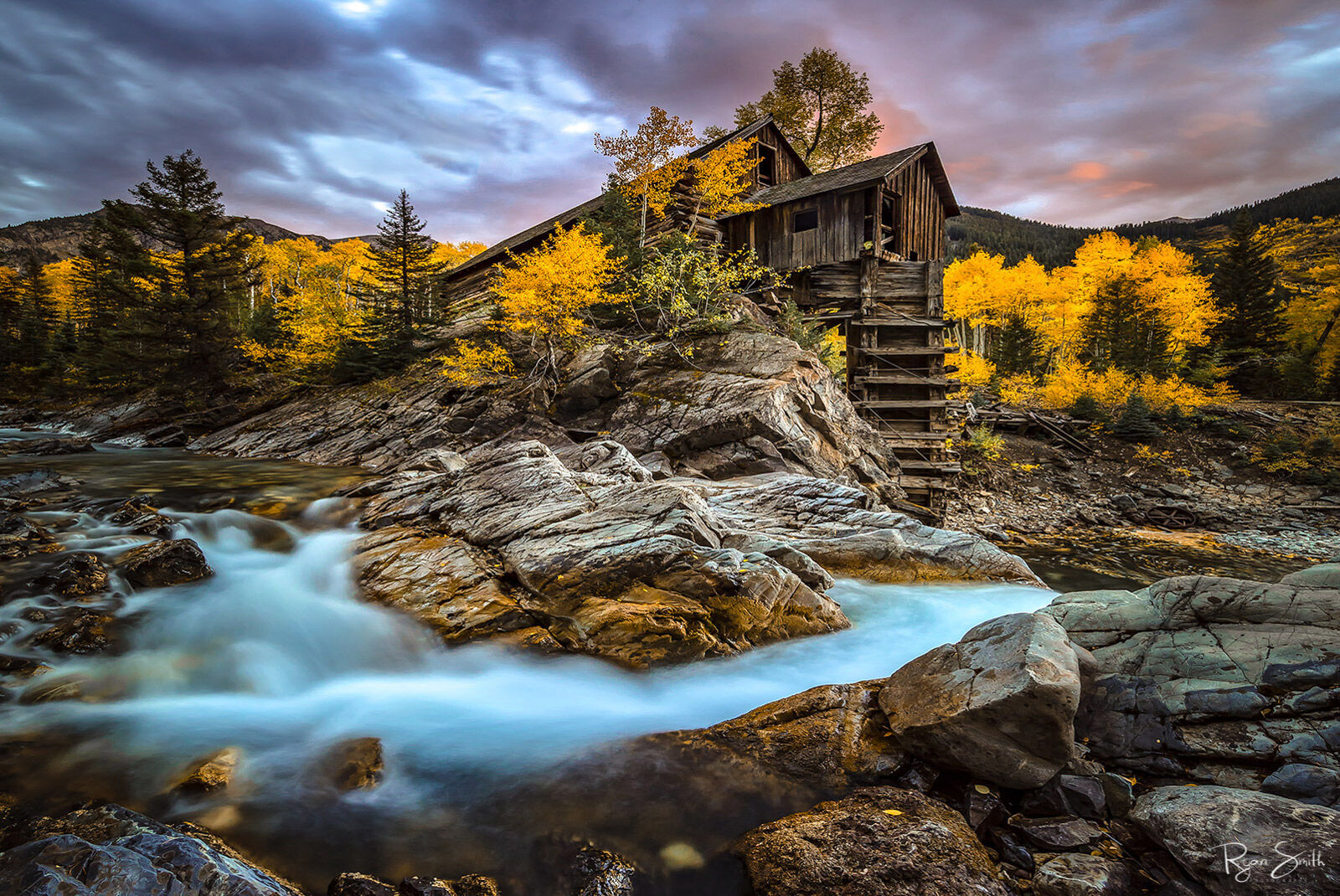 The Million Dollar Highway, part of the San Juan Skyway is considered one of the nation's most scenic drives, as well as one of the America's most dangerous roads. The highway delivers jaw-dropping views as it winds from Durango, through Silverton and Ouray, and on to Ridgway.
The San Juan Skyway makes a 232-mile loop as it passes through the towns of Ouray, Silverton, Durango, Cortez and Telluride. The 25 mile section of US Highway 550 from Silverton to Ouray is technically what gives the Million Dollar Highway it's name.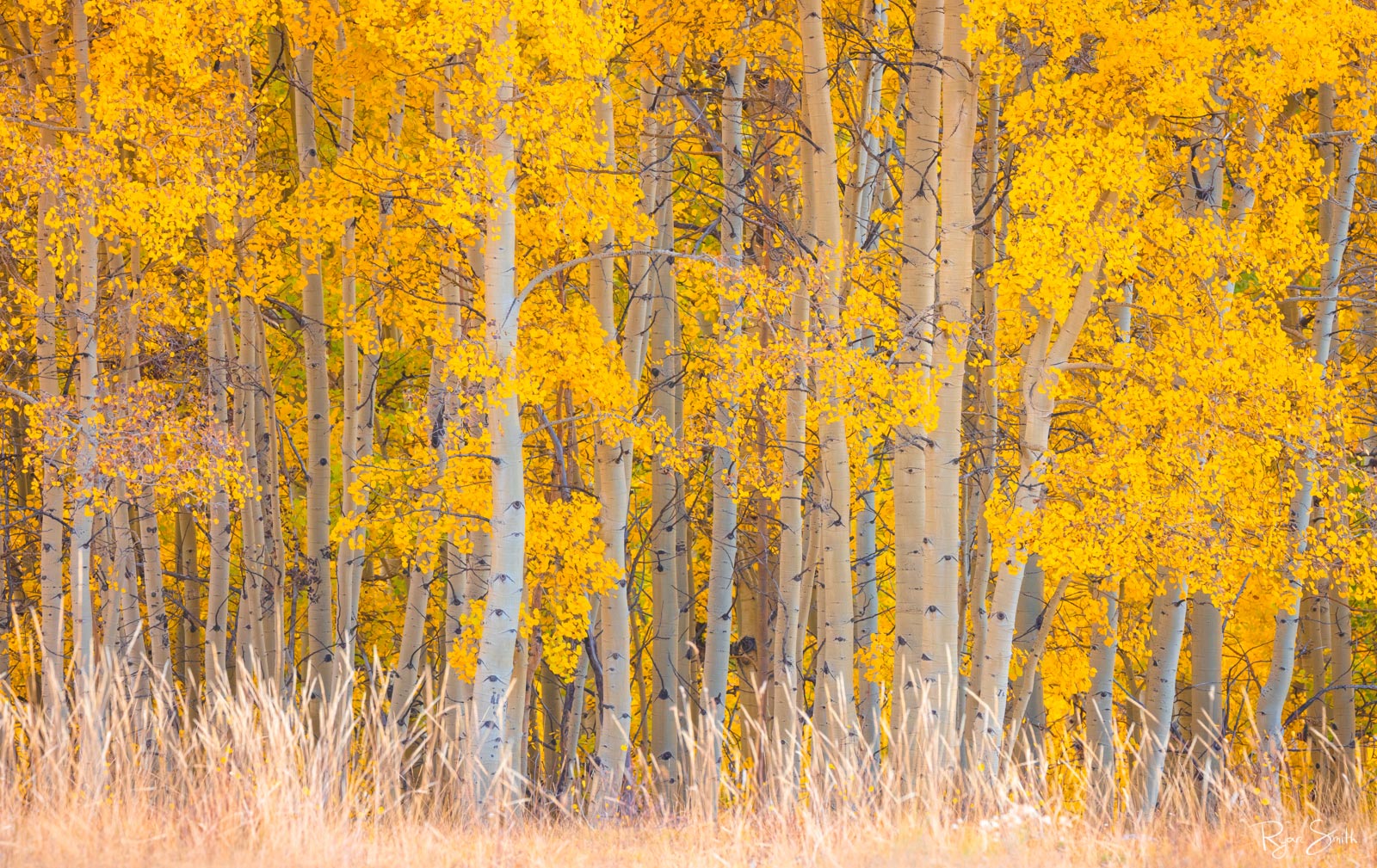 Beginning near Ridgway, this epic fall color drive offers a stunning view of Mt Sneffels and the vast Sneffels Wilderness Area, and is one of the premier locations to photograph fall colors in Colorado.
There is no official roadside sign, but the top of the pass is located near the Ouray-San Miguel county line. Dallas Divide serves as a geological division between the Uncompahgre Plateau and San Juan Mountains, and is often utilized to access the city of Telluride. Colorado Highway 62 eventually connects with Colorado Highway 45 and Lizard Head Pass offering views of Wilson Peak.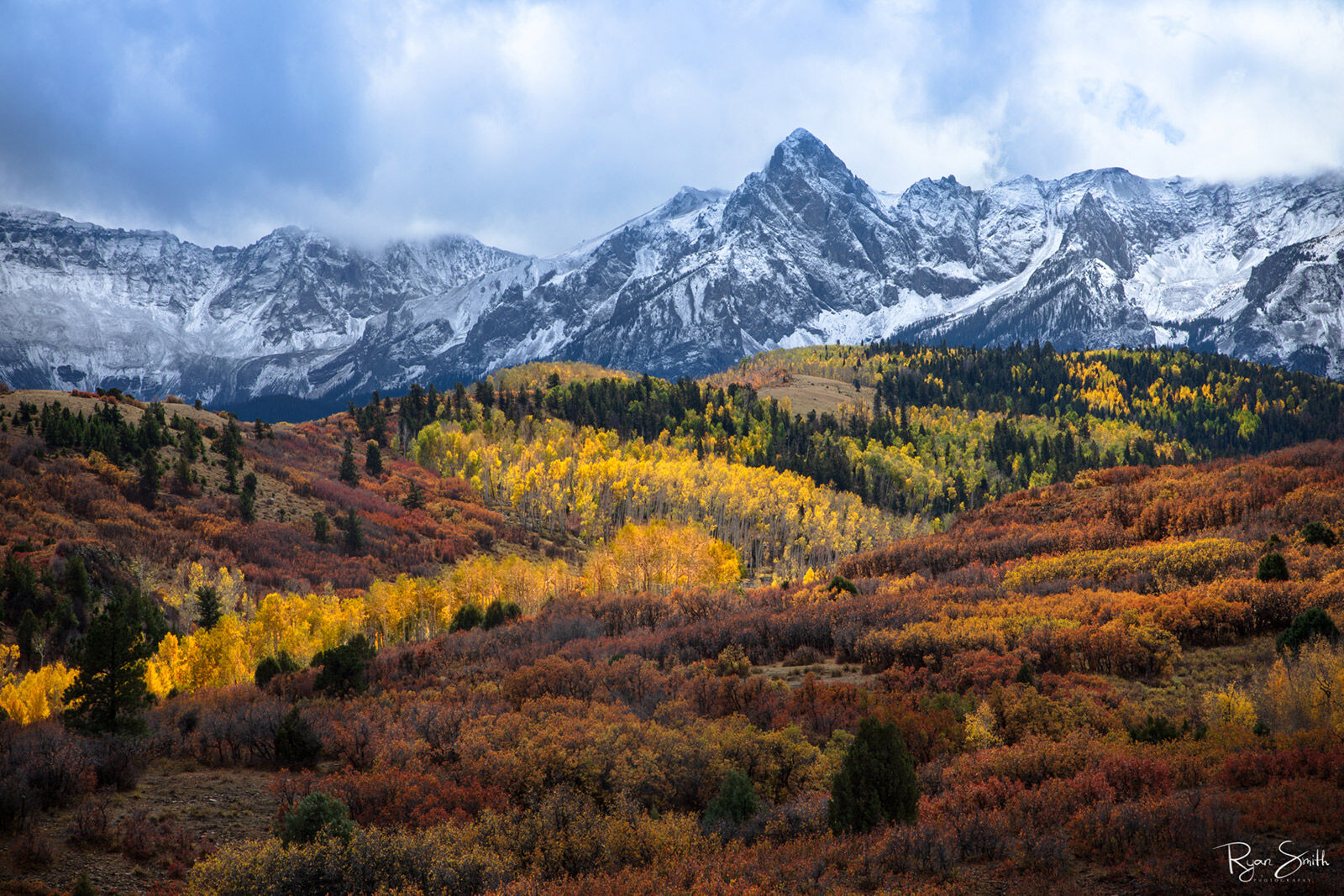 The shimmering aspens, colorful cottonwoods and scrub oak of the Ridgway area offer a tantalizing array of fall foliage. With snow covered, jagged peaks as a backdrop, this area is truly a photographers paradise and should be high on the list for your fall color photography tour.
County Road 5 starts at Amelia Street in Ridgway and heads south up to Miller Mesa. From there, it winds south and eventually becomes Forest Service Miller Mesa Road 852. The best views begin about 7.3 miles from the traffic light in Ridgway.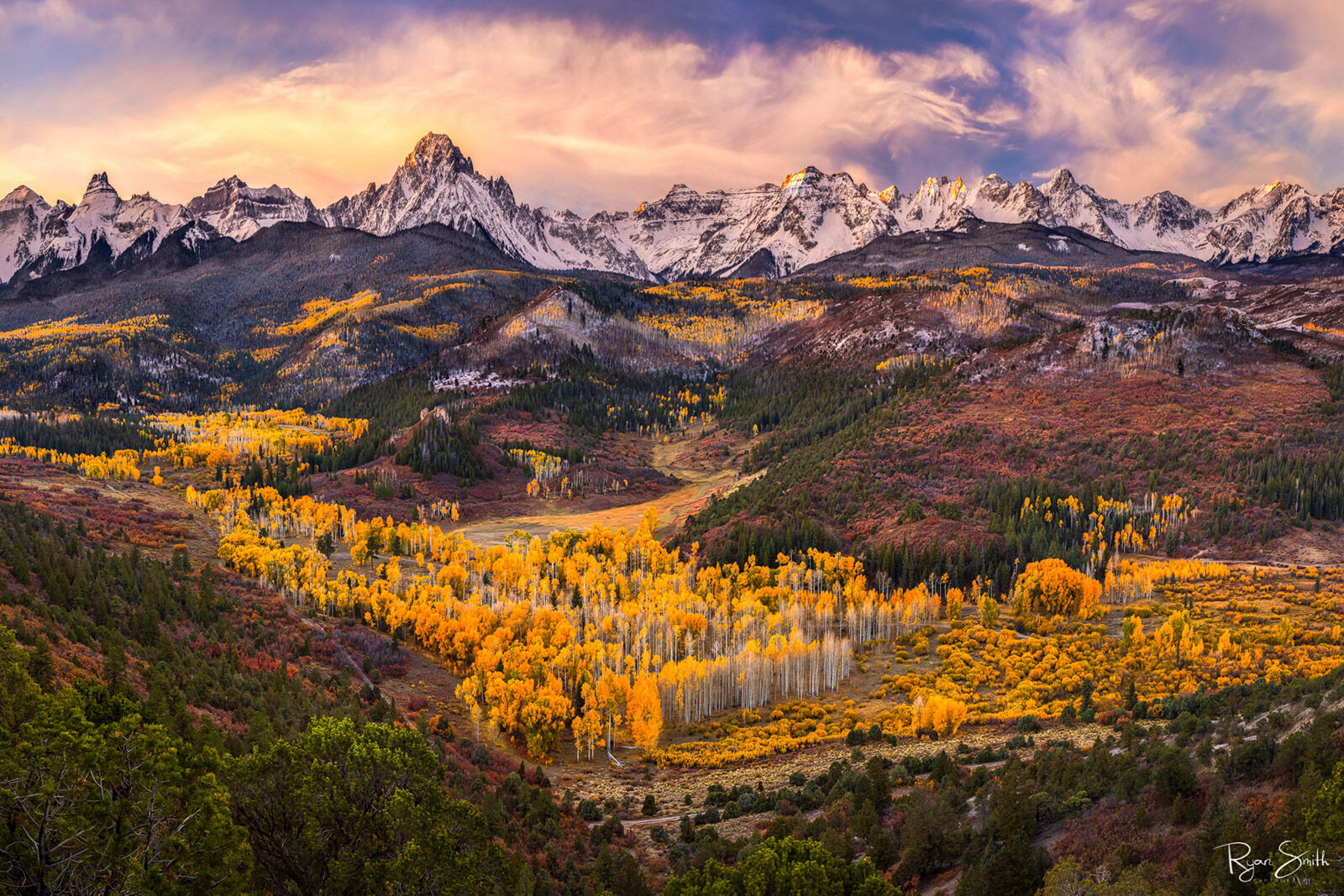 Offering expansive views of sparkling aspen groves and towering snow covered peaks, including the 14,150 foot Mt Sneffels, County Road 7 is a must for any fall photography frenzy! The golden aspen groves and tapestry of turning leaves along County Road 7 are best photographed at sunset as the light streams in over the low hills to the west.

County Road 7 turns south from Highway 62, 4.7 miles from the traffic light at the junction of Highway 550 and 62 in Ridgway. The best views begin about 11.5 miles from Dowtown Ridgway.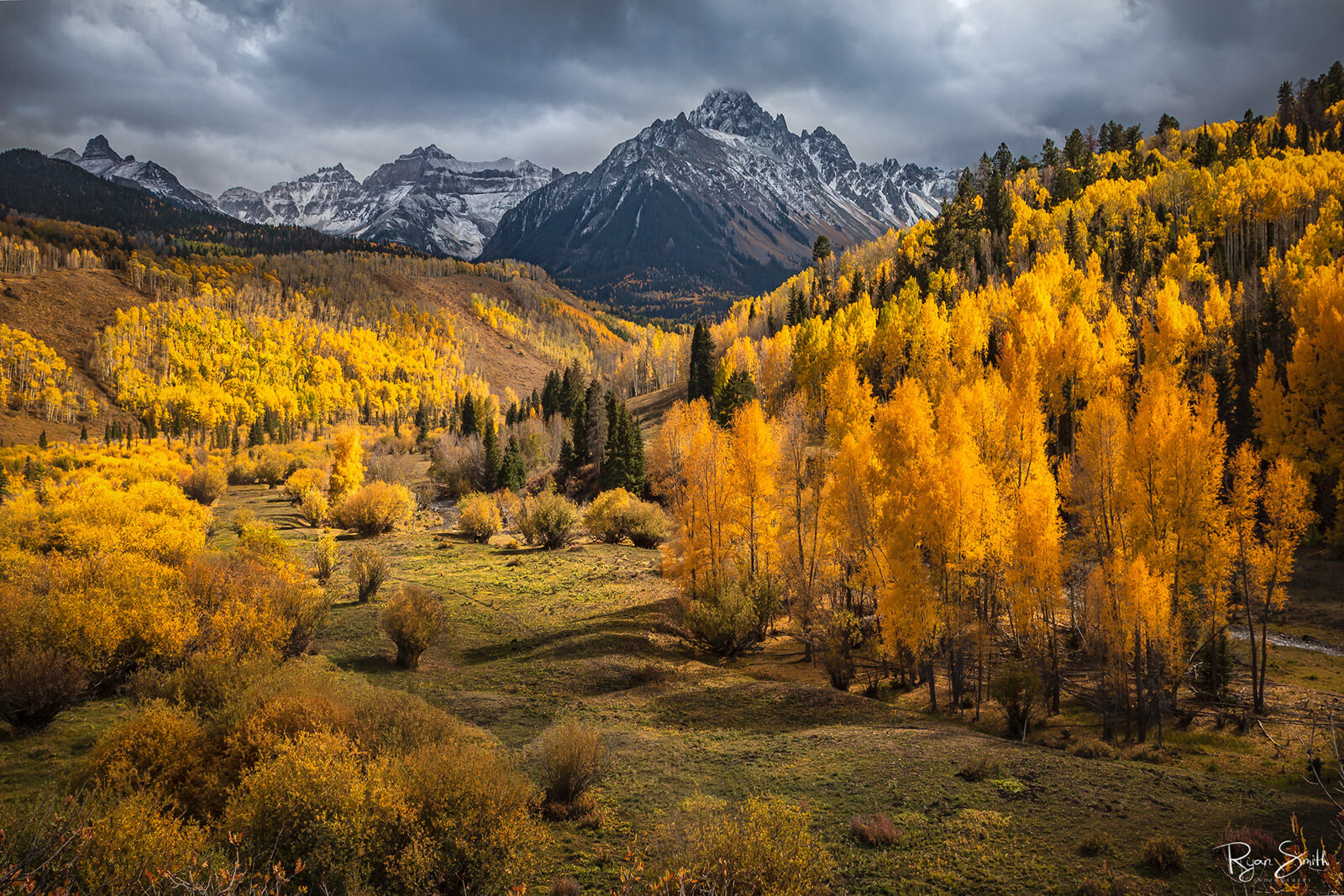 Panoramic vistas, glowing aspen groves, Chimney Rock, Courthouse Mountain and Silver Jack Reservoir put Owl Creek Pass on the top of my list for photographing fall foliage. Just west of the summit is "Shootout Meadow," the filming location for Academy Award winning movies, True Grit and How the West Was Won.
Owl Creek Pass is located in the Cimarron Mountains, just east of Ridgway. Travel east from Ridgway Reservoir on County Road 8 for approximately 16 miles.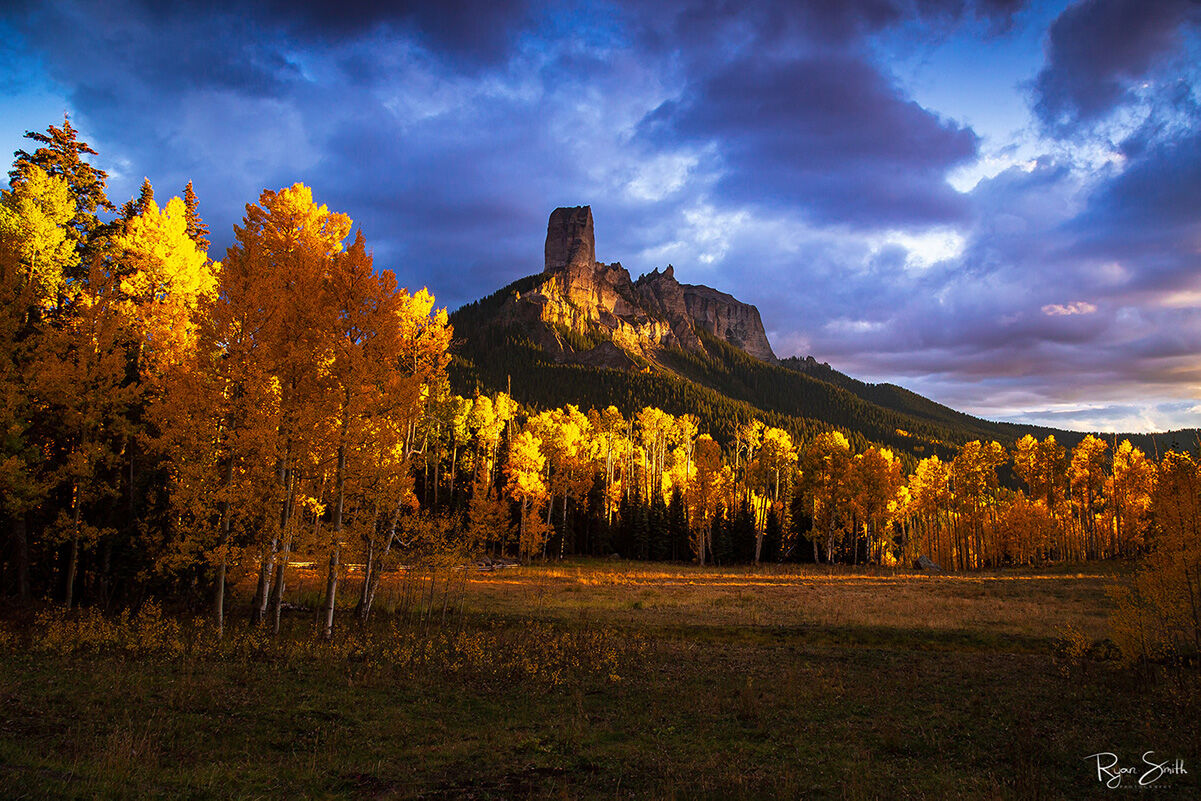 Brilliant red, orange and golden fall foliage fills the landscape along County Road 9 near Dallas Divide. Not far from Ridgway and on the way to Telluride, this dirt road offers stunning views of Mt Sneffels. County Road 9 is best photographed at sunrise as the early morning light illuminates the tapestry of fall foliage.
Driving west from Ridgway on Colorado Highway 62 look for a "forest access" sign on the left. After turning onto County Road 9, you'll immediately go under the Double R - L Ranch (RRL) sign, which is Ralph Lauren's property. The road is public, but most of the side roads are private. If you have a 4 wheel drive, continue past the Forest Service boundary and check out the fall scenery at Box Factory Park.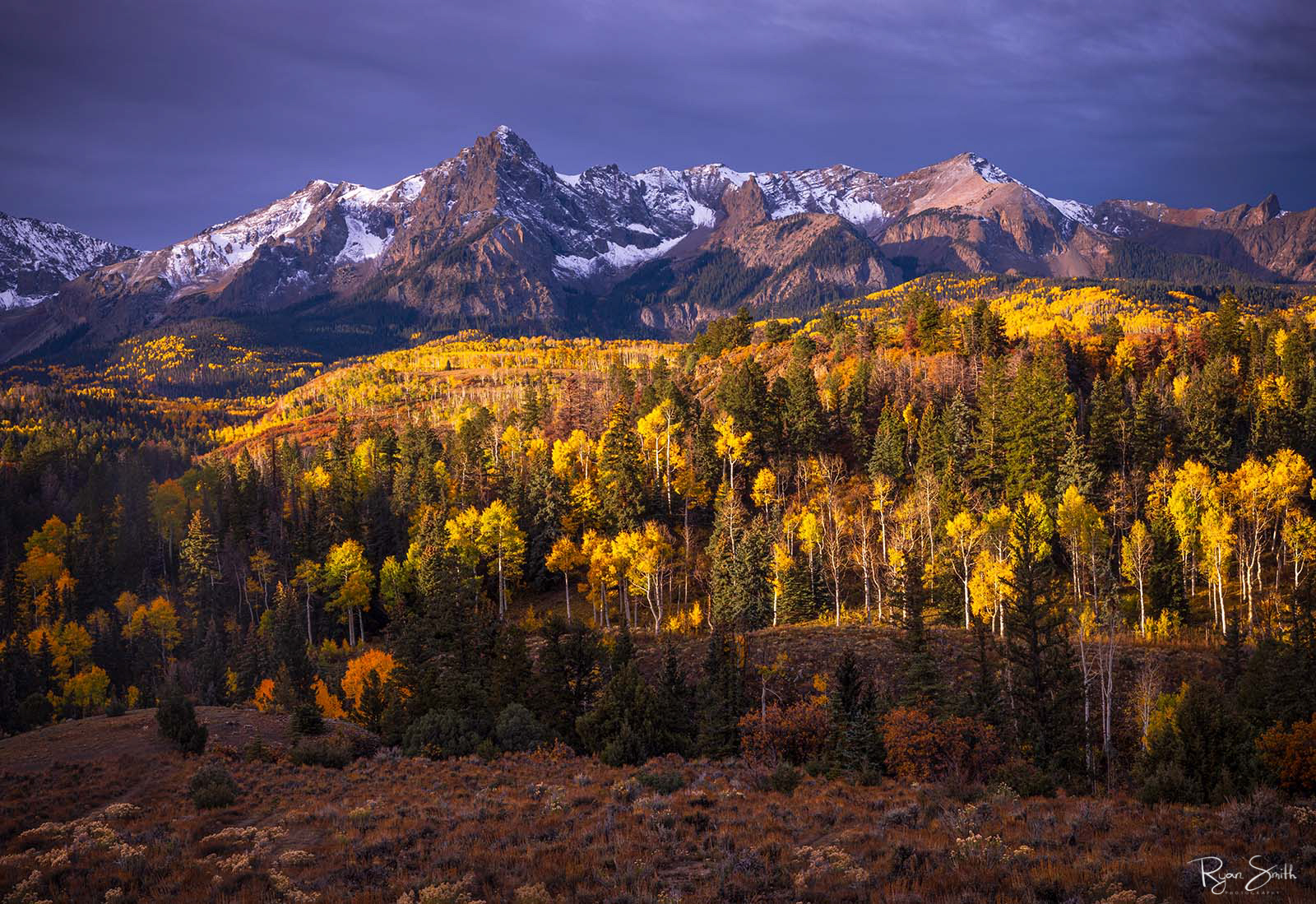 Living up to it's namesake, Aspen is famous for the brilliant display of - well - golden aspens, making this area an obvious choice for fall color photography. Towering at 14,000 feet, the iconic Maroon Bells, feature stunning autumn colors with jagged peaks reflecting onto Maroon Lake.
The wilderness area is located approximately 10 miles from Aspen, and reservations are required to visit Maroon Bells by car or shuttle. From downtown Aspen, head west on Main Street, and take the Maroon Creek exit.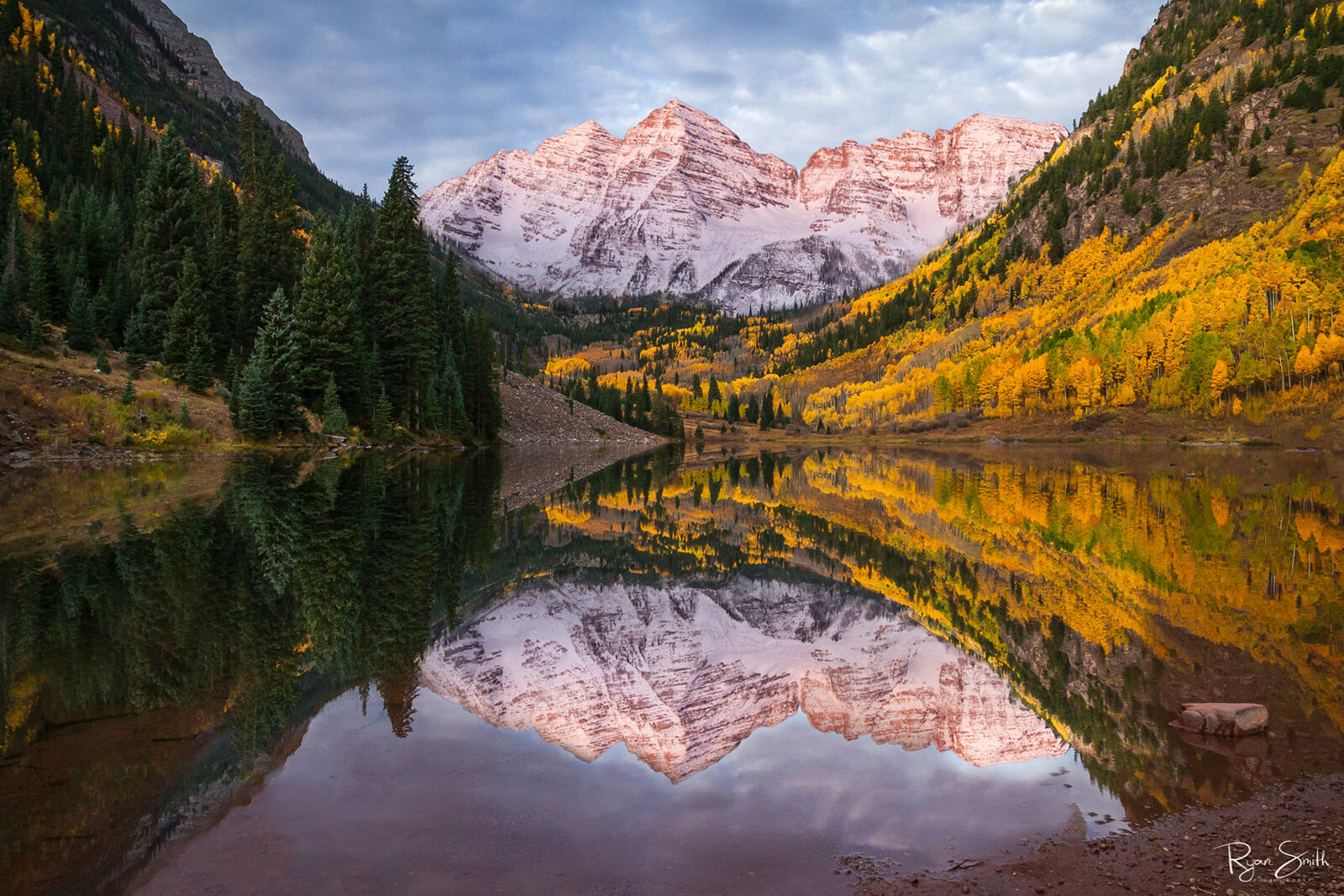 Kebler Pass covers 30 miles between Crested Butte and Highway 122, and is one of the most popular areas in Colorado for photographing fall colors. Kebler Pass boasts the largest aspen grove on the continent, with aspen stands and evergreen trees as far as the eye can see. Kebler Pass is a must for any fall color photography tour!
Kebler Pass travels west from Crested Butte to Highway 133. It takes about two hours to drive the 30 mile stretch of unpaved road.
From Crested Butte: Take County Road 12 out of town as it turns into Highway 135. Follow 135 over Kebler Pass to Paonia Reservoir and Highway 133, where it connects with Colorado 133, from there you can continue north toward Carbondale and Aspen, or south to Paonia.

From Paonia: Head north on Colorado 133 for 15 miles, make a right on County Road 12, and follow this over Kebler Pass to Crested Butte.