Fine Art Print Photography | Fine Art Photography Prints For
The Fine Art of Bringing Outside In


Fine Art Photography Print Options and Print Mediums
Thank you for your interest in my work! The limited edition fine art prints offered in this online collection are produced using the finest materials and processes available, ensuring your investment continues to beautify your home or office for many years to come. This page provides information on the different print mediums, hanging options, and frame options available on any image in the online art gallery. If you have any questions you can contact Ryan directly as it's our passion and pleasure to create a stunning piece of art that will transform your home or business space.
Signature Series HD Acrylic Prints
The highest quality Fine Art Pieces offered are our Signature Series HD Acrylic Fine Art Prints. These prints are produced as part of the Limited Edition Signature Series. These gallery quality fine art prints are highest quality photographic prints available on the market and are featured in the most prestigious photography galleries around the world.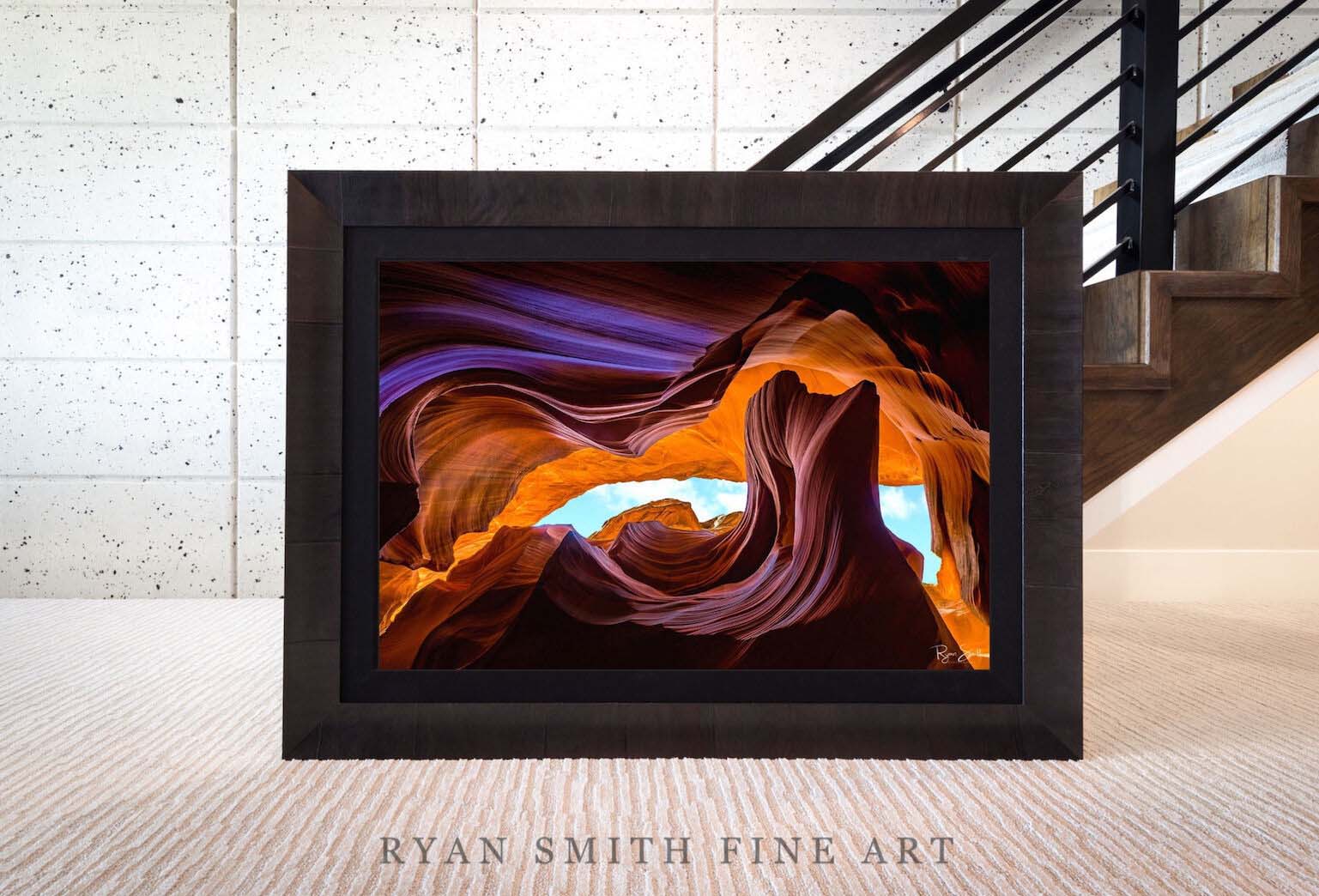 The Signature Series HD Acrylic Fine Art prints are produced as limited editions of 200 and come signed and numbered by Ryan Smith. A Certificate of Authenticity is also provided for additional provenance. These prints surpass other print mediums with the following properties:
The Highest Level of Detail & Accurate Color Available
Incredible 3D Depth & Dimensionality
Superior Shadow Luminosity & Detail
Radiant Glowing Response Under Lighting
Anti-Static properties repels dust
Signature Series HD Acrylic sets the benchmark for fine art photography printing. The highest standard in photographic image display, the process creates an incomparable 3D effect, allowing details to appear as though they are standing out from the surface of the print. Production elements of the Signature Series HD are as follows:
All Signature Series Fine Art prints are set behind 1/8th inch Acrylic Glass
Finished Fine Art with Contemporary Float Mount That Is Ready To Hang
Easy to Clean - Similar to Glass
Brilliant Colors and Archival Grade Materials Lasting Over 120 Years
Produced as Signed & Numbered Limited Editions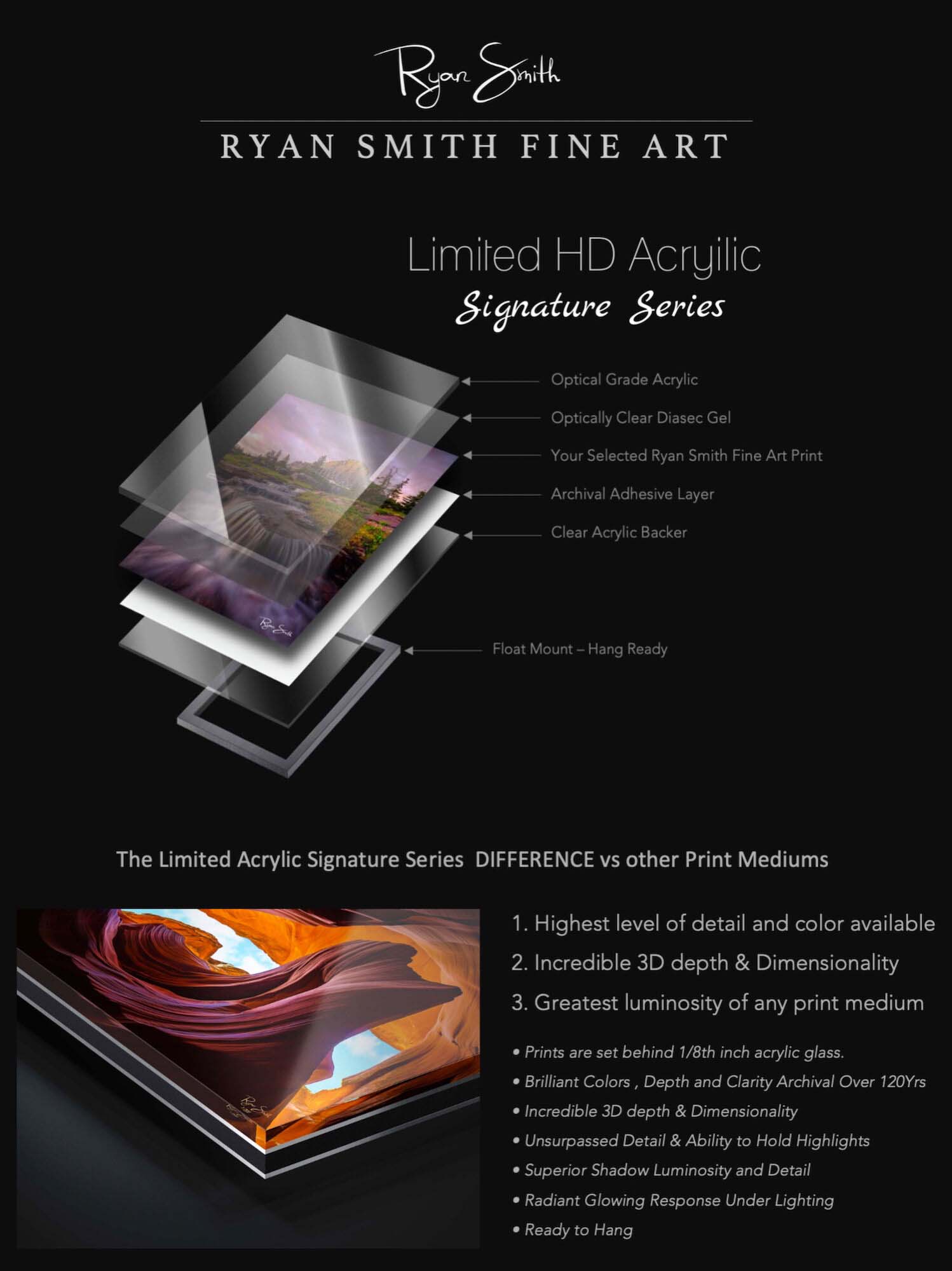 Roma Framed Signature Series Acrylic Prints
The Roma Framed Signature Series Acrylic Prints are the same product produced in the Signature Series, with the addition of an external frame created from handmade Roma Moulding. "Made in Italy" is, above all, a commitment to those who buy the product. "Made in Italy" stands for quality design, sophistication, development, and research. It's attention to detail, precision, and perfection. "Made in Italy" is excellence.
There is an intrinsic beauty and value to an object that has been meticulously crafted by skilled hands. No plastic. No poly. No composite. No toxic finishes of any kind. Just solid, natural woods and non-toxic finishes applied by true masters of the craft. Artisans not only committed to maintaining traditional, time-tested techniques, but also to finding new technologies and methods to further enhance their craft.
Authenticity remains integral to the Roma Moulding brand, which is why we continue to manufacture our products exclusively in Italy, partnering with artisans and their families who have been passing these traditions and techniques down from generation to generation for hundreds of years.
From the rolling hills of Tuscany to the storied canals in Venice, "Made in Italy" continues to be our differentiator. In a world of mass production, the level of detail, skill and artistry that defines hand craftsmanship has become a rare and sought-after luxury by those who appreciate and value quality and the ultimate in luxury fine art.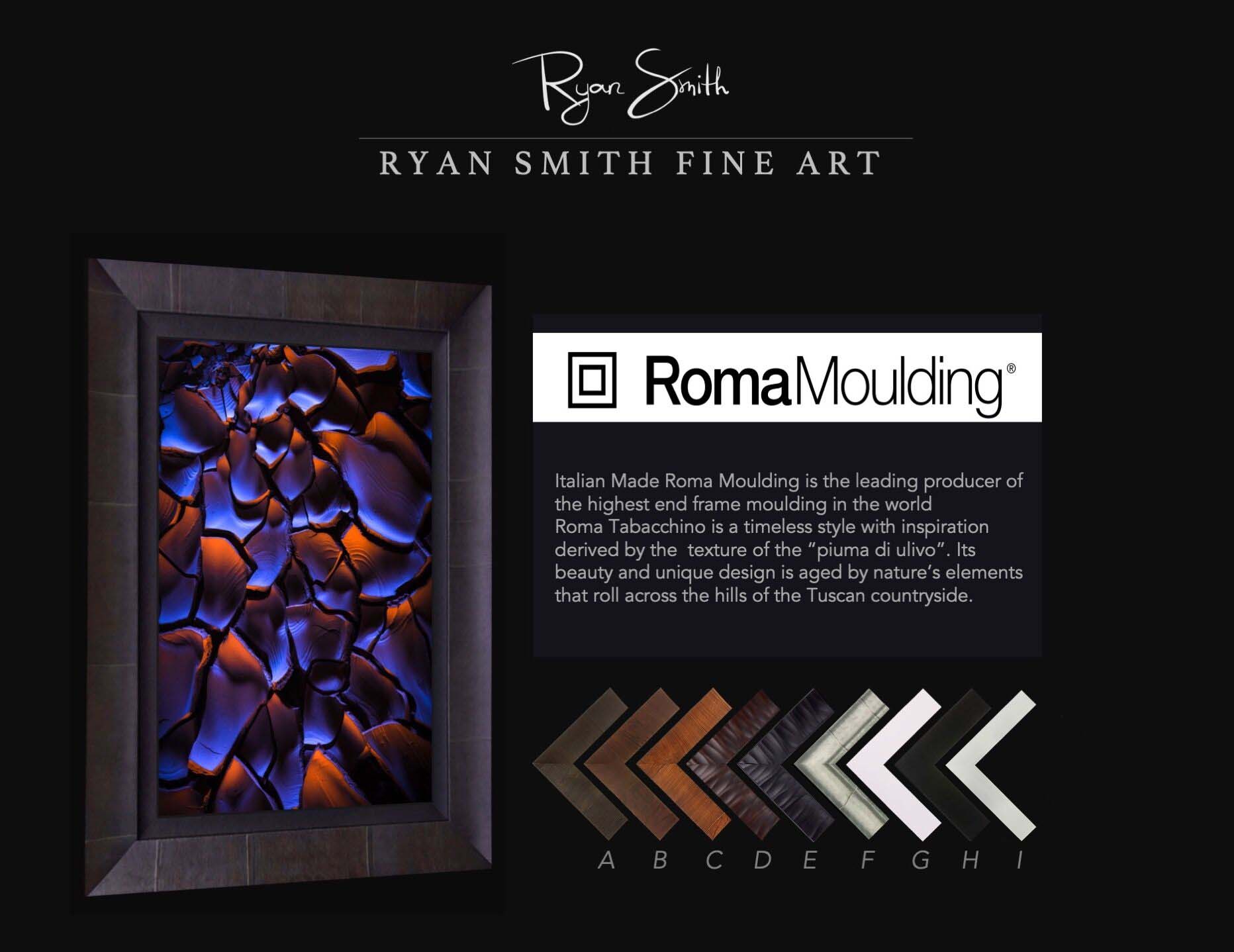 ---


Open Edition Luxury Metal Prints
ChromaLuxe is the world's leading manufacturer of high-definition sublimatable photo panels. The combination of color brilliance, superior durability and archival qualities makes ChromaLuxe the perfect choice for image reproduction. Using dye sublimation, these are high-definition durable photo panels that will preserve images for generations to come. Instead of printing images directly on a surface, which may scratch easily, the image is infused into the coating to provide permanent protection.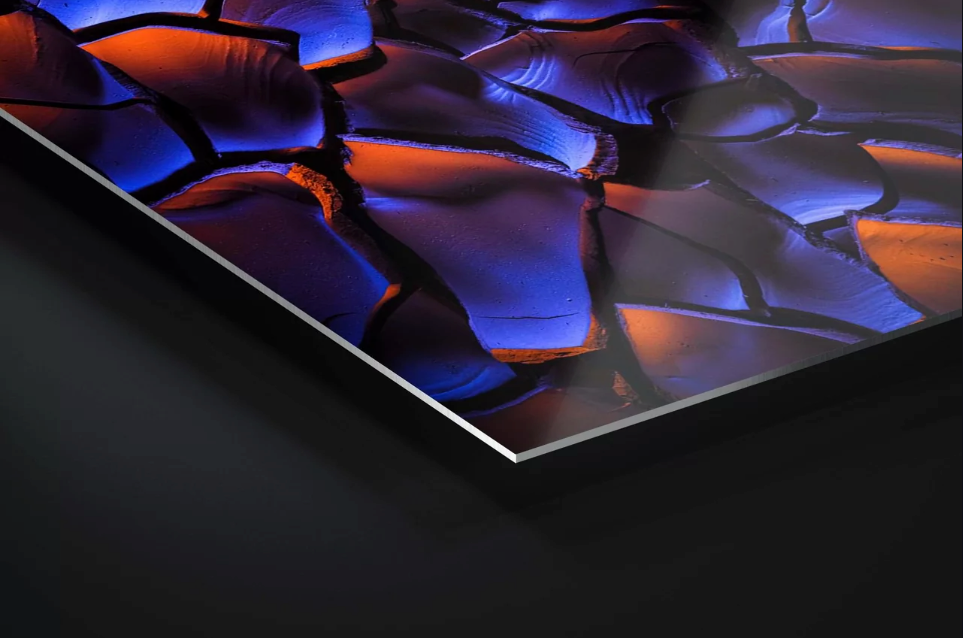 The Luxury metal prints that offered on any image in this collection are available in standard sizes up to 84 inches wide. While still signed, these fine art prints are open edition pieces that are not numbered. Chromaluxe Metal prints are produced with ready-to-hang float mounts on the reverse allowing for immediate and effortless display of your artwork in any home or office environment.
SUPERIOR LONGEVITY OVER TRADITIONAL PHOTO PAPERS

Metal Prints Endure the Test of Time!

While photo papers have fantastic image stability, Xenon Light Stability Testing results show that the image stability of our Metal Prints is 2 to 4 times the image stability of traditional silver based photo papers.
---