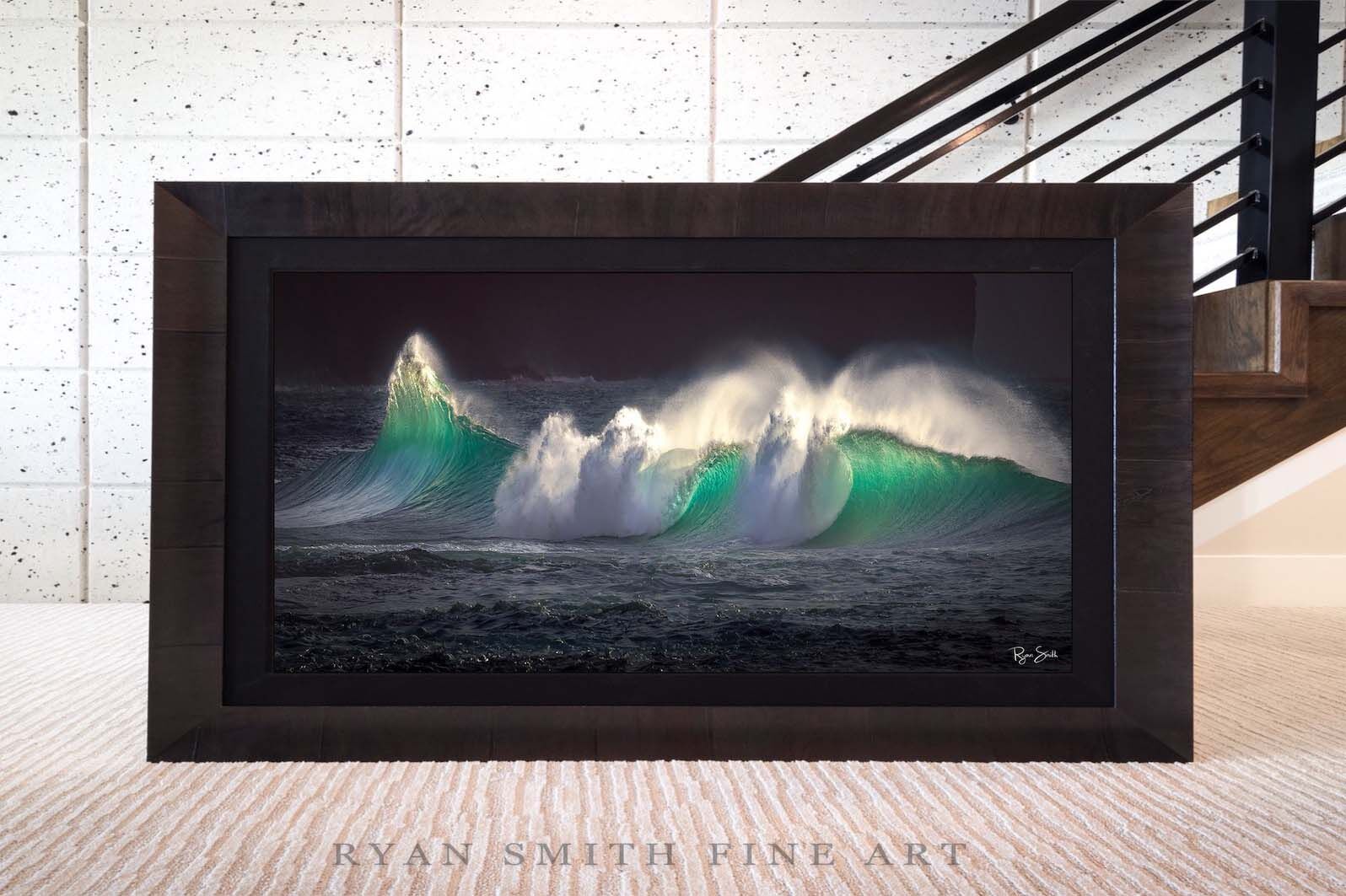 Is It Backlit?

HD acrylic prints have a three dimensional or "backlit" appearance resulting from special printing and mounting techniques and when paired with controlled lighting the effect can become even more dramatic. Large scale prints appearing to backlit and displayed in galleries or gallery-like spaces transport the viewer's eye into the image, instilling a sense of being part of the scene depicted in the artwork. Backlighting artwork is a creative medium that is rapidly gaining popularity as it creates a transportive type effect unlike any other viewing experience. Fine Art Photography and Nature Prints for homes are perfect print mediums to explore this effect with.Ryan Smith Wave Photos are highly sought after which have a backlit appearance and are perfect for Big Wall Art and BIG Wall Décor
Backlit Fine Art
True "Backlighting" Fine Art is achieved by skillful placement of a light source in back of, or behind the subject. The term "backlit" refers to the appearance of being lit from behind creating a dramatic, three-dimensional appearance. However, the backlit photography print style differs in it adds the appearance of backlighting when the artwork is on display. This "backlit" impression is the result of specialized printing and mounting techniques combined with controlled lighting of the artwork in a dimly lit fine art gallery or area of the home. The backlit effect is created by printing on high-quality paper along with a unique mounting technique, and bolstered by displaying in a dimly lit area with controlled lighting. An archival metallic print paired with the unique impact of acrylic projects light back to the viewer creating an exquisite luminance.
The appearance of backlighting method was made popular by Peter Lik, a world renowned landscape photographer famous for showcasing large fine art prints. Lik Galleries and Lik Art are not backlit, yet apear to be and is a style Ryan Smith is well known for.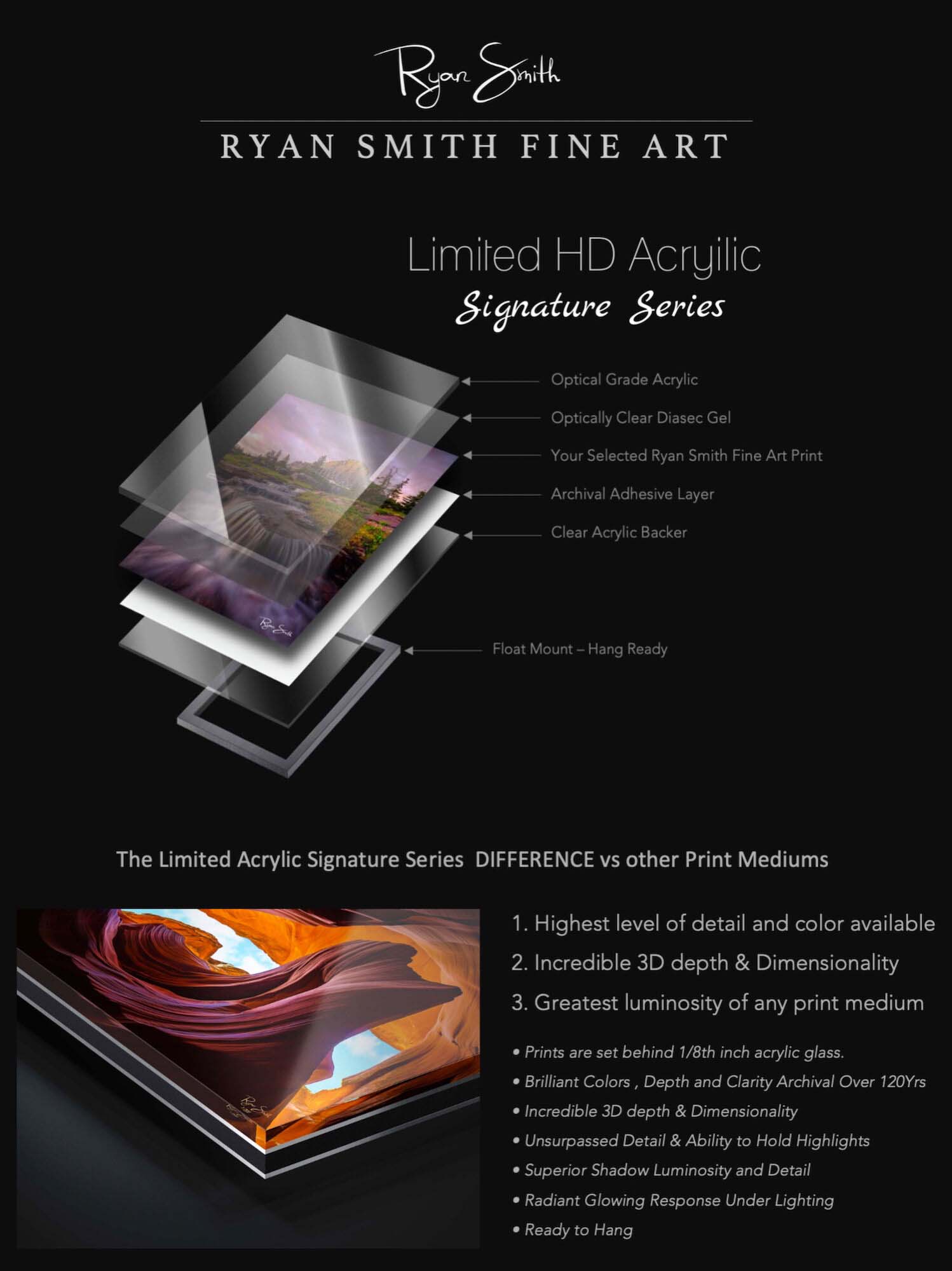 Acrylic Face Mounting

Acrylic face mounting is a print mounting technique that creates a high-gloss, archival pigment fine art print. The acrylic face mounting process is best described as creating an "acrylic sandwich" with an archival fine art print in the middle surrounded by double-sided, clear optical adhesive in between the image and acrylic. A hanging system is then built into the face mounted print or subframe, made of either wood or metal, which is adhered to the back of the artwork.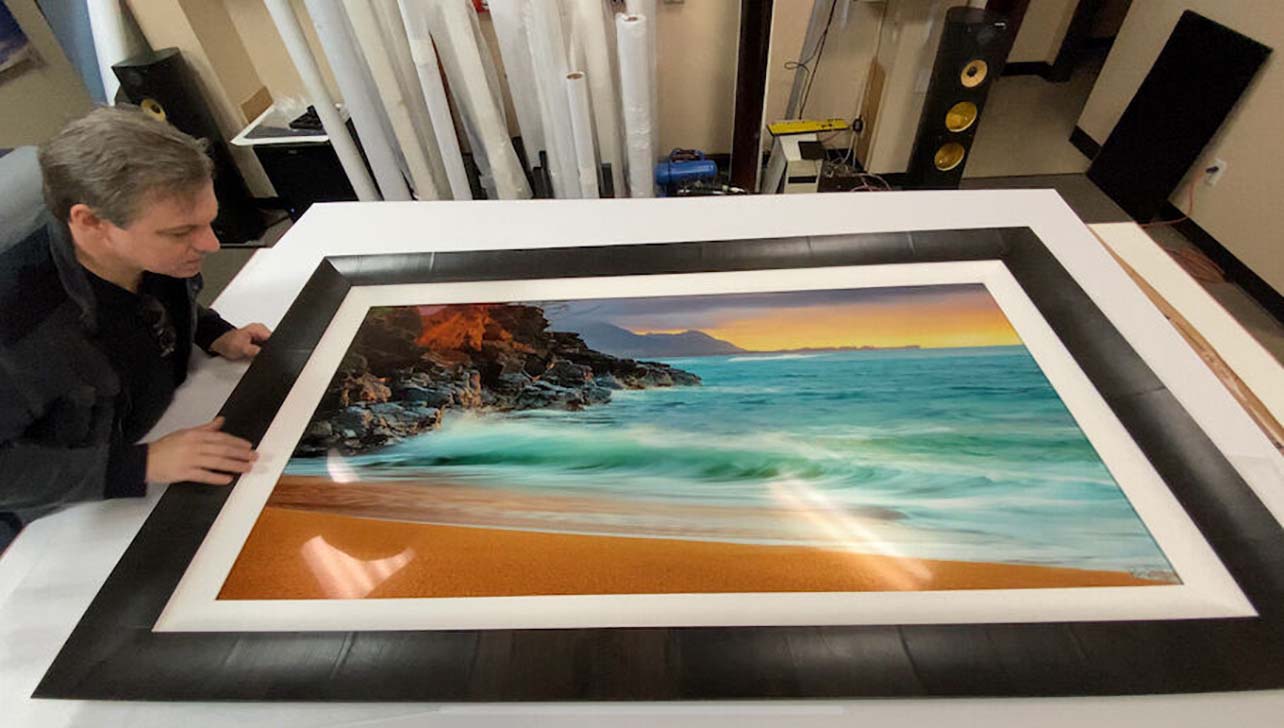 Differences Between Glass Prints and Acrylic Face Mounts
Acrylic, commonly known as "plexiglass," is similar to glass, but much lighter and more shatter-resistant. When compared to glass, acrylic face-mounted prints offer a higher resolution, more visual clarity, vibrant colors, and are far superior in quality. Many modern galleries use the acrylic face mounting technique, a fine art process first established in Switzerland in the early 1970s.

Acrylic face-mounted photographs are printed on directly onto high-quality paper which is then encased in acrylic, whereas the glass printing process superimposes the image onto a piece of glass making the process less precise. Acrylic offers superior UV protection and offers an archival quality fine art piece. Fine Art Acrylics or Metal Wall Art can both appear to be backlit with Ryan's editing style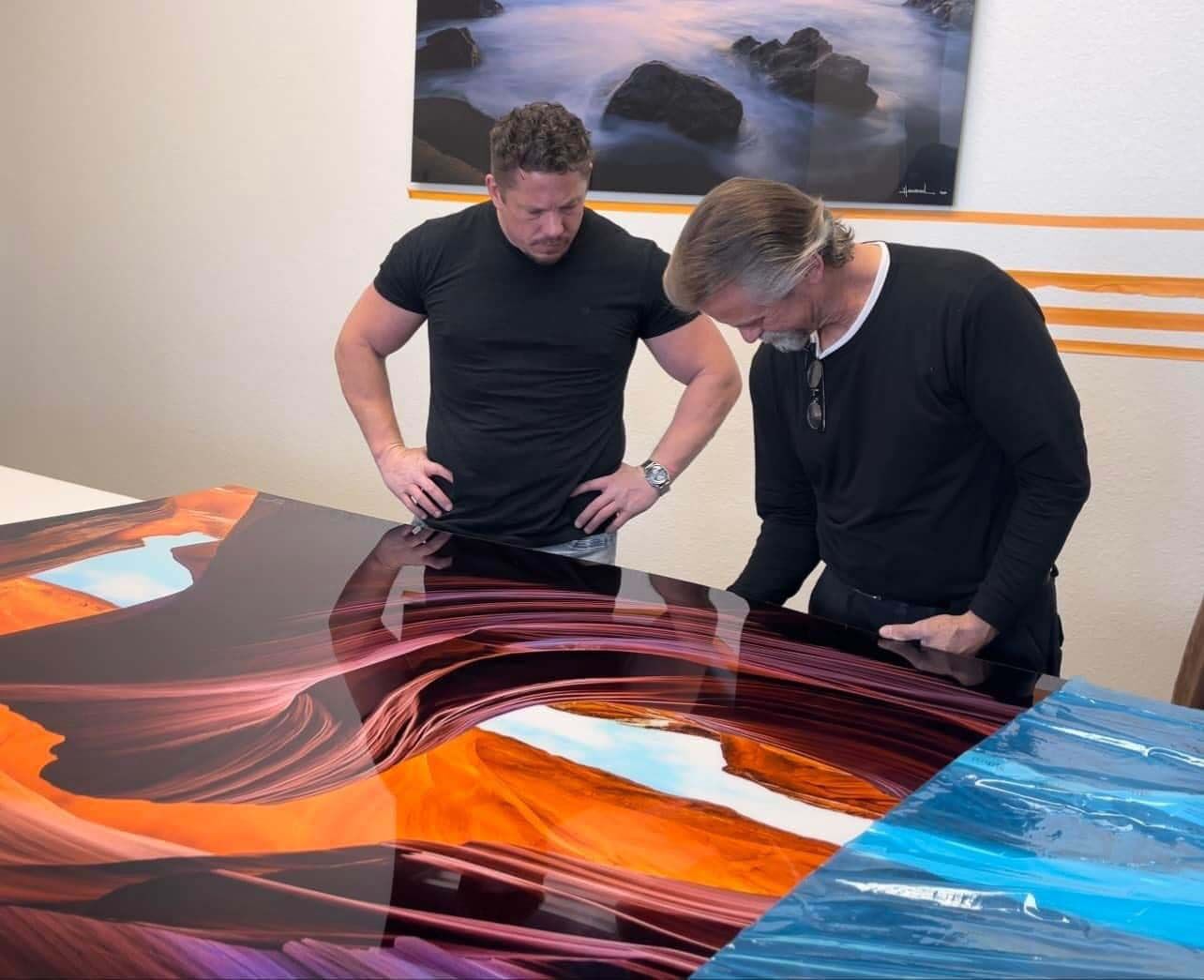 Backlit Fabric Art
Backlit fabric art is another popular option for displaying oversized wall art. The fine art piece is highlighted using LED light that shines through, showcasing deep, vibrant colors within the artwork. Acrylic artwork displays also benefit from the color deepening effect of LED backlighting. Backlit fabric and acrylic art pieces use LED light box displays to create a this unique lighting effect.

Backlit Photography Art - Why People Love It
Dynamic Color: Premium print materials encased in acrylic face mountings create dynamic color quality which showcases deep, rich tones within the fine art print. Acrylic backlighting offers unparalleled quality, color and presentation, making it a popular medium for large wall art.
Edgeless Framing: Smooth, finished edges create a sleek, gallery-worthy fine art print ideal for any display area.
Materials: Acrylic face-mounted art offers UV protection and is more durable than traditional glass making it a popular choice for archival quality fine art.
Downsides to Backlit Art: Due to the specialized print process and skillful mounting technique, this style of art can be costly. In addition, backlit art displays may require shipping in multiple pieces which require assembly upon arrival. Locating an inconspicuous power source can also poses a challenge when displaying backlit art. Another downside of LED backlighting on fabric prints is the tendency for light bleeding, and ensuing loss of detail.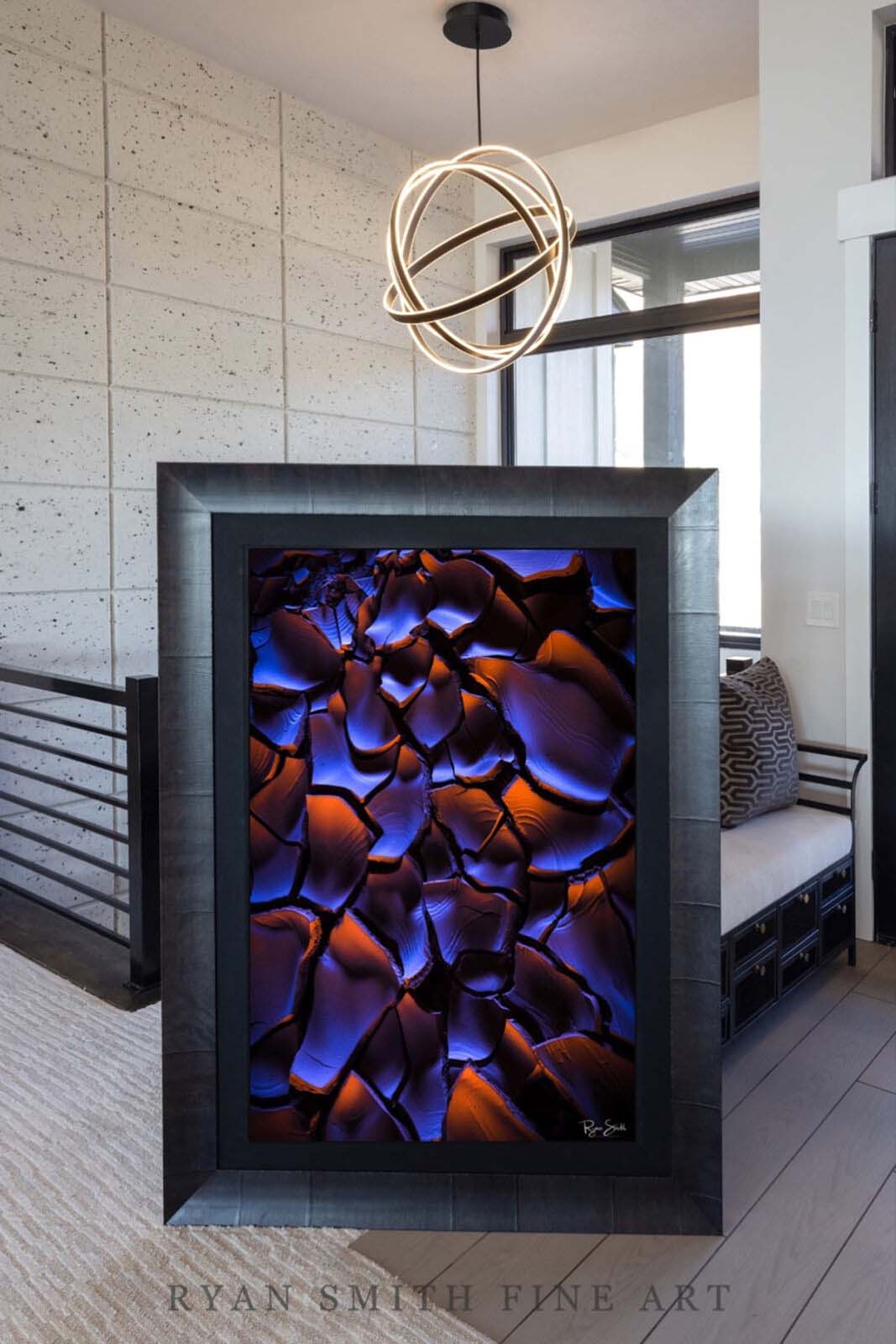 Choose Ryan Smith Fine Art
Ryan Smith Fine Art offers both Signature Series HD Acrylic Fine Art prints and Roma Framed Signature Series Acrylic prints. Although not backlit with an actual light source, both acrylic series take on the appearance of backlighting due to the vibrant colors, and vivid details that are Ryan Smith's signature style.

Offering the highest level of detail and accurate color available, Ryan Smith Fine Art Signature Series Acrylic HD Prints display incredible 3D depth and dimensionality. With brilliant color lasting over 120 years, this format provides the most extraordinary luminosity of any print medium, and there is no need for a power source or assembly and mounting expertise to enjoy the stunning colors prevalent in Ryan Smith's signature series fine art works. Each fine art piece is finished with a contemporary float mount and ready to hang. Many Fine Art Photos with this effect can be found in Ryan's Gallery and Nature Fine Art Photo Center.


Ryan Smith Fine Art's print method creates unsurpassed detail, and a radiant, glowing finish offering the appearance of backlighting without requiring a backlit source of illumination.
Art is an investment, and Ryan Smith's limited edition fine art prints are produced and created to last using the highest quality materials and print processes. Each image is available in several mediums, finishes, and frame options.
For further information on print processes and the display options I recommend, or to shop my gallery for fine art pieces, visit my website. I welcome the opportunity to chat with regards to design options for your home, and provide a personalized wall art mockup to aid in choosing your favorite fine art pieces. If you would like more information about Ryan Smith Fine Art, please reach out today.