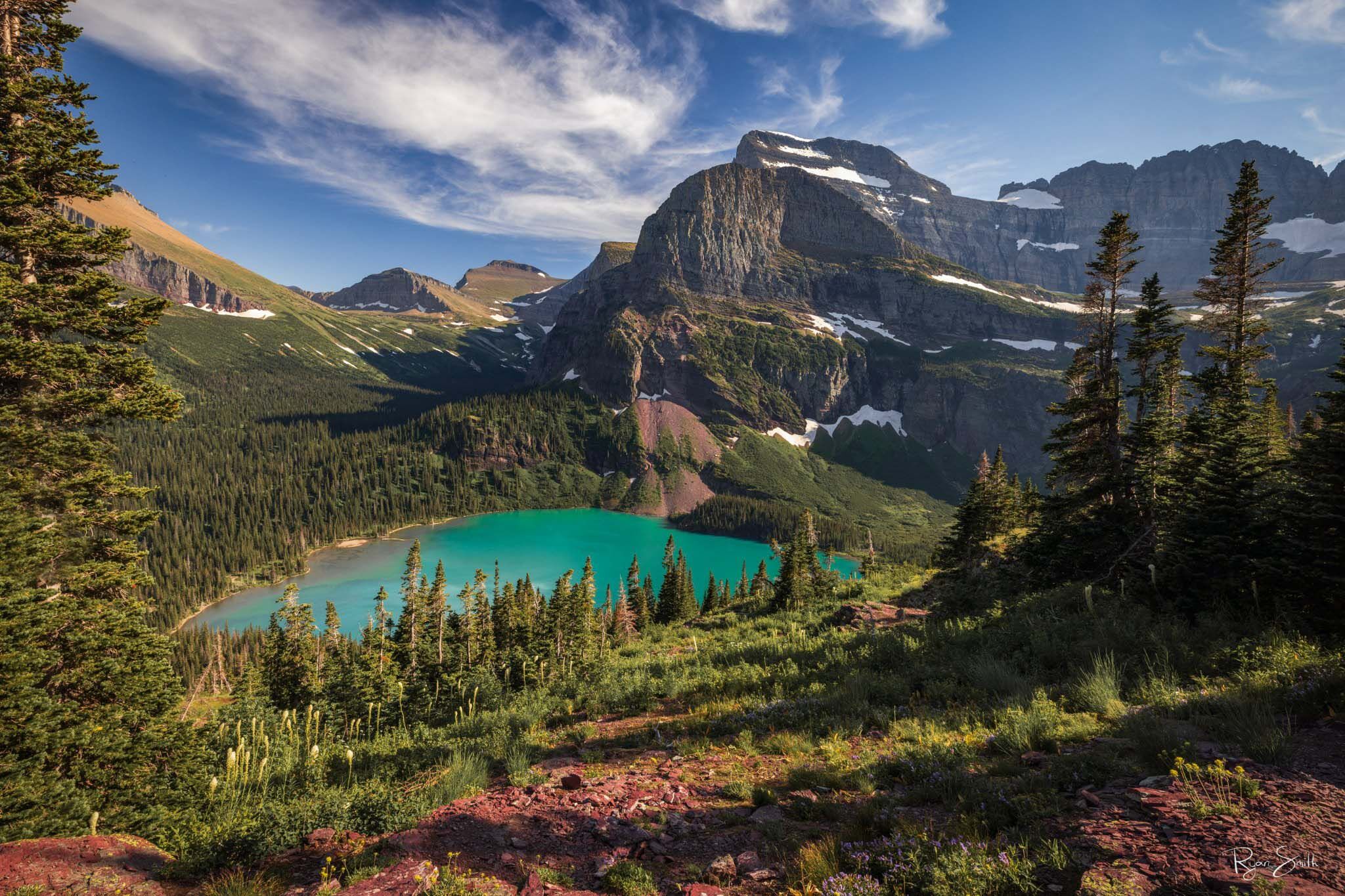 Glacier National Park - The Best Landscapes In Montana

Brimming with sprawling landscapes and abundant wildlife, Glacier National Park is a favorite amongst fine art photographers and landscape lovers alike. Due to the popularity of Glacier National Park, it has become necessary to limit the number of visitors per day, therefore passes are now required to enter the park, and some roads require vehicle registration as well. In the interest of preserving Glacier National Park's beauty, respecting wildlife, and keeping the public safe, the National Park Service asks that visitors to the park and landscape photographers, stay on marked trails, use a zoom lens when photographing wildlife, and park in paved pullout areas only. It is also important to note that drones are prohibited, and commercial photography may require a permit.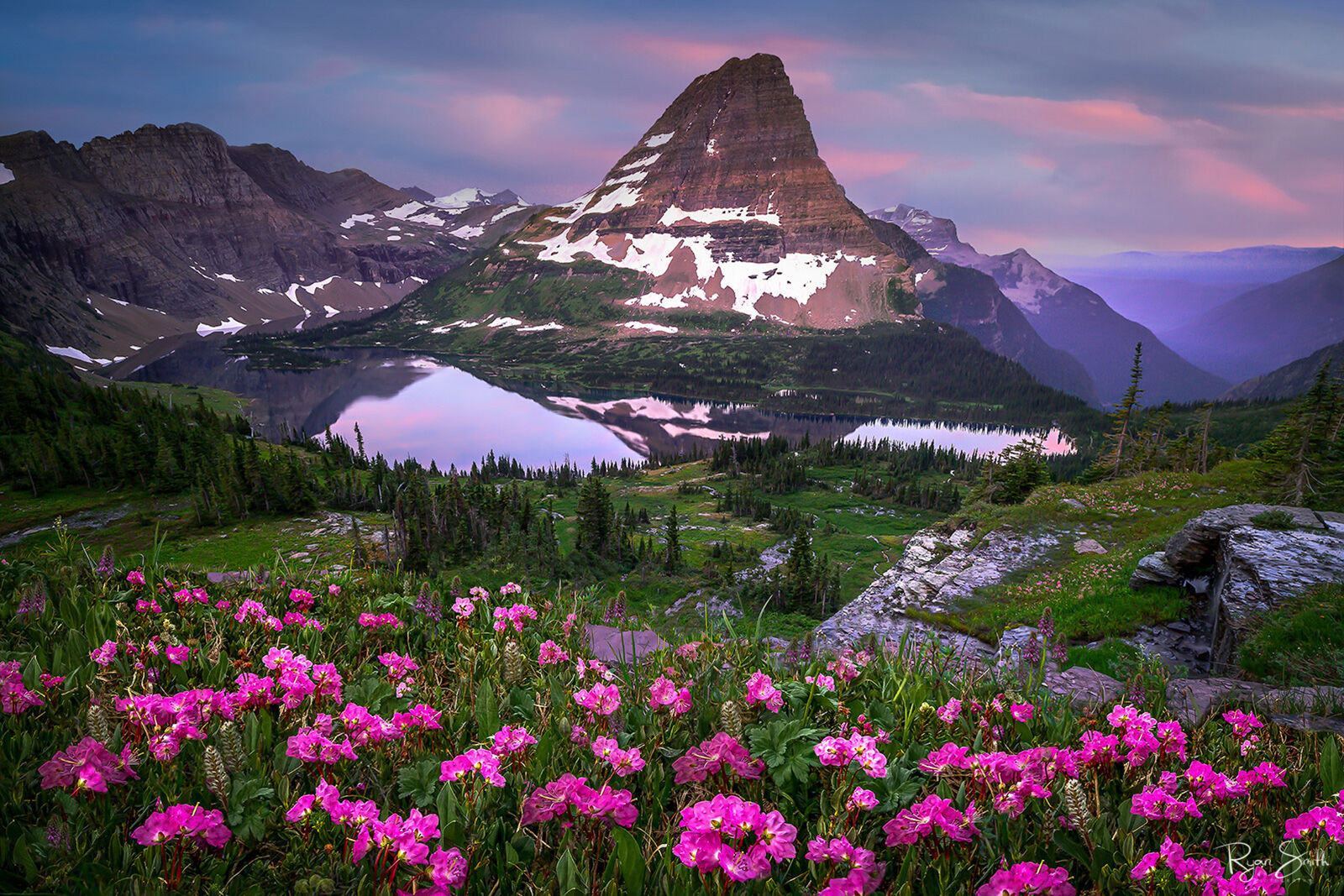 The Best Landscapes in Glacier National Park

Glacier National Park is home to some of America's most stunning landscapes, making it impossible to experience the park in one day. In this blog, I will introduce you to some of the best views in Glacier National Park.
Lake McDonald: Located on Going-to-the-Sun Road, Lake McDonald is the largest lake in Glacier National Park. Jagged peaks surrounding the valley make this 10 miles long lake a subject of many fine art landscape photographs.
Avalanche Gorge: Avalanche Gorge can be easily accessed via a mile-long loop hiking trail which runs through a wooded landscape. Avalanche Creek enhances the lush landscape as it flows through the gorge.

Logan Pass: Easily accessible by car, Logan Pass is typically a very busy location within Glacier National Park. As a result, it is best to visit at sunrise when the stunning landscape is bathed in soft light, and the abundant wildlife, including mountain goats and bears are active.

Going to the Sun Road: Dubbed as one of the most famous roads in America, Going to the Sun is less than 50 miles long, and can be traveled in both directions, west to east or east to west. In addition to a park pass, driving Going-to-the-Sun Road requires a ticket to enter by car. In early summer and early fall, Going to the Sun closes to vehicles, and is only accessible by bicycle or foot making this a perfect time to experience solitude while taking in Glacier National Park's iconic views.
Hidden Lake: Hidden Lake and Hidden Lake Overlook offer stunning views of Bearhat Mountain. Hidden Lake Overlook is a 2.7 mile roundtrip hike, and being one of the easier hikes in the park, is often crowded. However, hiking an extra mile and a half along the trail offers beautiful views, less crowds, and stunning compositions for landscape photography.
Grinnell Glacier: The trail leading to Grinnell Glacier offers spectacular views and stunning photography compositions. Accessing Grinnell Glacier requires a moderately challenging 7.6 mile roundtrip hike.
St. Mary Falls: This beautiful 35 foot waterfall drops over two tiers, and the spray has a powder blue hue. The hike to St. Mary Falls is moderately challenging and approximately 1.7 miles roundtrip.
Two Medicine Lake: Two Medicine Lake spans approximately two miles long, and the clear waters are surrounded by abundant wildlife and Glacier National Park's natural beauty. Hiking trails surround the lake showcasing beautiful scenes and a few waterfalls.
Bowman Lake: This glacial lake spans 8 miles long, and is a popular location for kayaking and canoeing within Glacier National Park. A hiking trail leads to back country camping spots which offer solitude with stunning views.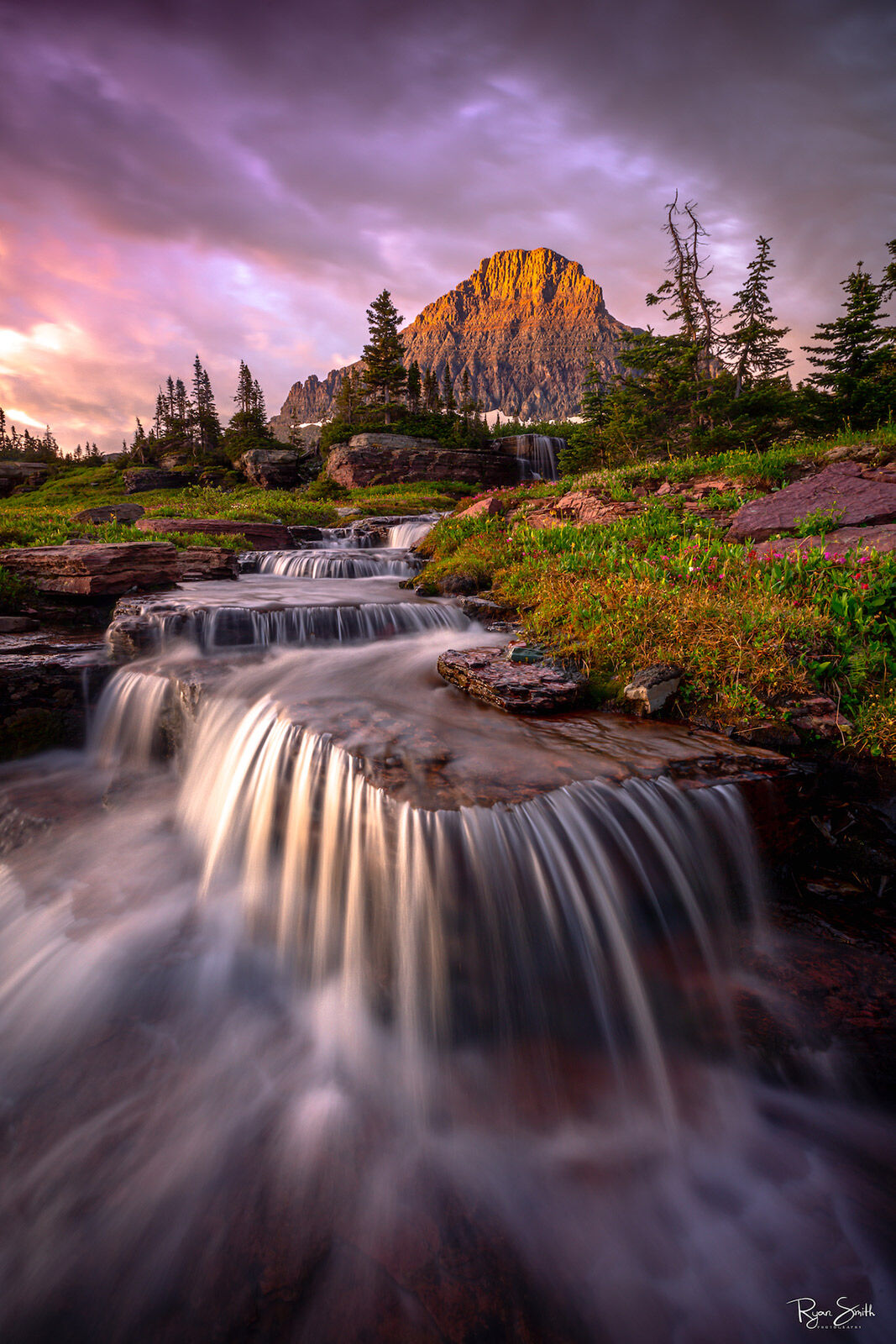 Historic Lodges and Chalets

Swiss-style architecture with gabled roofs, exposed beams, balconies, decorative moldings, and large windows showcasing beautiful landscapes make lodges and chalets popular accommodations when visiting Glacier National Park. Throughout history, visitors have traveled through Glacier National Park stopping at mindfully placed accommodations along the way.
Swift Current Lodge: Offering 95 rustic cabins and motor inn rooms, Swift Current Lodge is a picturesque location popular with those traversing the trails. With a fully stocked camp store, restaurant and gift shop, Swift Current Lodge offers all the creature comforts you will need after a long day on the hiking trails of Glacier National Park.
Many Glacier Hotel: The Many Glacier Hotel, made of local timber, was constructed between 1914-15. The lodge was partially renovated in 2016 and now serves as a secluded hotel with rustic, comfortable guest rooms.
Lake McDonald Lodge: This historic lodge, built in 1913 along the shore of Lake McDonald is made up of a three-story lodge building and a row of cabins. Lake McDonald Lodge offers comfortable, rustic accommodations with amazing views.
Glacier Park Lodge: Established in 1913 and known as "Big Tree Lodge" due to breathtaking mountain views, and Douglas Fir logs in the lobby, Glacier Park Lodge is a popular first stop for many visitors.
Prince of Wales Hotel (Waterton): Established in 1927, this Canadian hotel showcases panoramic views of Waterton Lakes National Park, and is a "sister park" to Glacier National Park in Montana.

Belton Chalet: This beautiful chalet, opened in 1910, serves as a gateway to Glacier National Park. The Belton Chalet is known for it's restaurant and taphouse featuring elegant dining, utilizing locally sourced ingredients.
The Sperry Chalet: Built in 1913, and only accessible by trail, this rustic Chalet in Glacier National Park offers a two-story dormitory style building with kitchen, dining area and separate restroom building. Sperry Chalet is known for it's comfortable, rustic lodging and hearty food.
Granite Park Chalet: Accessible only by trail, Granite Park Chalet was constructed in 1914-15. This historic working lodge offers comfortable accommodations and is listed on the National Historic Landmark Registry.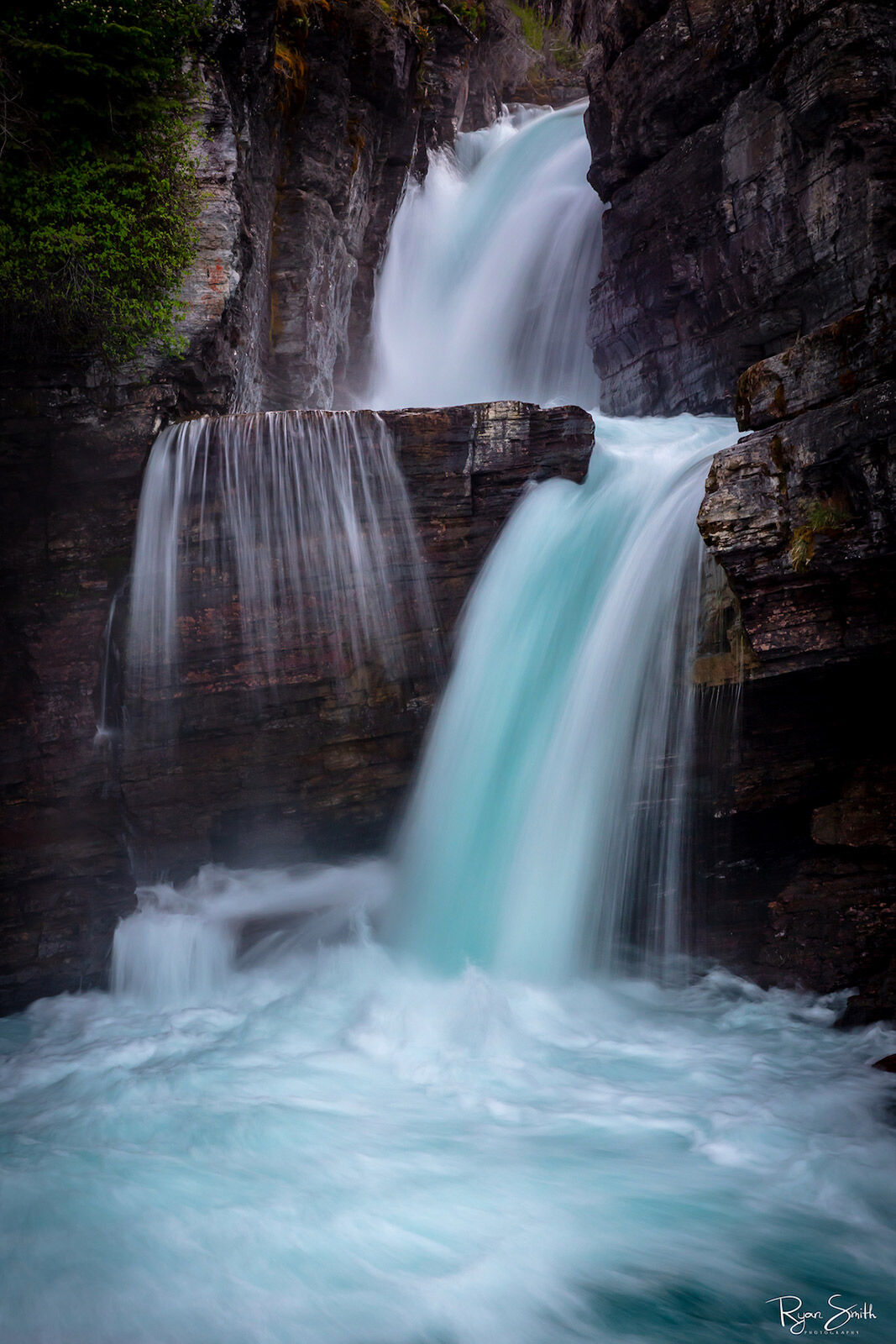 Glacier National Park Landscape Photography Workshop

A love of the outdoors and landscape photography draws me to Glacier National Park every summer where I offer Glacier National Park Photography Workshops with Chris Byrne. This year we are offering two workshops which run July 15-19 & July 21-25, 2023. Please join us to learn new landscape photography techniques and photograph the Crown of the Continent!! Book your spot today or contact me for further information, and be sure to shop my fine art gallery for Glacier National Park wall art.