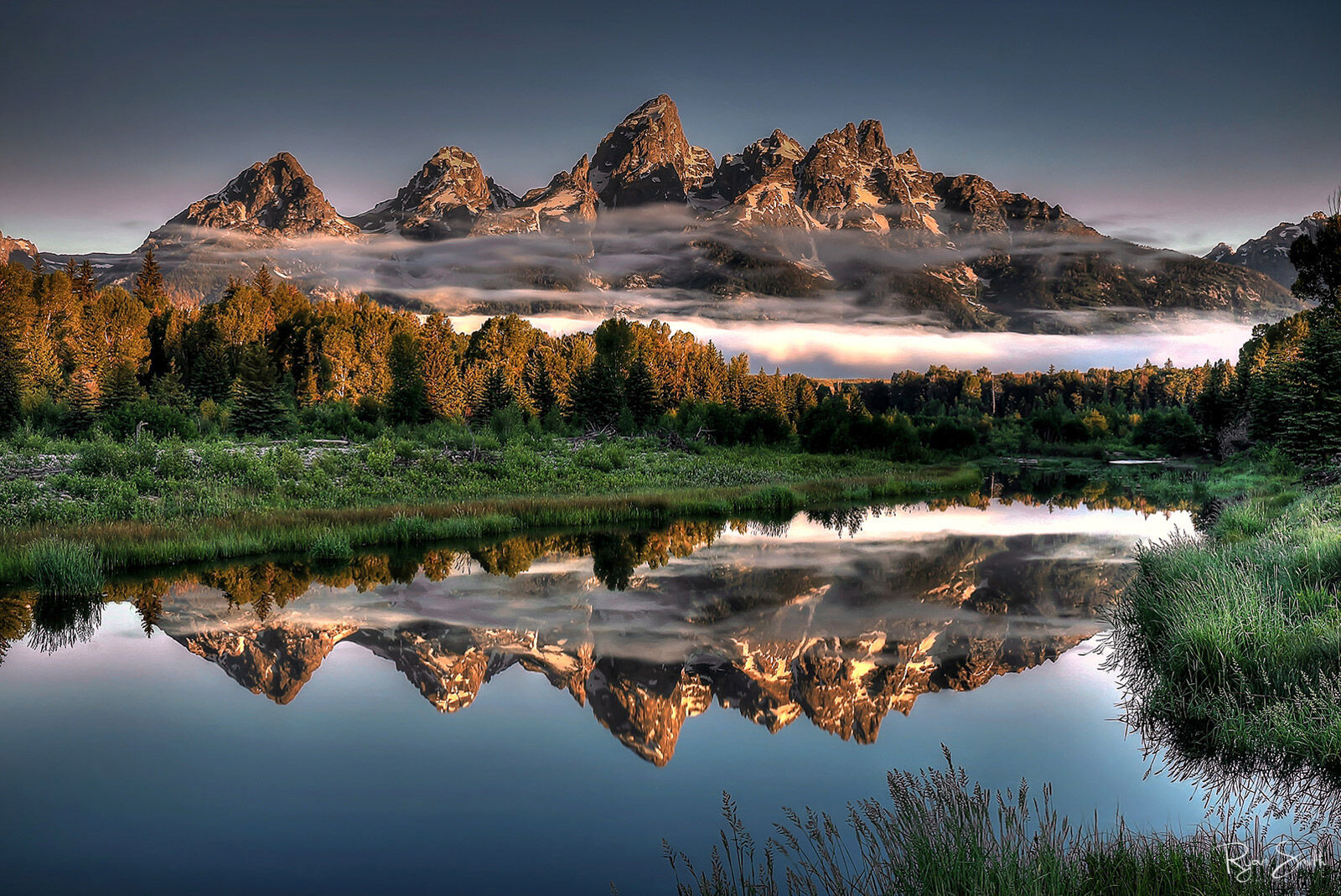 Grand Teton National Park: The Best Landscape in Wyoming
The Grand Tetons are revered as "Heaven" by both photographers and sightseers alike! Spanning over 310,000 acres, Grand Teton National Park is comprised of mountain meadows, alpine lakes and majestic peaks of the Grand Teton Range.
This popular national park is located just north of Jackson, Wyoming, and is brimming with dramatic scenery showcasing unique combinations of craggy peaks and flat plains.
The Teton Range holds some of the oldest rock formations in North America. Worth noting is a 2.7 billion year old metamorphic rock known as Gneiss, which makes up most of the range. Gneiss formed when several minerals separated light and dark layers, often referred to as Zebra Rock. The peaks of the Grand Teton Range each have unique names and visual distinctions, making them an interesting and exquisite subject of many landscape photography images. The endless compositions and abundance of beauty make Grand Teton National Park a favorite amongst landscape photographers. The stunning images created in this one of a kind national park are found in fine art galleries around the world.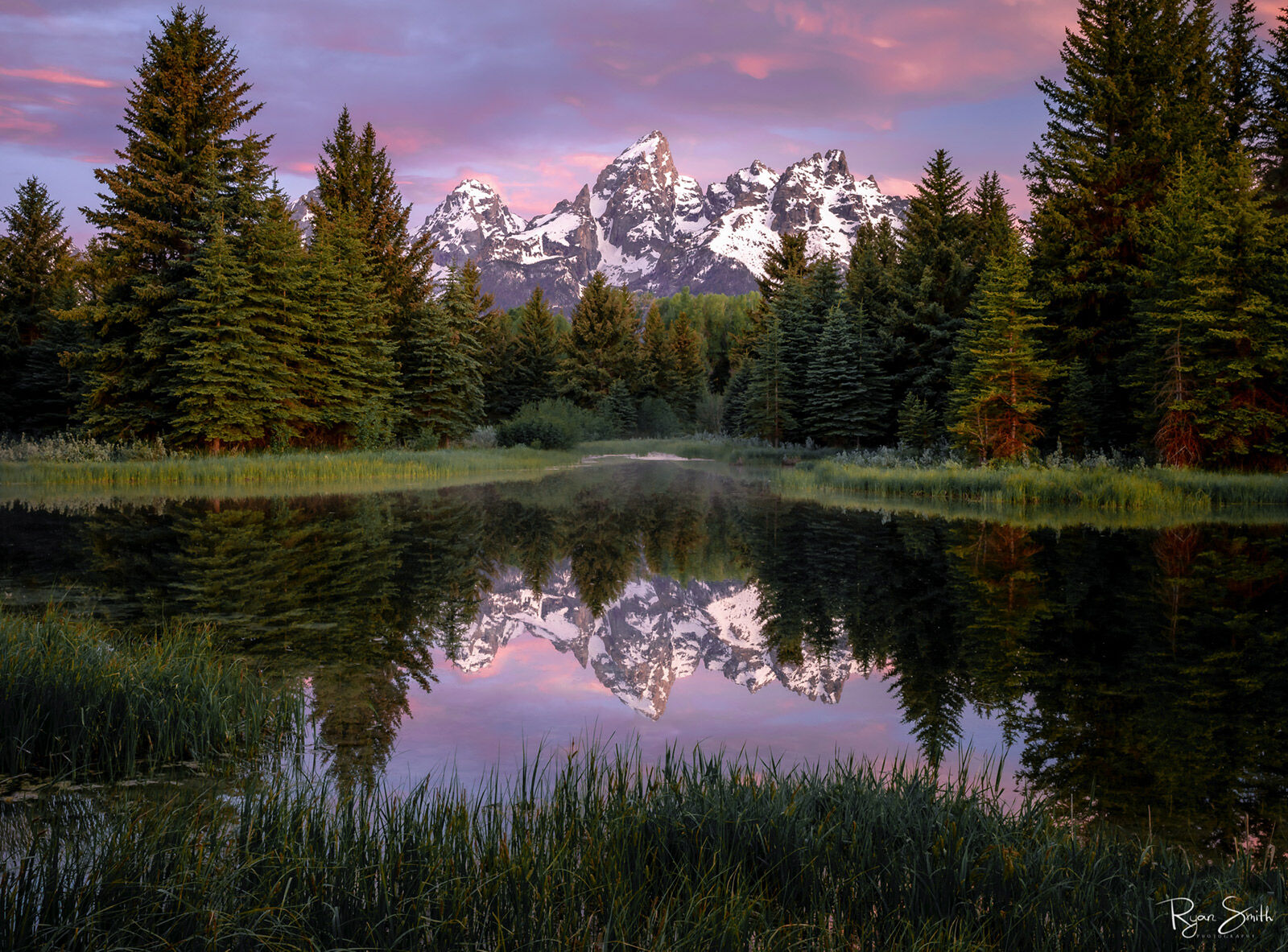 Beautiful Locations Within Grand Teton National Park
Some of the most notable and photographed locations within Grand Teton National Park include:
Schwabacher Landing: A beautiful lake with famous reflections knows as the "iconic spot."
Mormon Row Barns: The Moulton Barns are part of Morman Row Barns. The iconic barns sit on flat sagebrush ground offering a dramatic contrast with the Grand Tetons in the background.

Snake River Overlook: The Snake River Overlook, famously captured by Ansel Adams in his 1942 black and white photograph is one of the most photographed spots in Grand Teton National Park

Jackson Lake: Jackson Lake is a natural glacial lake, raised and enlarged by a 39-foot, man-made dam in the early 1900's, and is the largest lake in Grand Teton National Park.

Coulter Bay: Coulter Bay, also known as Coulter Bay Village is located on the eastern shore of Jackson Lake and known for unique lodging made up of rustic homestead cabins, tent cabins and an improved campground.
Oxbow Bend: Oxbow Bend offers one of the most stunning views in the Grand Tetons. Named for it's geography, Oxbow Bend is an "oxbow," a place where water pools at a river's cutoff, or a spot where the river curves to wind in a different direction.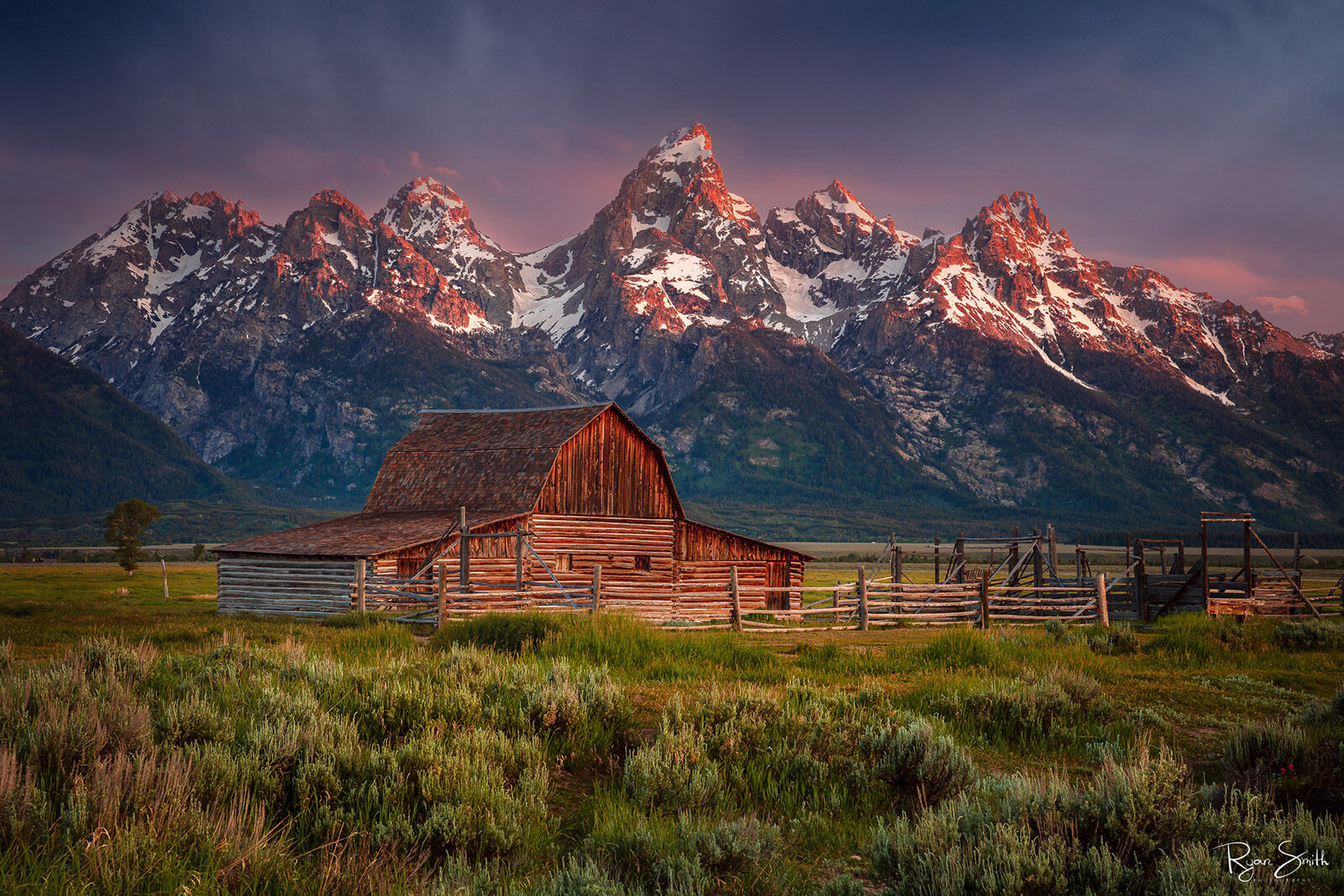 Famous Bears of the Grand Tetons
While Yellowstone National Park is historically a favorite location for wildlife viewing and photography, Grand Teton National Park is home to a thriving wildlife population which includes grizzly bears, bald eagles, bison, deer, and wolves.
Grand Teton's wildlife claim to fame is a grizzly known as "Bear 399," who rose to internet fame in 2020 after giving birth to four cubs. Grizzly Bear 399's cubs are now grown, and one, dubbed "Bear 610" by the Interagency Grizzly Study Team, has since given birth to two cubs. Grizzly Bear #399 is known to be one of the oldest grizzly bears in the wild and is often spotted near Oxbow Bend. Tom Manglesen's book, Grizzlies of Pilgrim Creek includes images of Grizzly #399 and her cubs.
More Grand Teton Wildlife

Photographers flock to Grand Teton National Park in hopes of creating exquisite wildlife wall art, and grizzly bears are only one wildlife species that inhabit this favorite photography location. Wolves, buffalo, and pronghorns also call the Grand Tetons home. Oxbow Bend is brimming with wildlife such as moose, fox, fox kits and hundreds of bird species. Spotting a great gray owl is a special treat in dense, wooded areas such as Moose Wilson Road.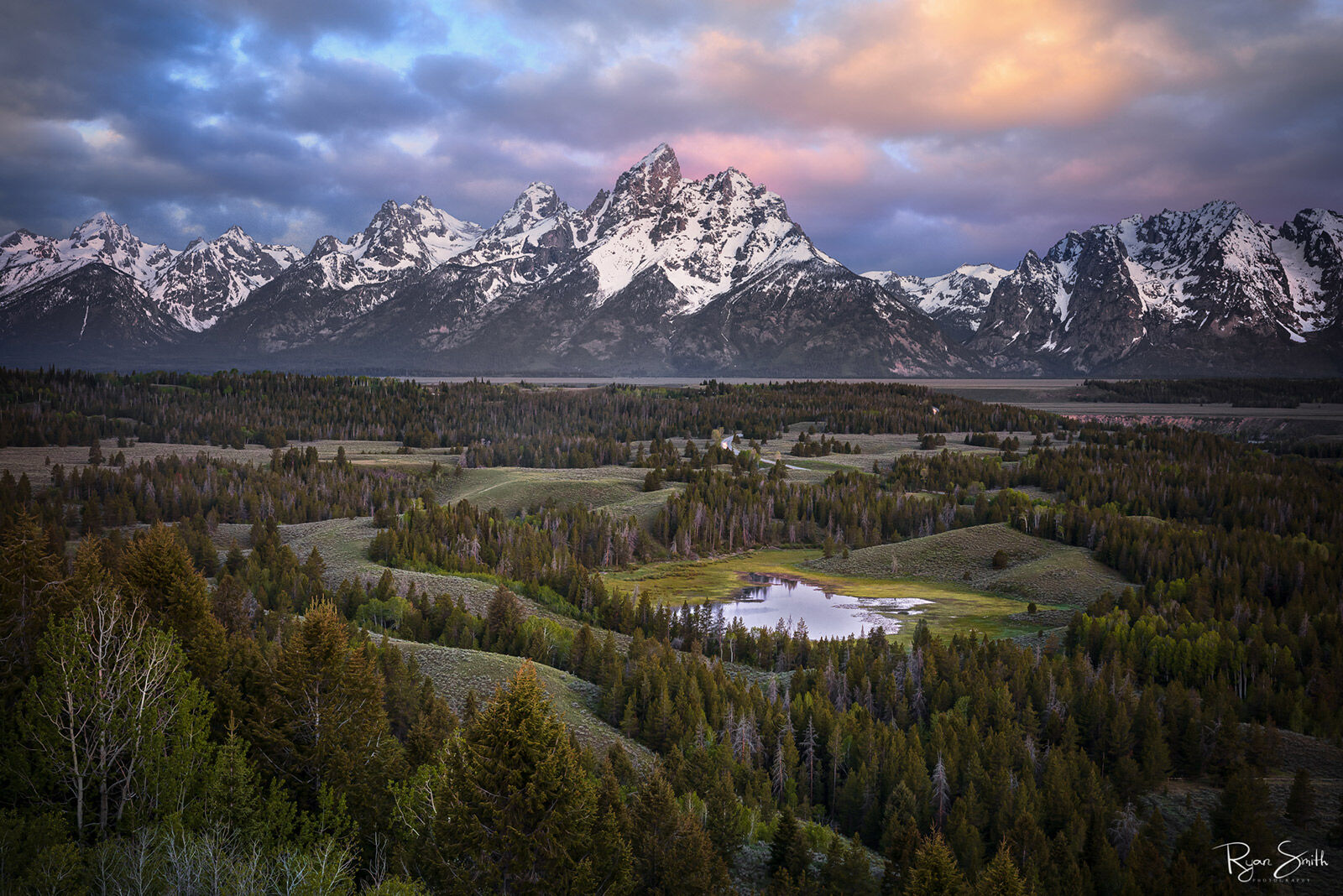 RYAN SMITH GRAND TETON LANDSCAPE PRINTS FOR SALE

Teton Nightfire: Teton Nightfire is a stunning fine art photograph that features a famous Moulton Barn contrasting against the towering Grand Tetons.
Morning Glow: Morning Glow features an iconic view from Schwabacher Landing showcasing a perfect reflection of the sunrise over Grand Teton.
Teton Overlook: Teton Overlook is a famous Ansel Adam's photo spot presented in an entirely different fashion.
Hazy Reflections: Hazy Reflections features a morning haze forming over a crystal clear, mirror-like image of the Grand Tetons reflecting in a still pool of water.
Art is an investment, and Ryan Smith's limited edition fine art prints are produced and created to last using the highest quality materials and print processes. Each image is available in several mediums, finishes, and frame options.