Often referred to as "Colorado's best-kept secret," Telluride is renowned for its gorgeous scenery and breathtaking Colorado landscapes. Nestled in the southwest corner of Colorado, Telluride is home to an all-season resort which has gained notoriety for its beautiful scenery and yielded some of the most popular photographic images from Colorado mountain scenes to San Juan fall colors. The resort town is surrounded by the gorgeous scenery of Mt. Sneffels, Mt. Wilson, and many other scenic mountain ranges in the region. Telluride photographs are highly sought after by art collectors and enthusiasts alike.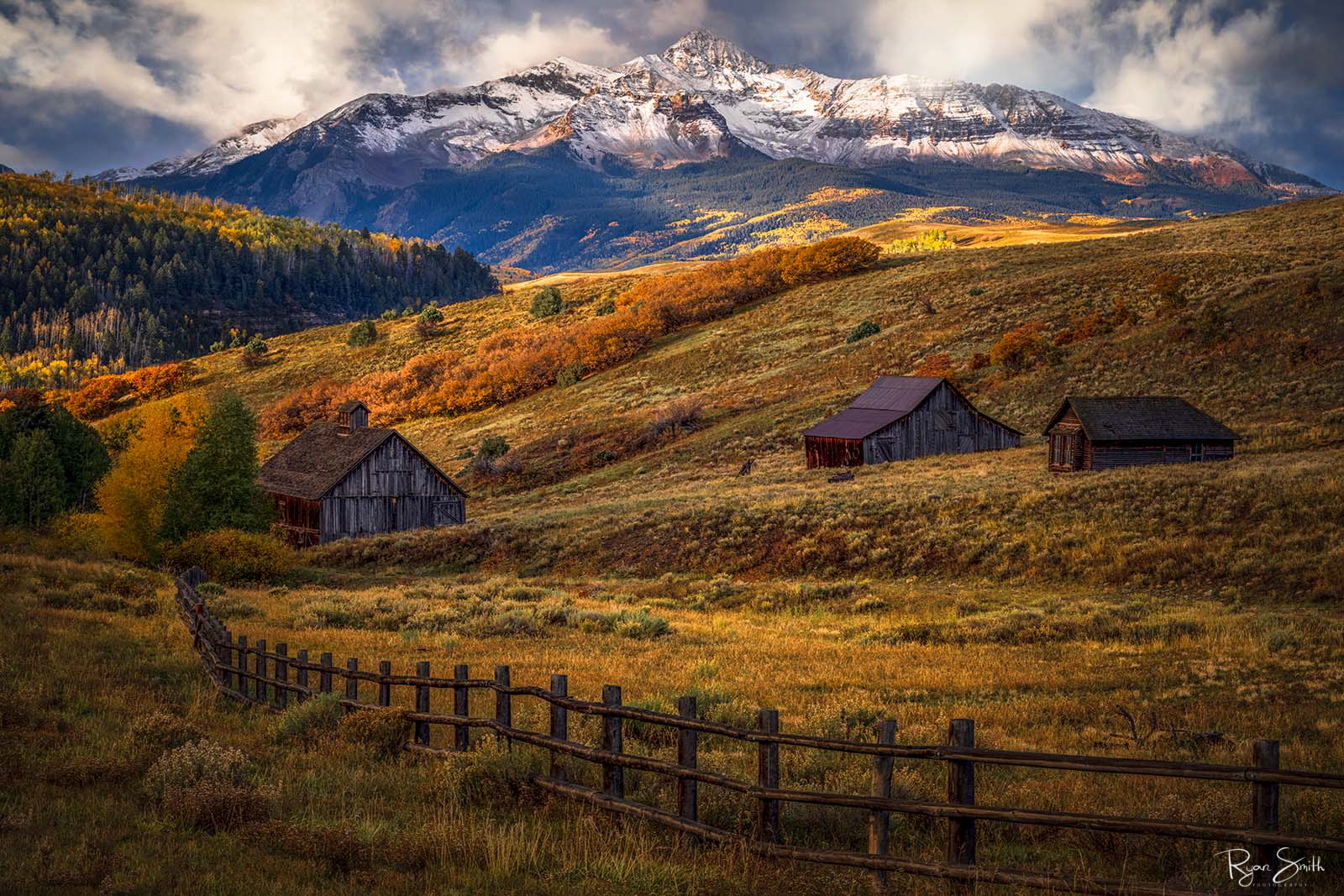 ---
Telluride - From Mining Town to Resort Town
Telluride was first established as a mining town in the late 1800's for minerals like zinc, copper, and gold. Telluride has a rich history as a mining community lasting until the 1970's when the town began to open itself up to tourism. In the decades since, the Telluride area has been the subject of many popular fine art pieces such as "Tranquility" and "Golden Meadows," showcasing the Rocky Mountains with their snowy mountaintops and lush greenery.
Capturing the unfettered beauty of nature, Telluride fine art is highly sought after by art collectors for the majesty of the Colorado wilderness. Scenery from Telluride is used for everything from Telluride stock photos and Colorado posters to some of the finest Telluride art.

Telluride is home to various unique locations that have become popular subjects of the best Colorado landscape photographs. With stunning views of shimmering aspens and mountains peaks, Last Dollar Road is a popular spot with many visitors to the San Juan Mountains. Last Dollar Road also showcases many of Telluride's most breathtaking views, and is a perfect location to snap photos of Mt. Wilson or see the historic ranch from the classic John Wayne Western, "True Grit." There are many historic locations in Telluride such as the Sheridan Opera House and various hot springs. Main Street Telluride also captures the quaint and rustic mountain scenery with plenty of restaurants and businesses for tourists to visit.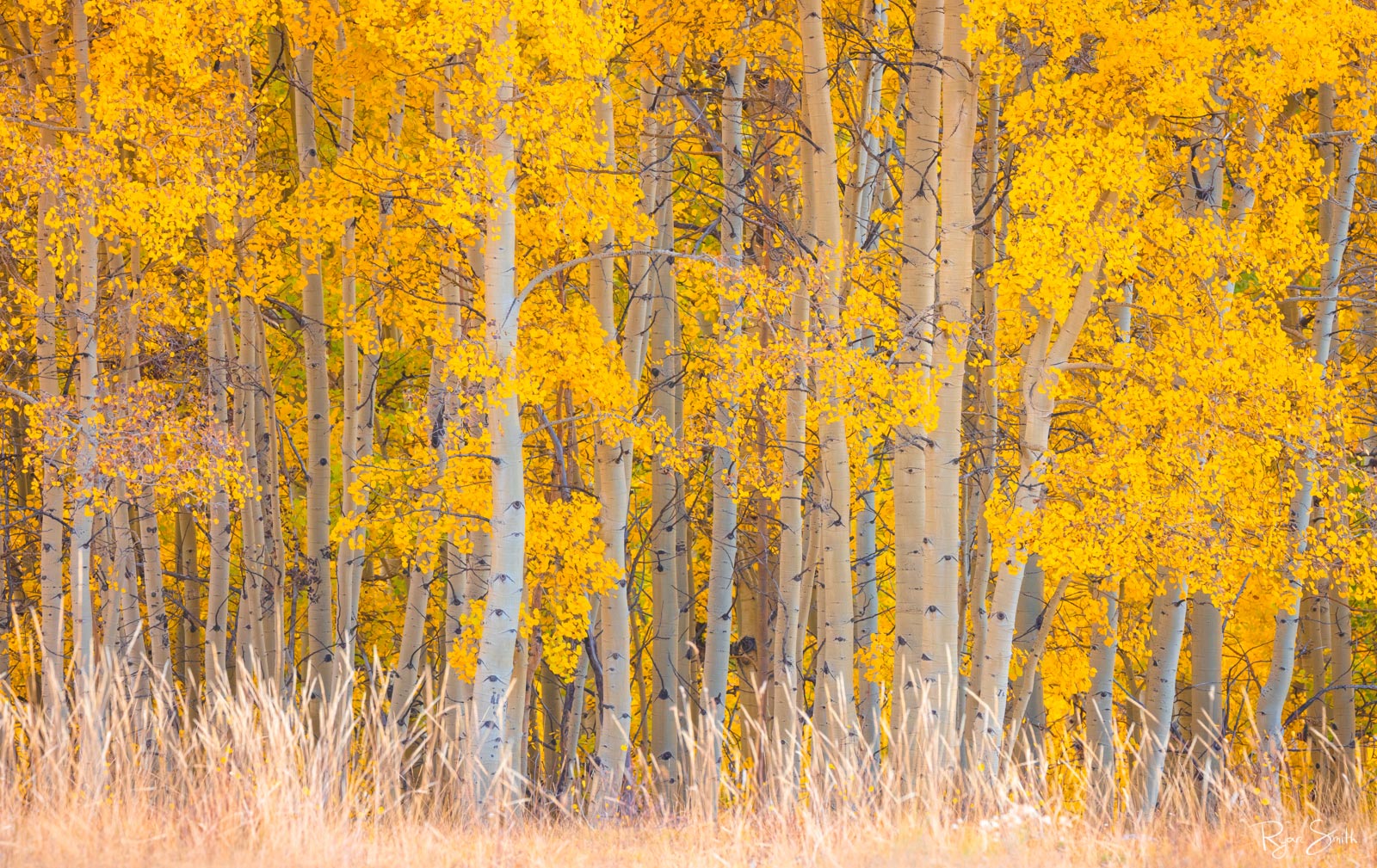 "Autumn is the hardest season. The leaves are all falling, and they're falling like they're falling in love with the ground." ~ Andrea Gibson
Beautiful Locations in Telluride
Telluride, Colorado, is home to various locales showcasing fine art photos of Telluride and surrounding areas. Some of the most scenic locations in and around the Telluride area include:
Last Dollar Road: From Mt. Wilson surrounded by shimmering aspen scenes to famous spots like the iconic ranch from John Wayne's "True Grit," Last Dollar Road encapsulates the beauty and majesty of the Colorado Rockies.
Chimney Rock Colorado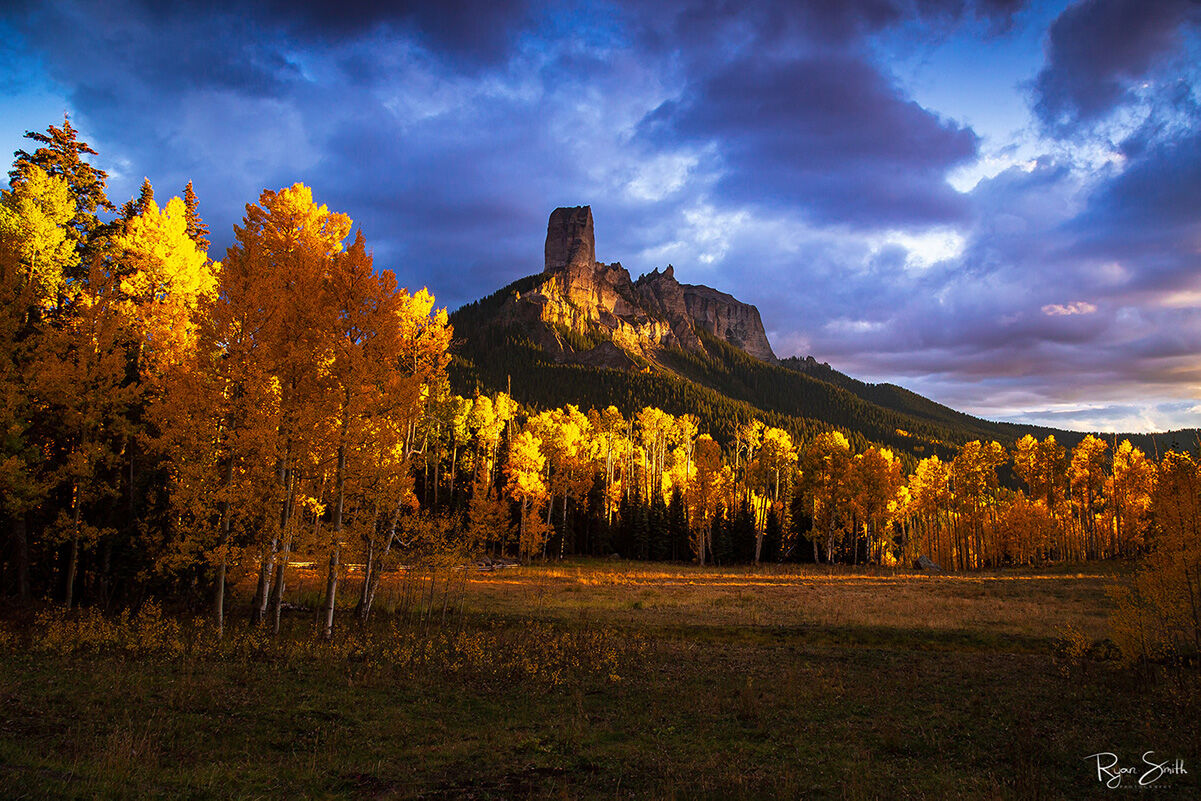 Chimney Rock: Just a few hours south of Telluride sits Chimney Rock. Towering at over 7,000 feet above sea level, Chimney Rock is adorned by forestry at its base, and is a perfect location to view the vibrant yellow and orange leaves of the fall season.
---
Mt Wilson Colorado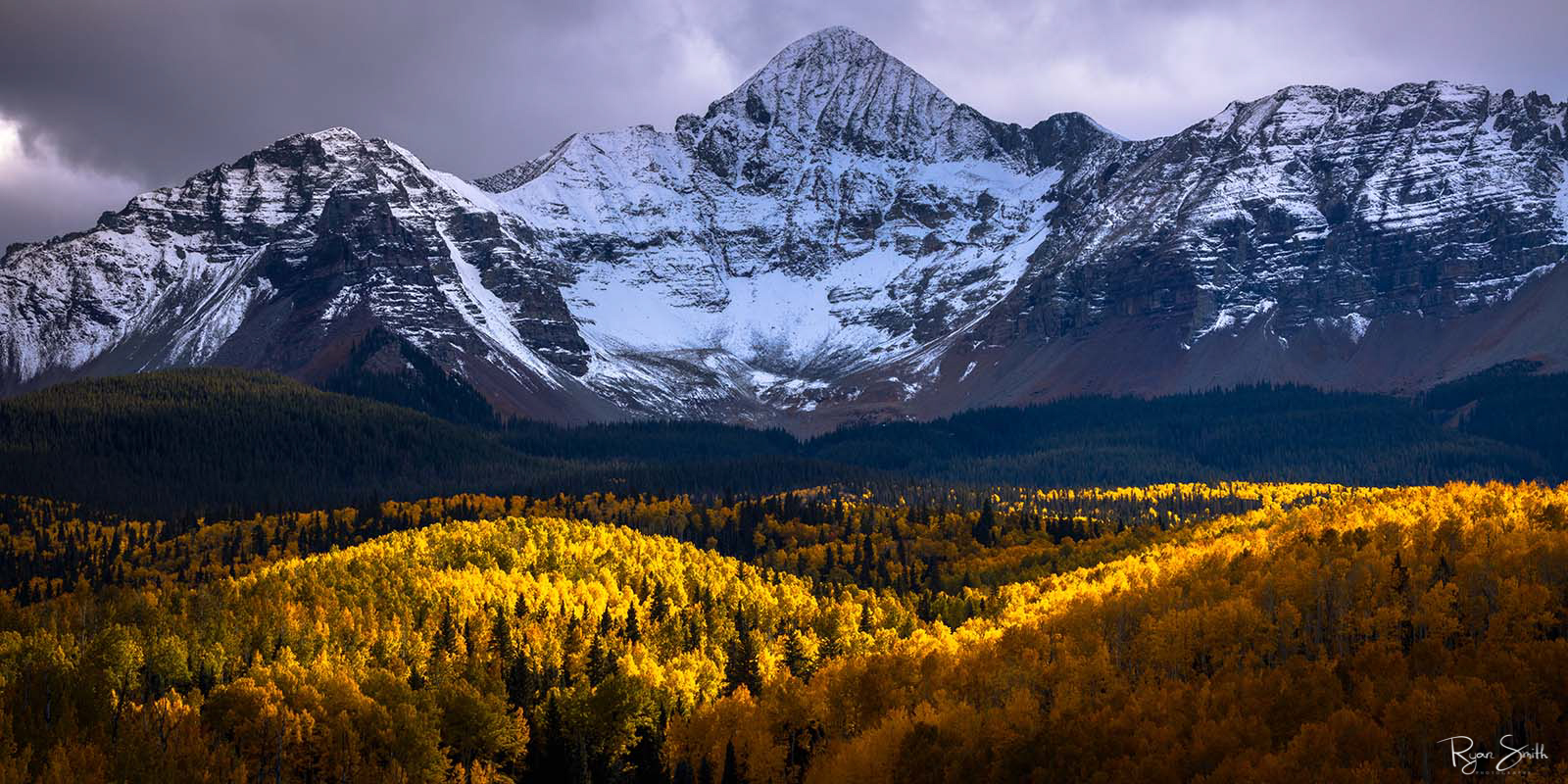 Mt. Wilson: Standing at over 14,000 feet, Mt. Wilson is the tallest mountain in the San Miguel Mountain Range of Colorado, and showcases stunning mountain scenery and snowy mountain backdrops. Mount Wilson also ranks amongst the most difficult assents for Colorado mountaineers.
---
Mt. Sneffels Colorado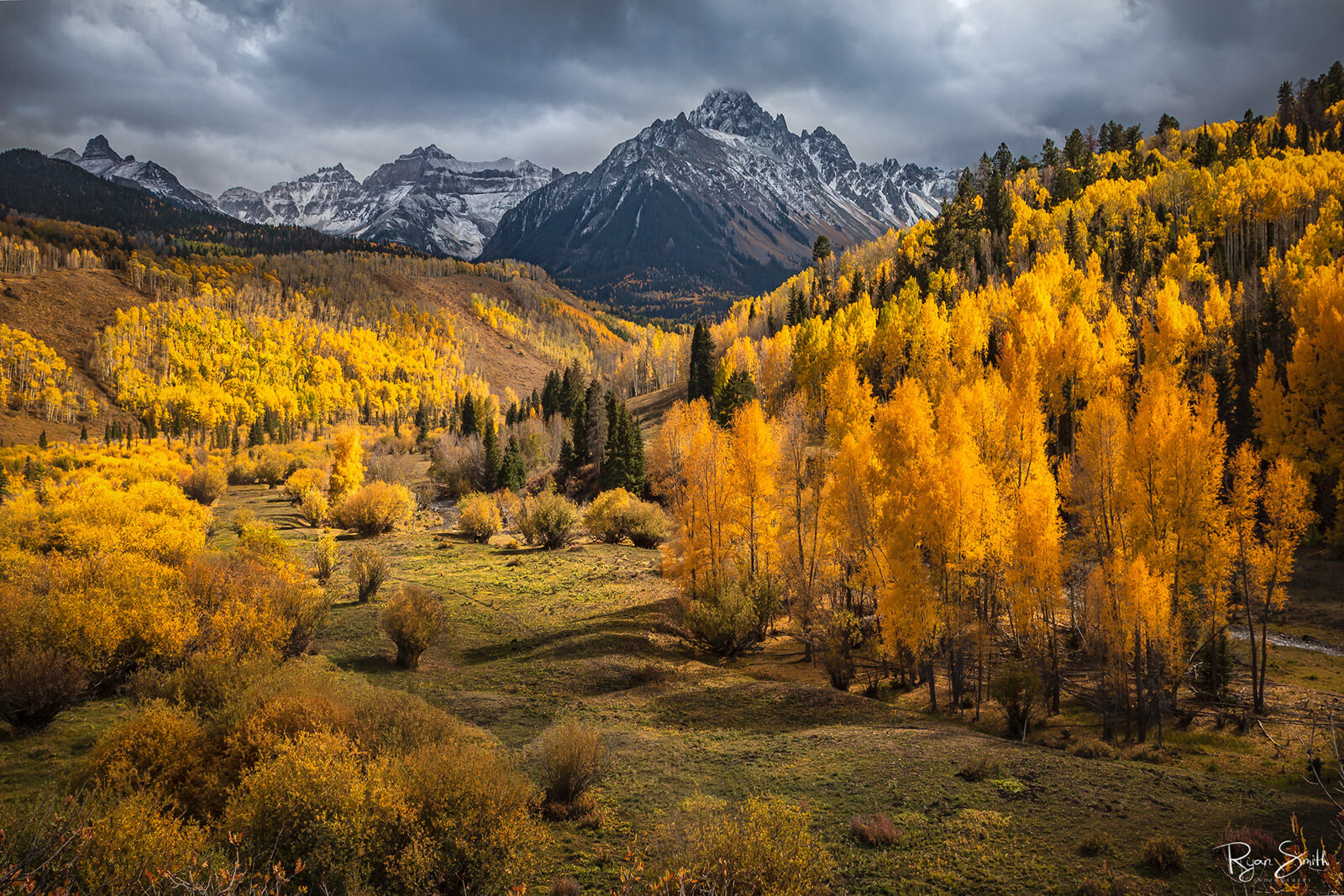 Mt. Sneffels: Rivaling the towering height of Mt. Wilson, Mt. Sneffels is a worthy challenge for avid climbers in search of Colorado Rocky mountain views. With it's snow-capped peaks, Mount Sneffels ranks amongst the most popular subjects for Telluride photos.
---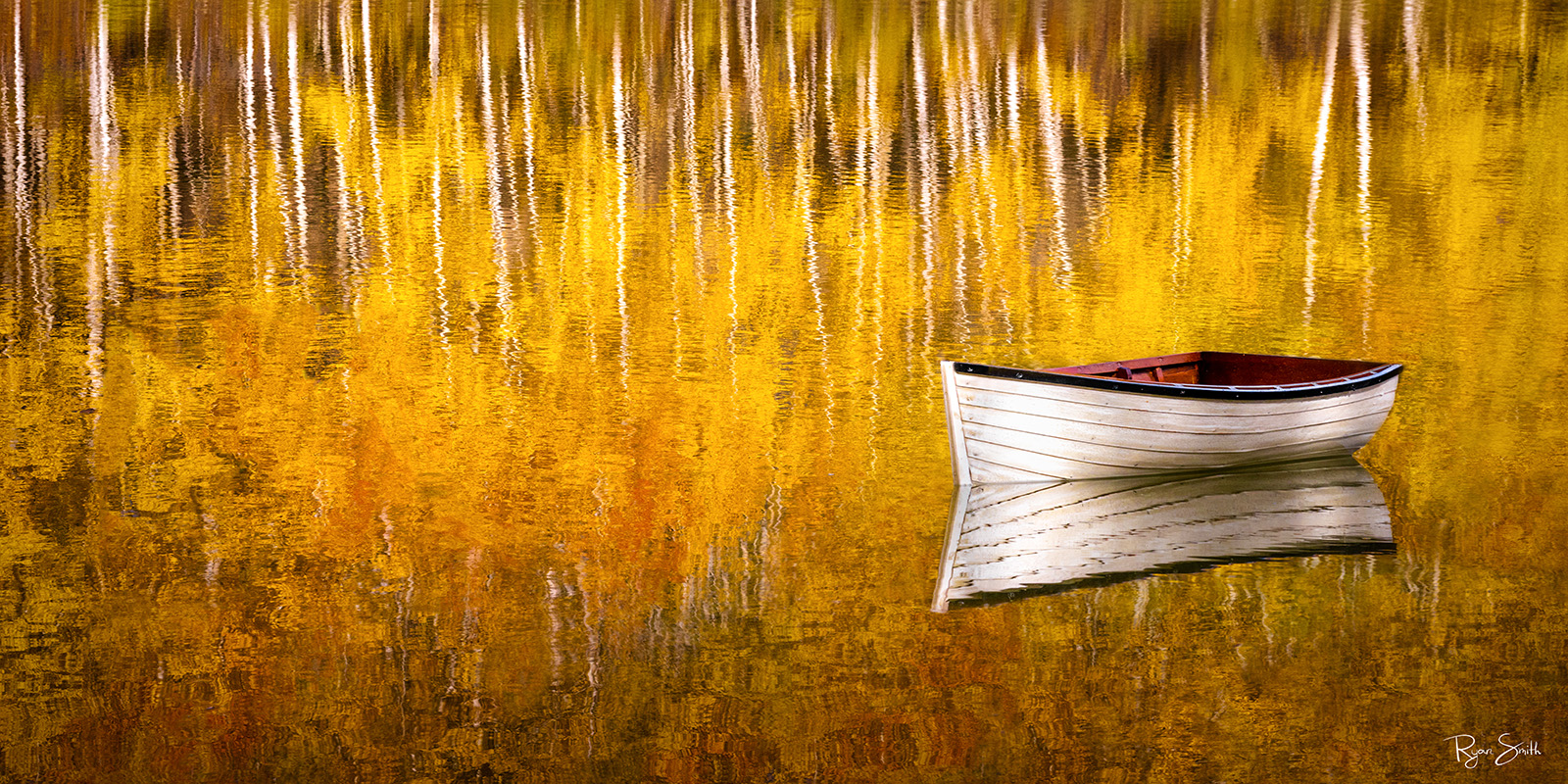 Telluride's Gorgeous Scenery

Telluride is extremely popular amongst art collectors due to the array of gorgeous scenery surrounding this charming southwestern Colorado town. With snow-capped peaks and cascades of color found in the region's many forests, Telluride Colorado art captures the unfettered majesty of nature. Many popular Telluride area photos include beautiful pieces of aspen art and stunning scenes of lush greenery.
Telluride art for sale is a hot commodity amongst art enthusiasts looking to bring a piece of the Colorado mountains into their homes or business.
Harkening back to a simpler time with Victorian-era architecture and wide-open landscapes, Telluride has preserved much of the scenery from the area's origins as a Colorado mining town.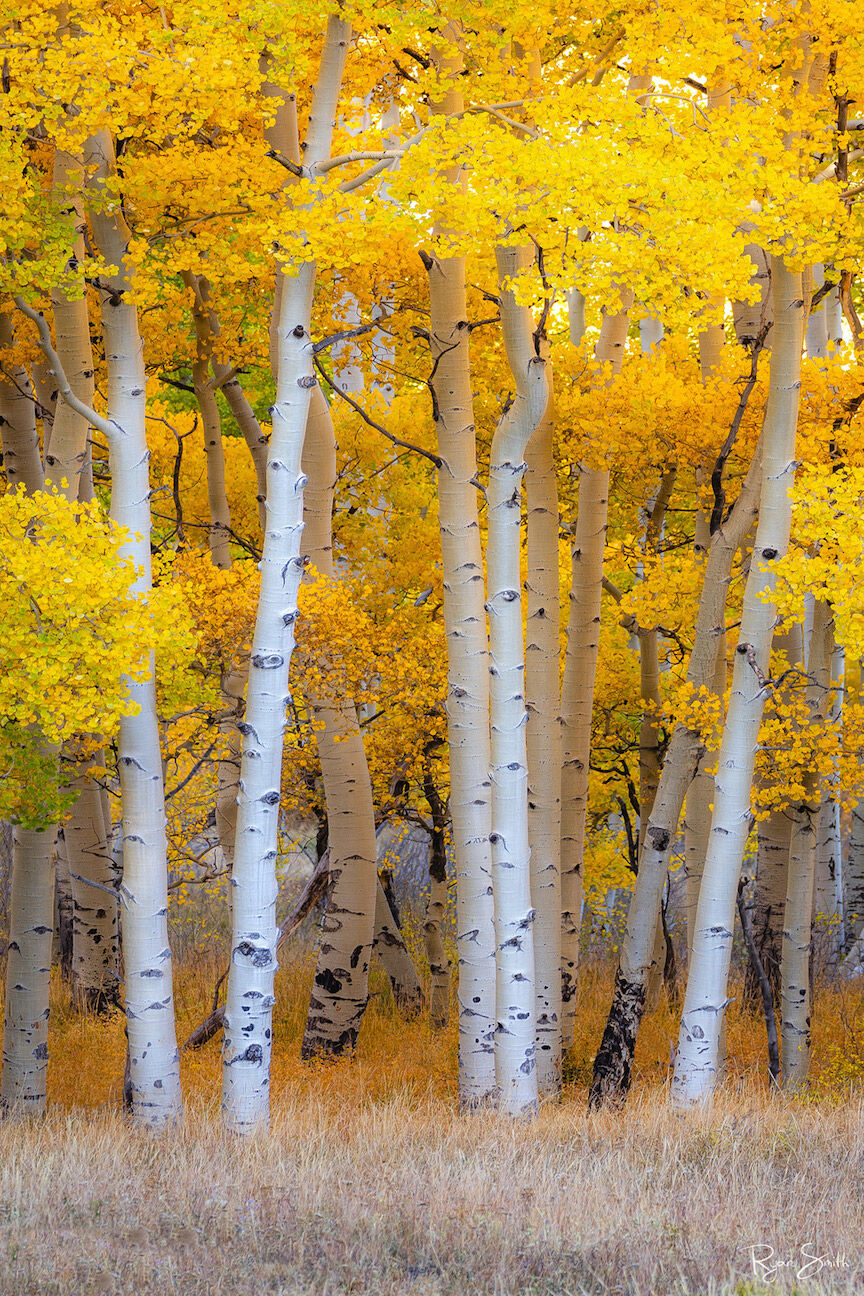 Ryan Smith's Telluride Photo and Fine Art Gallery
The town of Telluride and surrounding area is often described as one of the most beautiful regions of Colorado, and Telluride fine art prints make a stunning addition to any home. Ryan Smith's Fine Art Gallery features a wide variety of Telluride photos for sale to bring these one of a kind, stunning mountain views into your home.
Wilson Glow: "Wilson Glow" is a panoramic photo of Mt. Wilson which brings the grandeur of the mountains onto a Telluride piece of fine art.
Road to Sundown: "Road to Sundown" harkens back to simpler times with a dirt road set against the sweeping forests and towering mountain ranges of Colorado.
Aspen Stand: The vibrant colors of Fall in Colorado are the focus of "Aspen Stand" which features the region's iconic aspen trees and shimmering yellow foliage.
Shuttered: Showcasing a boarding house from Telluride's time as a booming mining town in the late 1800's and early 1900's, "Shuttered" paints a picture of a time long past.