Kanab, Utah is a gateway to some of the top landscape photography destinations in the Southwest!! The world-famous "Wave" tops the list, with Antelope Canyon, Horseshoe Bend, Zion, Bryce, Lake Powell, Canyonlands, Moab and Grand Staircase not far behind. In addition, did you know there are many easily accessible locations that don't require special transportation or a permit? Read on as I highlight the Iconic locations, along with some of my favorite "hidden gems" of the Southwest! Be sure to click on the underscored links for more information on the best photography hotspots, as well as hiking trails, driving directions and history of the locations.
---
The Wave
Without a doubt, "The Wave" is one of the most sought-after and popular destinations for landscape photography in the world. These highly coveted permits are not easy to come by, but why not try your luck at the lottery while in the Kanab area? Someone has to win, right......and it may as well be you!! The actual "Wave" formation will be in full light at mid-morning, (usually between 10-11AM depending on the time of year), and this is the optimal time for landscape photography. There are many other sites in Coyote Buttes North, so if you are lucky enough to score a permit, plan to spend the entire day hiking, exploring and photographing!!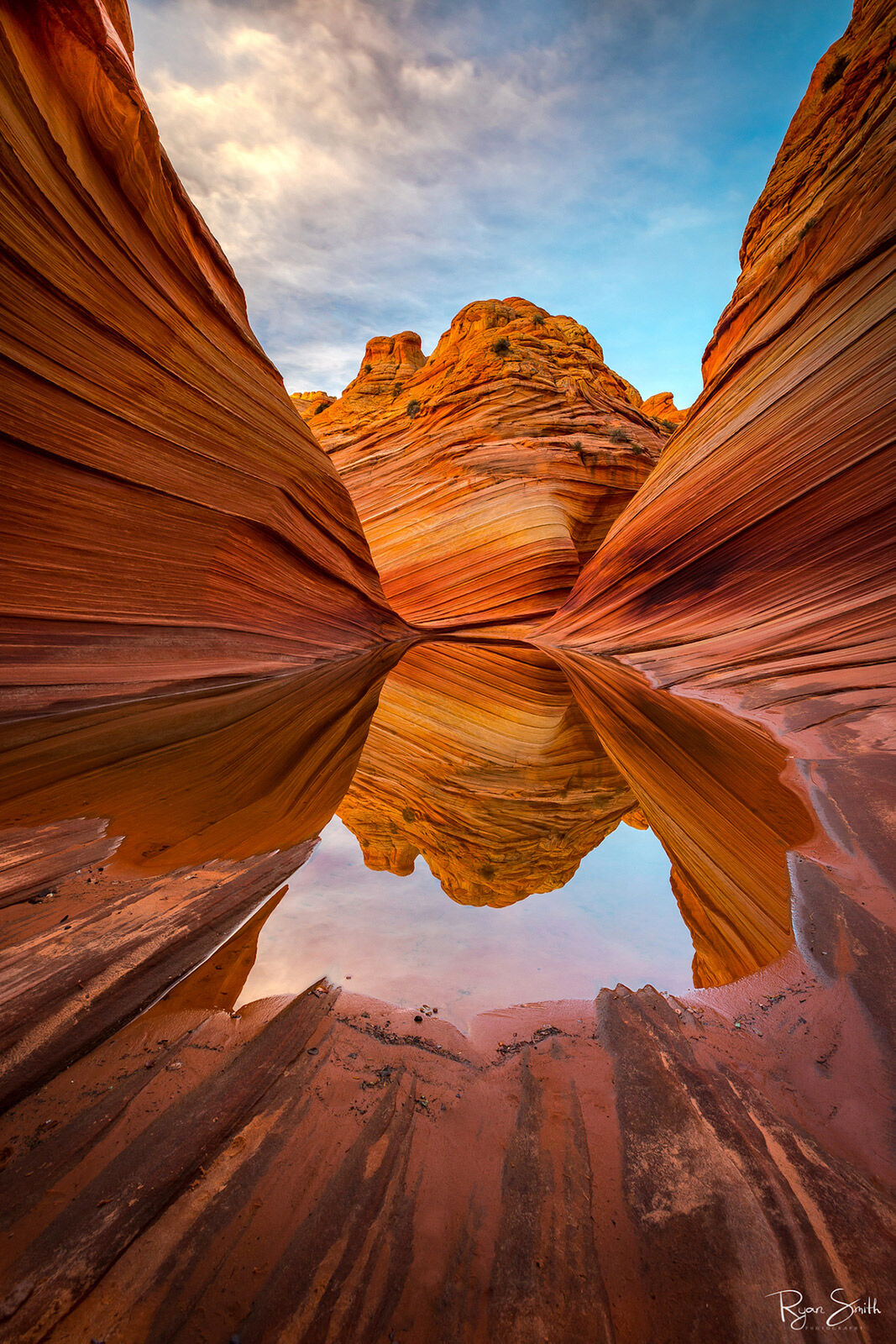 Coyote Buttes South
If you missed out on a Wave permit this go-round, Coyote Buttes South is a perfect alternative. While still a permitted area, Coyote South is far less popular than it's neighbor to the north (home of the Wave), and permits are much easier to come by. With colorful rocks swirling like waves and fragile fins as far as the eye can see, the landscape of Coyote Buttes South is very similar to that of Coyote North. Coyote Buttes South is approximately a 2 1/2 hour drive from Kanab and a high clearance 4-wheel drive vehicle (Jeep or similar) is essential, along with experience driving through deep sand.
Antelope Canyon
It's no secret that the Southwestern United States is home to some of the world's most spectacular slot canyons. These cavernous beauties fill onlookers with endless wonder and amazement. However, one canyon stands out above the rest, and has captured the interest of many photographers worldwide including Peter Lik. The light beams in Upper Antelope Canyon are only visible from late March through the beginning of October.
To photograph Upper and Lower Antelope Canyons you will need to hire a guide through one of the Navajo Tour Companies in Page. I prefer Ken's Tours Lower Antelope Canyon Tours as a guide for exploring Lower Antelope Canyon.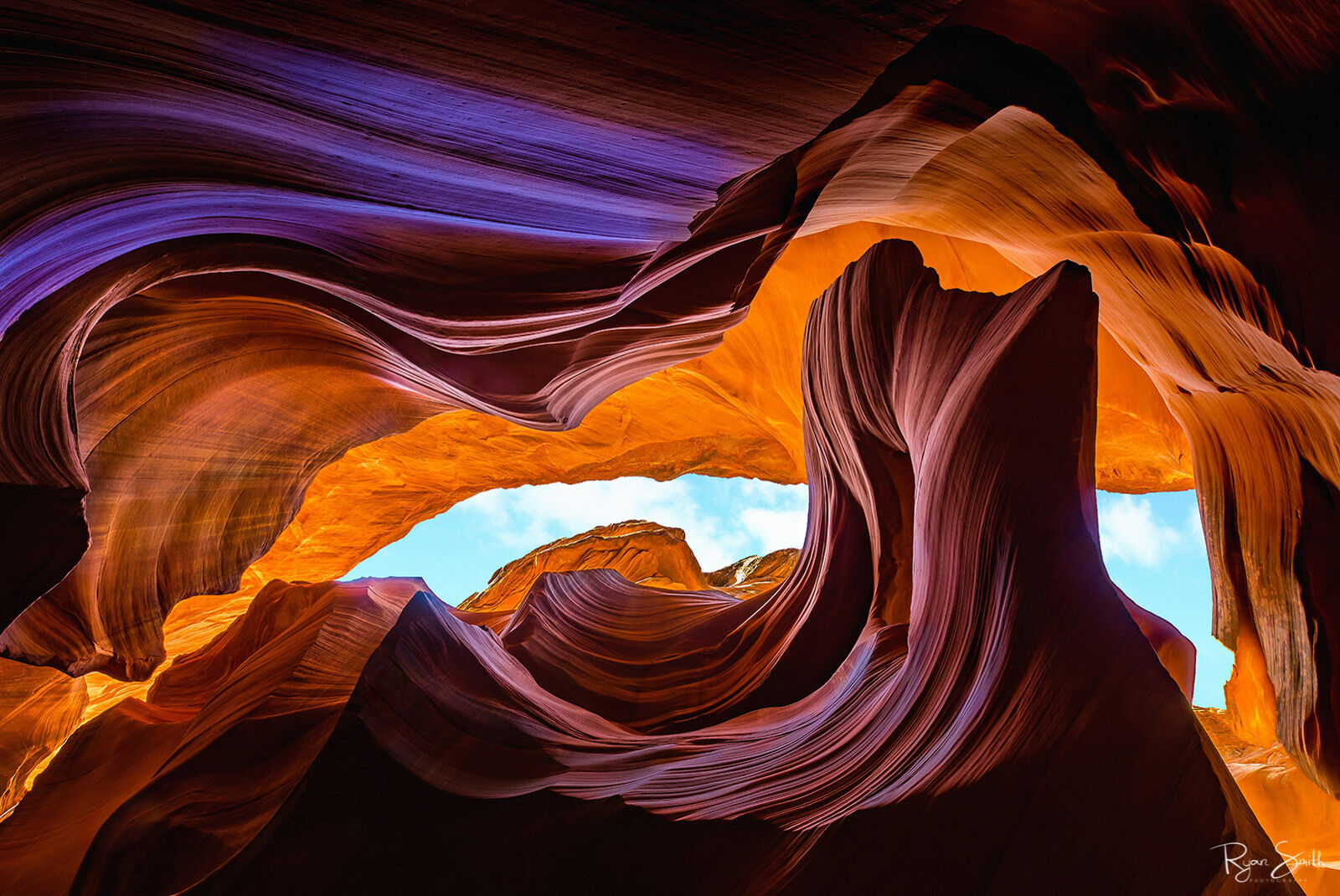 Horseshoe Bend
Horseshoe Bend requires no permit or guide, very little advance planning, and is one of the most easily accessible locations in the Southwest. The parking lot and trailhead are located just off US Highway 89, approximately 5 miles southwest of Page, Arizona. Sunrise is the most popular time to photograph Horseshoe Bend, but it is a great sunset photography location as well.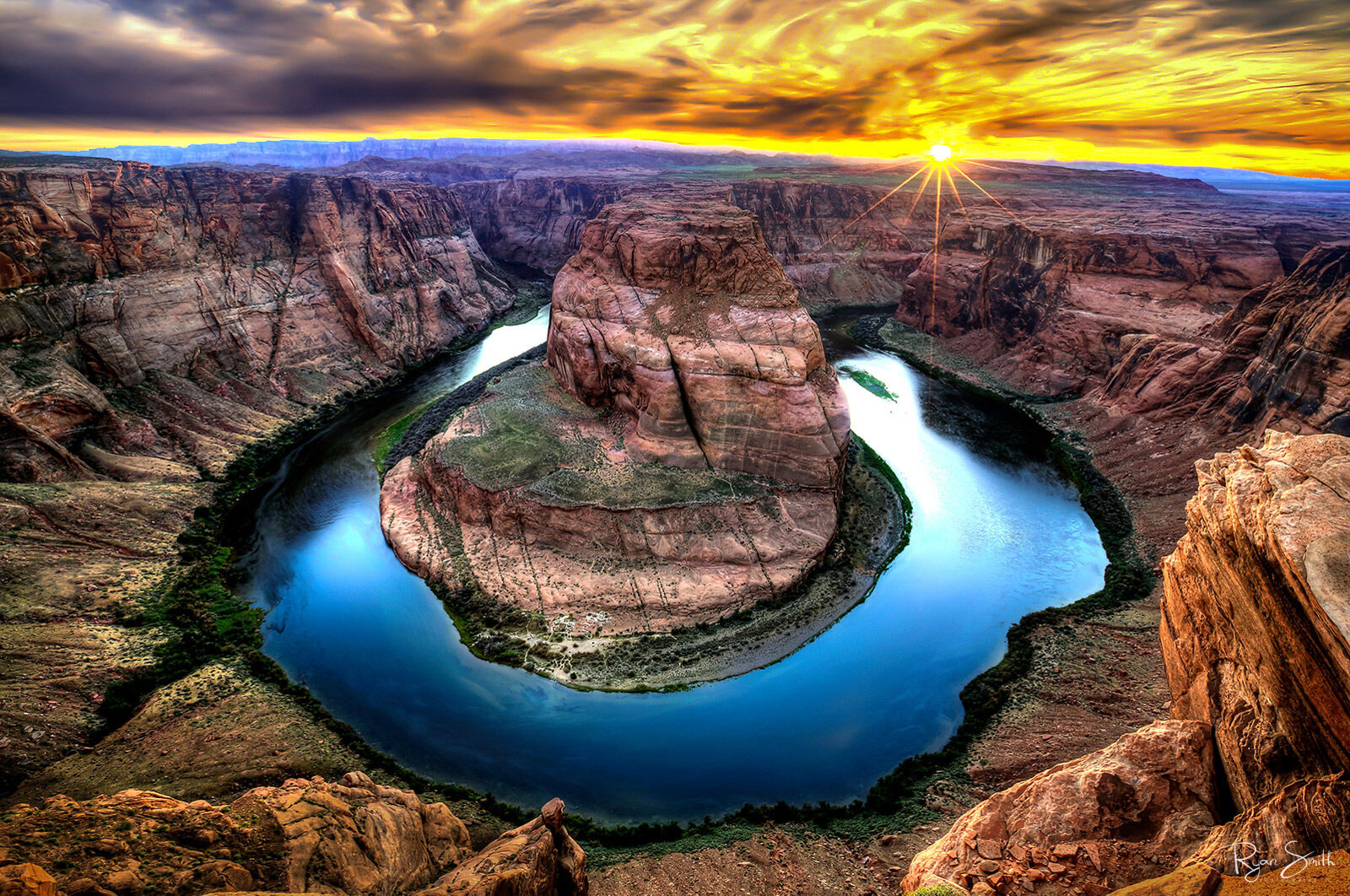 Reflection Canyon / Lake Powell
Reflection Canyon is a 20 mile out-and-back hike offering a breathtaking view of a picture perfect bend in the Colorado River Lake Powell. Although, one of the most difficult hikes in the Southwest, it very well may be the most stunning landscape photography destination in Utah. Sunrise is definitely the highlight at Reflection Canyon, but it also makes a stunning backdrop for Milky Way, especially in Springtime when the full arc stretches over the canyon.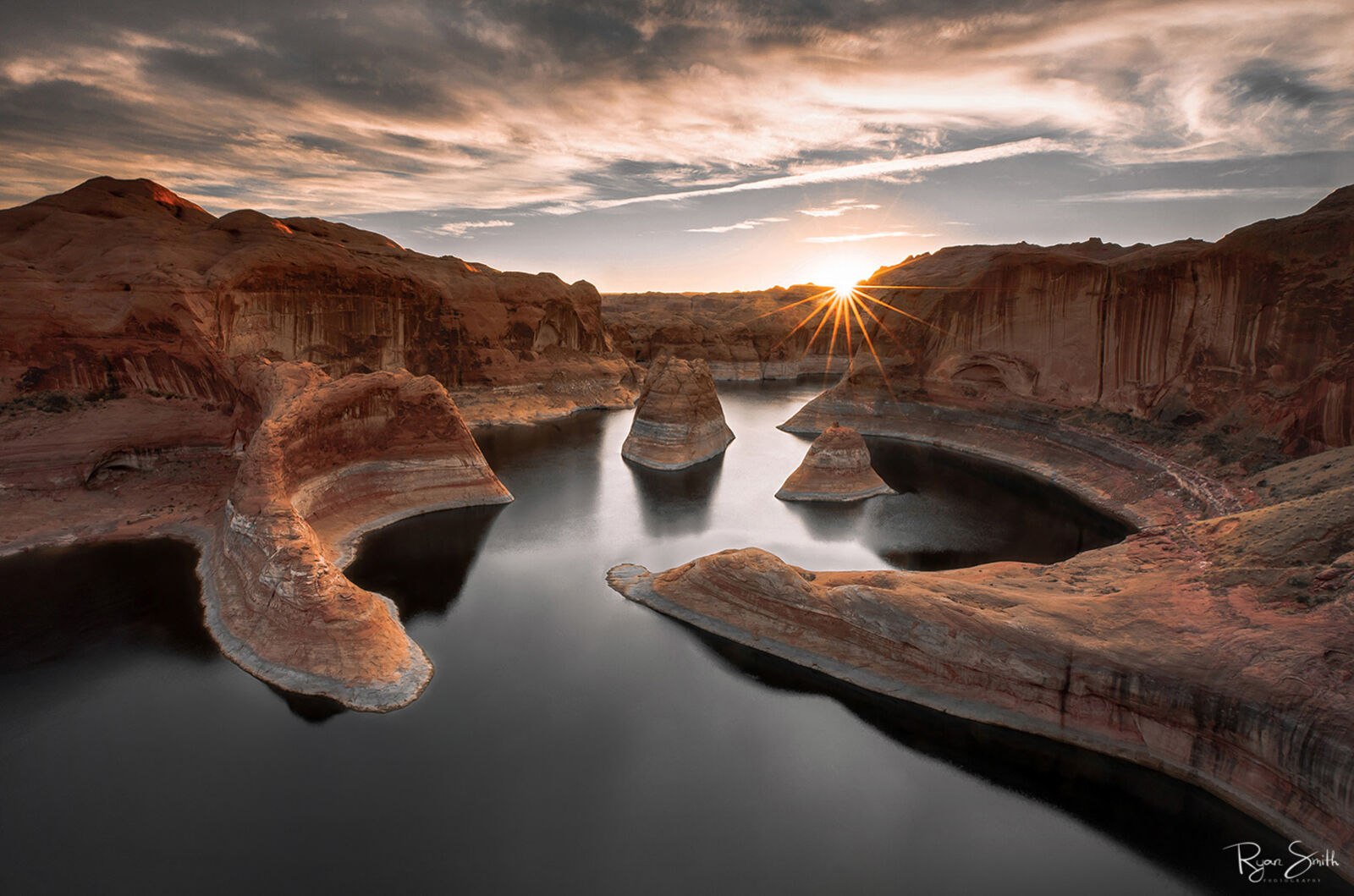 Zion National Park

Did you know that Zion was Utah's first national park? At first glance, it is obvious why Zion is one of the most visited national parks in the United States. Zion offers some of the most popular hikes in the world, including Angel's Landing, Subway, and the Narrows, along with some of the best landscape photography compositions in the Southwest. Canyon Overlook offers a panoramic view of Zion Canyon and is a fantastic sunrise or sunset landscape photography location.
Bryce Canyon National Park
The highest concentration of hoodoos on earth, plentiful red rocks and endless vistas.....yep, that's Bryce Canyon National Park. Along with plentiful pull-outs for panoramic landscape photos, the hiking trails in Bryce Canyon range from family-friendly trails to more adventurous hikes into the canyon of hoodoos. Bryce Canyon is best photographed at sunrise, but can also be a great Milky Way photography location, especially in early spring where you can capture the full arc over the formations.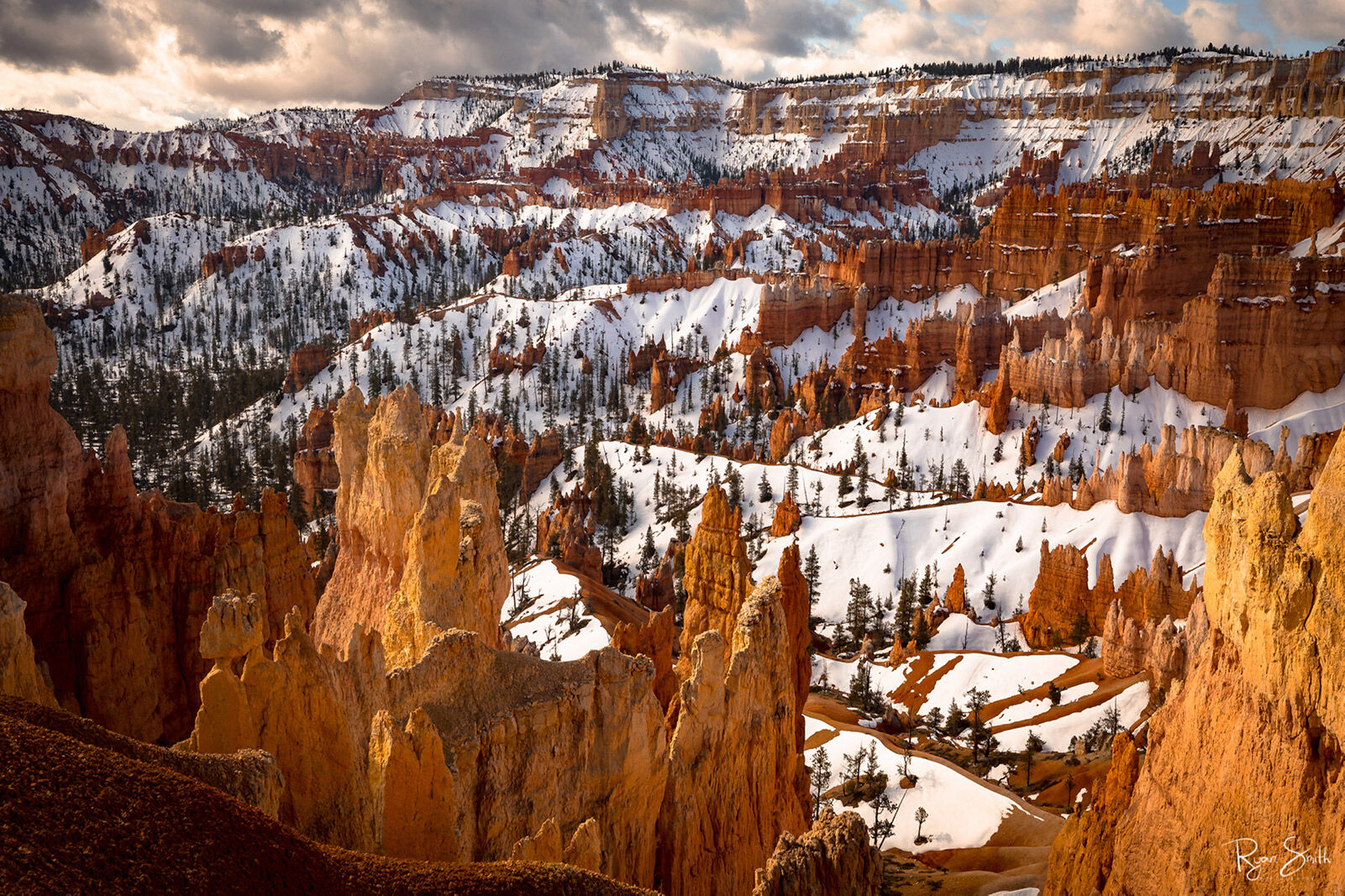 Peek-A-Boo Slot Canyon
Looking for a slot canyon that requires no permit and no guide, well look no further than Peek-A-Boo Slot Canyon!! The canyon is located about 13 miles northeast of Kanab off Highway 89, but the last 9 miles are off road, with areas of deep sand, so you will need a high clearance four wheel drive vehicle (Jeep or similar). The easy hike through the canyon offers stunning landscape photography compositions somewhat similar to what you would find in Antelope Canyon without the crowds and hassle of hiring a guide.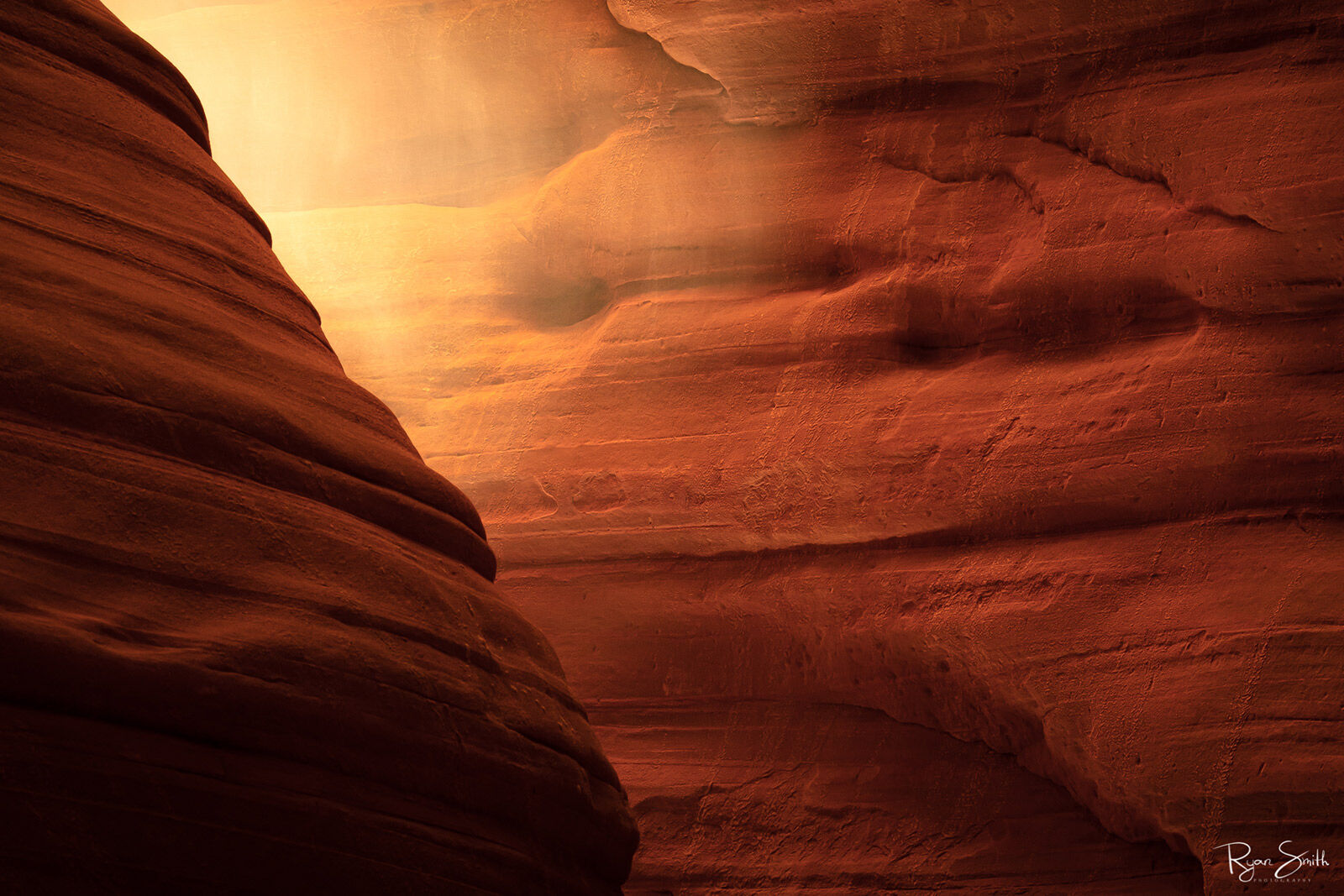 Inchworm Arch
Located just 50 minutes outside Kanab, Inchworm Arch is truly a quintessential gem for sunrise, sunset or Milky Way photography. From Kanab, head east on Highway 89 towards Page, after about 9.5 miles, take a left on Johnson Canyon Road. Be sure to allow enough time to stop at what remains of the Old Gunsmoke Movie Set where you can see a number of the original milled log buildings. From Johnson Canyon Road, follow the Visit Southern Utah directions, and make the short hike down to the arch.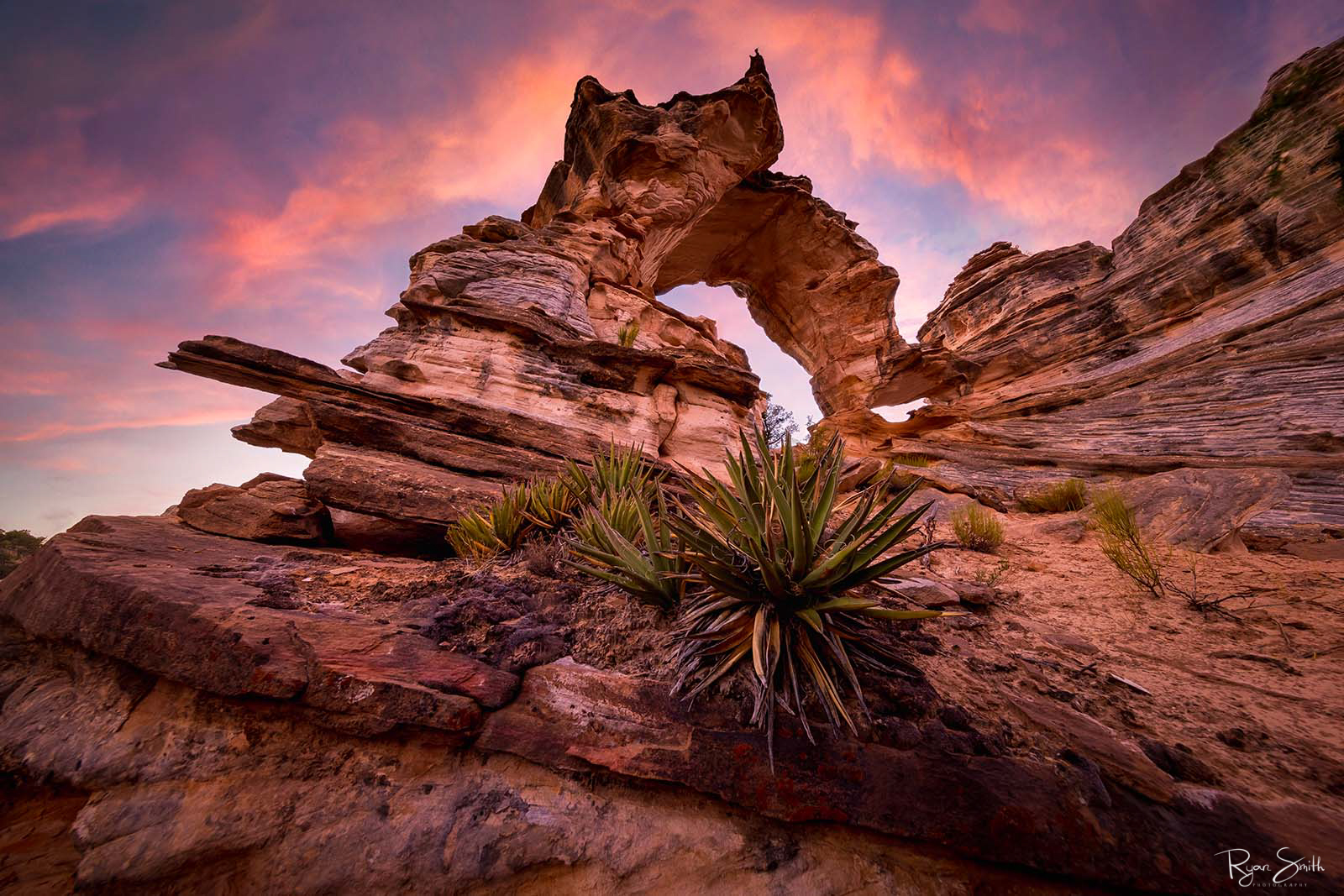 White Pocket
Swirling, multicolored formations of Navajo sandstone make White Pocket a photographer's paradise of epic proportions!! With endless compositions, and otherworldly, brain-rock formations as far as the eye can see, this 1.5 mile square area nestled in the Vermillion Cliffs National Monument has quickly become a premier photography location in the Southwest. Whether it be Sunrise, sunset or Milky Way photography, let your imagination run wild amongst the endless compositions and formations. Accessed off House Rock Road, White Pocket is approximately a 2 1/2 hour drive from Kanab and definitely requires a high clearance 4-wheel drive vehicle (Jeep or similar), and experience driving through deep sand.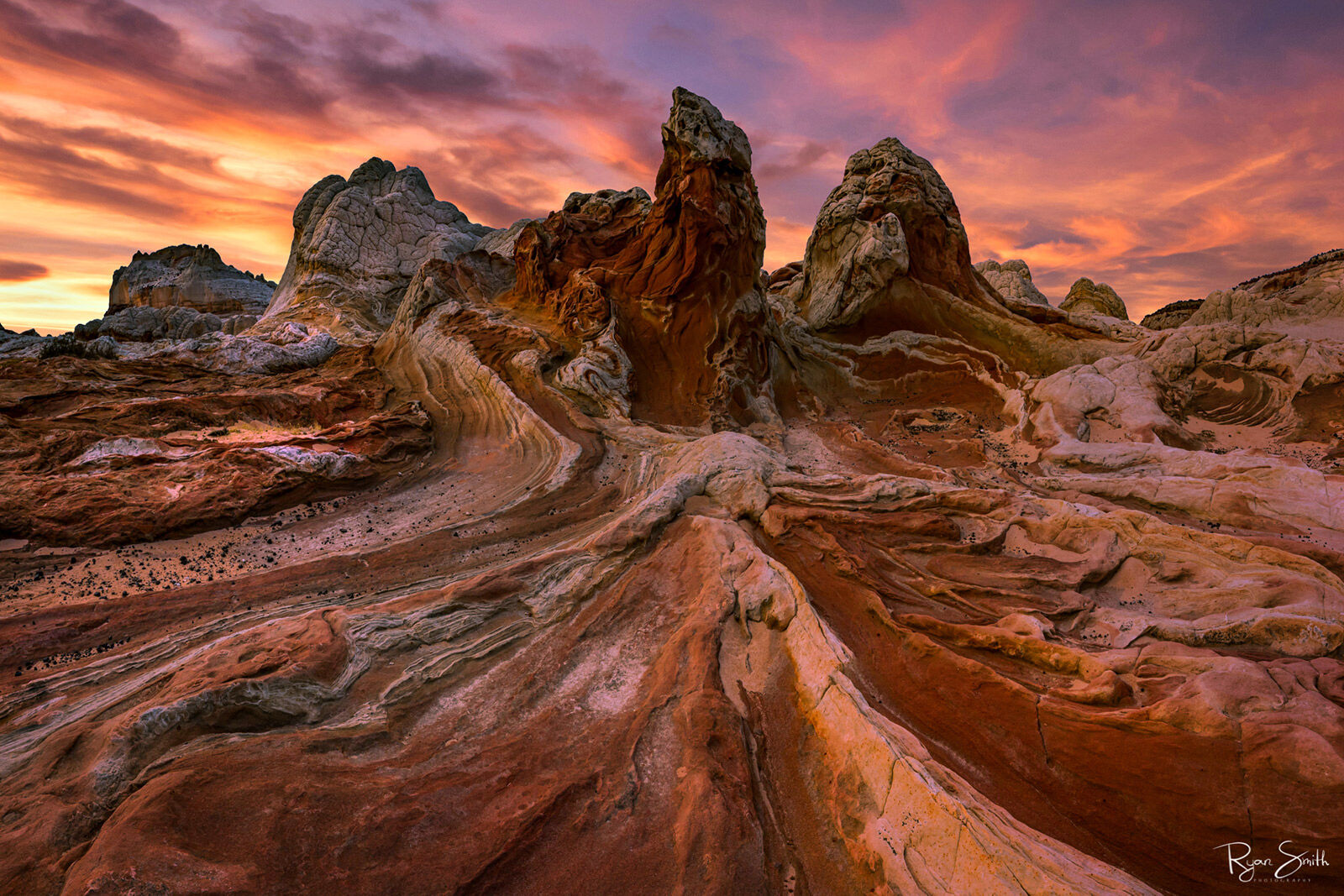 Escalante National Monument
The vast 1.87 million acre Grand Staircase Escalante National Monument hold some of the Southwest's most interesting "hidden gems." From vast arches and natural bridges to narrow slot canyons the landscape photography options are endless. If you only have a day to explore, consider driving Cottonwood Canyon Road, where you can experience and photograph many Iconic areas of the monument such as Grosvenor Arch and Kodachrome Basin State Park to the north. Be sure to visit Sunset Arch, one of my favorite compositions for Milky Way photography which I affectionately named "Fire Dragon" of the Escalante.
Four wheel drive is recommended, but depending on the weather, most of the road is accessible in a high clearance vehicle.
Snow Canyon State Park
Snow Canyon is tucked away in the hills just outside St. George, Utah and about an 1 1/2 hours southwest of Kanab. On one side of the canyon lies red mountains which contrast with the white hills a few miles away. Eroded sandstone rocks of both colors form the cliffs on either side of the valley and masses of black lava from ancient volcanos create a greater contrast. Whether is be sunrise of sunset, Snow Canyon State Park provides endless landscape photography compositions, as well as abundant hiking trails ranging from easy to advanced. If flying into Las Vegas, you might consider a stopover in St. George to photograph this one-of-a-kind landscape.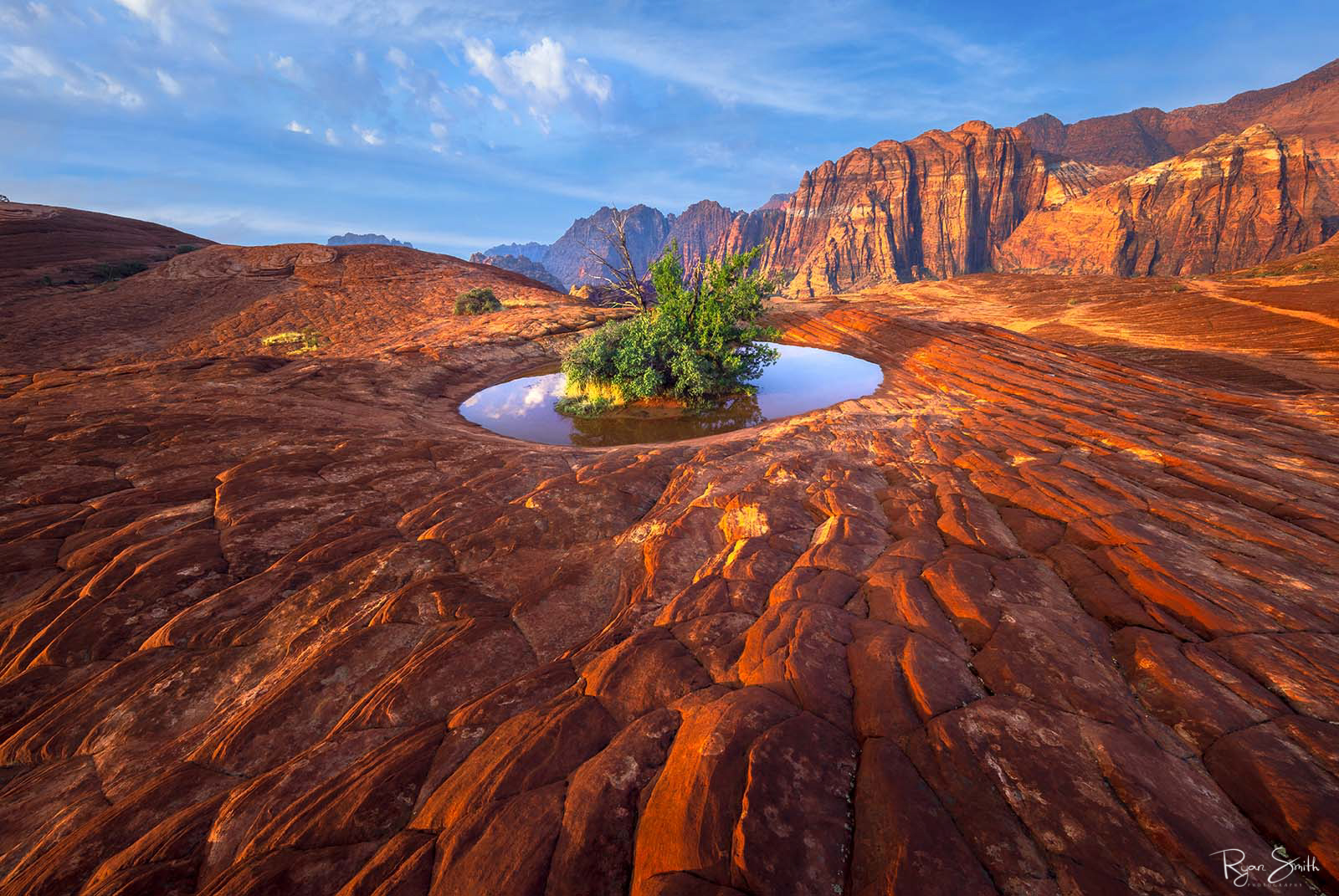 Paria Toadstools
The Paria Toadstools are easily accessed via a one mile hike from the trailhead just off Hwy 89, about an hour southeast of Kanab. The "toadstools" and capped mushrooms dotting the landscape offer endless compositions for sunrise, sunset and Milky Way photography. Allow plenty of time to explore the area, picking out your favorite compositions and be sure to not miss Paria Rimrocks to the west.


Coral Pink Sand Dunes
The Sahara Desert? Nah, just one of the many photogenic sandy deserts in the Southwest. Located in Southern Utah, not far from Kanab are the Coral Pink Sand Dunes which boast rolling dunes and unique rippled patterns as far as the eye can see. The name speaks for itself, as the dunes take on a "coral pink" hue in the soft, early morning and late afternoon light. Although Coral Pinks is a state park, there are no opening or closing hours, just a $10 entrance fee. Coral Pink Sand Dunes are best photographed in the late afternoon/early evening light, and at sunrise.
Moab
Moab, Utah is the gateway to both Arches and Canyonlands National Parks and is surrounded by one of the most stunning and photogenic red rock landscapes on earth!! Moab offers endless hiking, biking, climbing, jeeping, whitewater rafting and stunning photography compositions. The Town of Moab is about 5 1/2 hours northeast of Kanab, and the perfect addition to your Utah adventure.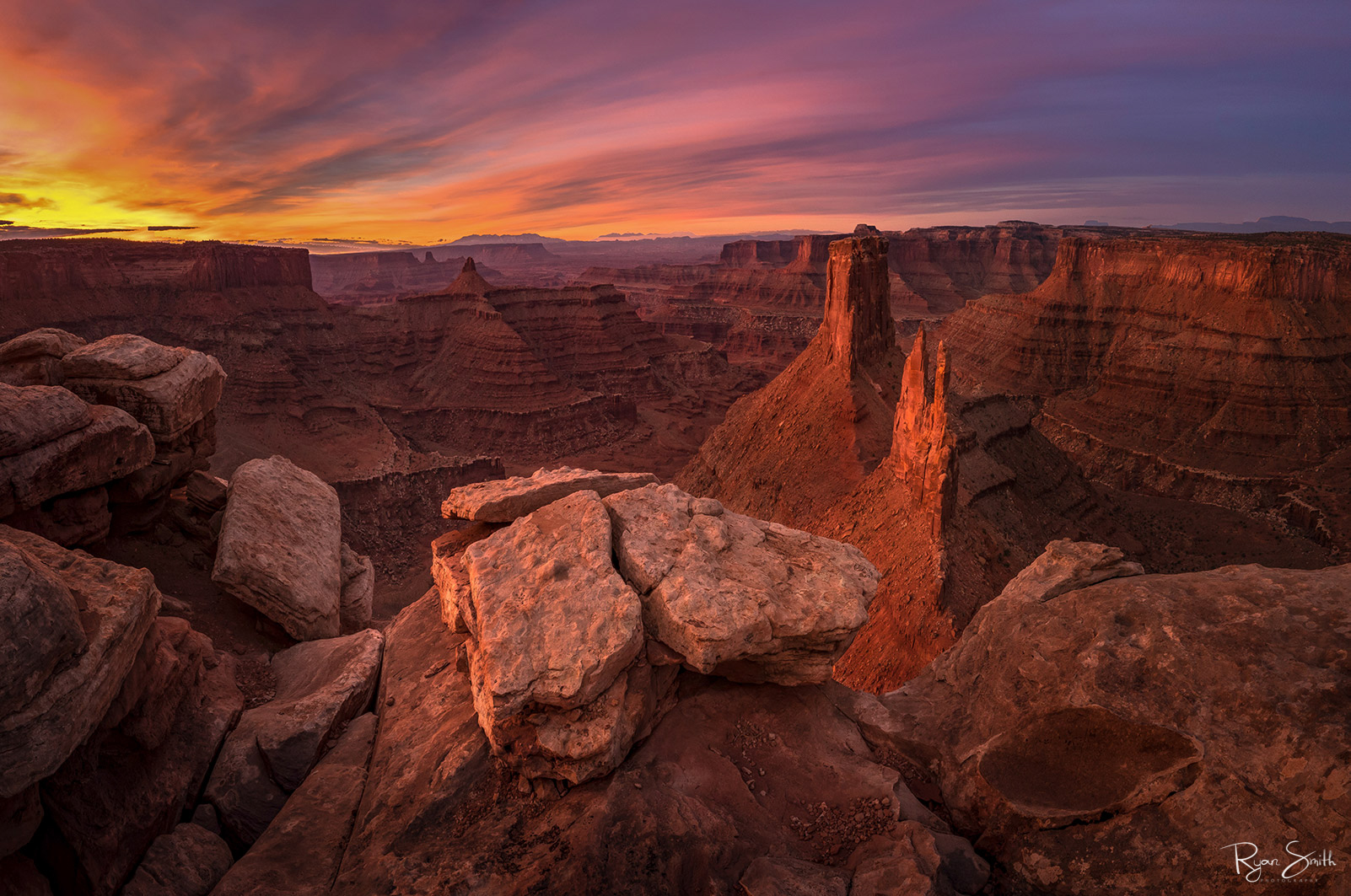 Canyonlands National Park
Canyonlands National Park is a wilderness of cavernous canyons and fantastically formed buttes carved by the Colorado River and its tributaries. Rivers divide the park into 3 districts, Needles, Island in the Sky, and the Maze. Island in the Sky is nearest to Moab, easily accessed, and offers endless hiking trails, breathtaking vistas and stunning panoramic views. Canyonlands is home to several iconic photography locations including Mesa Arch and the Green River Overlook.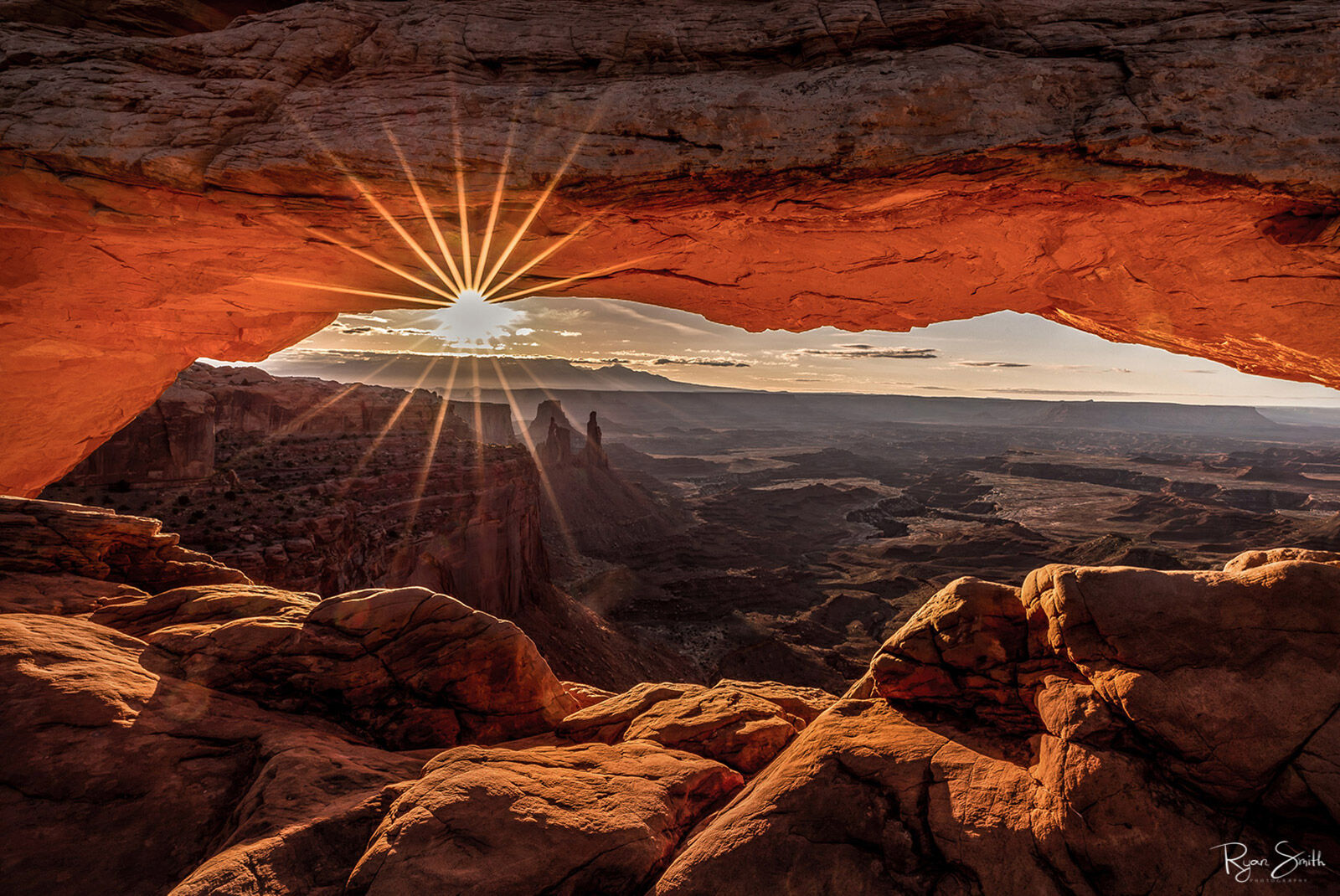 Ryan Smith Fine Art
Southwestern Utah and the Kanab area offer endless photographic opportunities, and it's impossible to experience them all in just one visit. If a return trip isn't in your future plans, or if time didn't allow for visiting that bucket list location, you can still enjoy these stunning landscapes by purchasing a luxury fine art print from Ryan Smith Fine Art. As a lover of photography vacations and photo adventures, Ryan Smith goes wherever the scenery calls him. If you long to see new places but can't go there on your own, consider purchasing a fine art print and bringing the great outdoors inside your home.

"The sea lives in every one of us." ~ Wyland
Even in the desert the wind creates waves and the sandy shore seems to wait for the sea.
---
Fine Art Limited Edition Photograph of 200