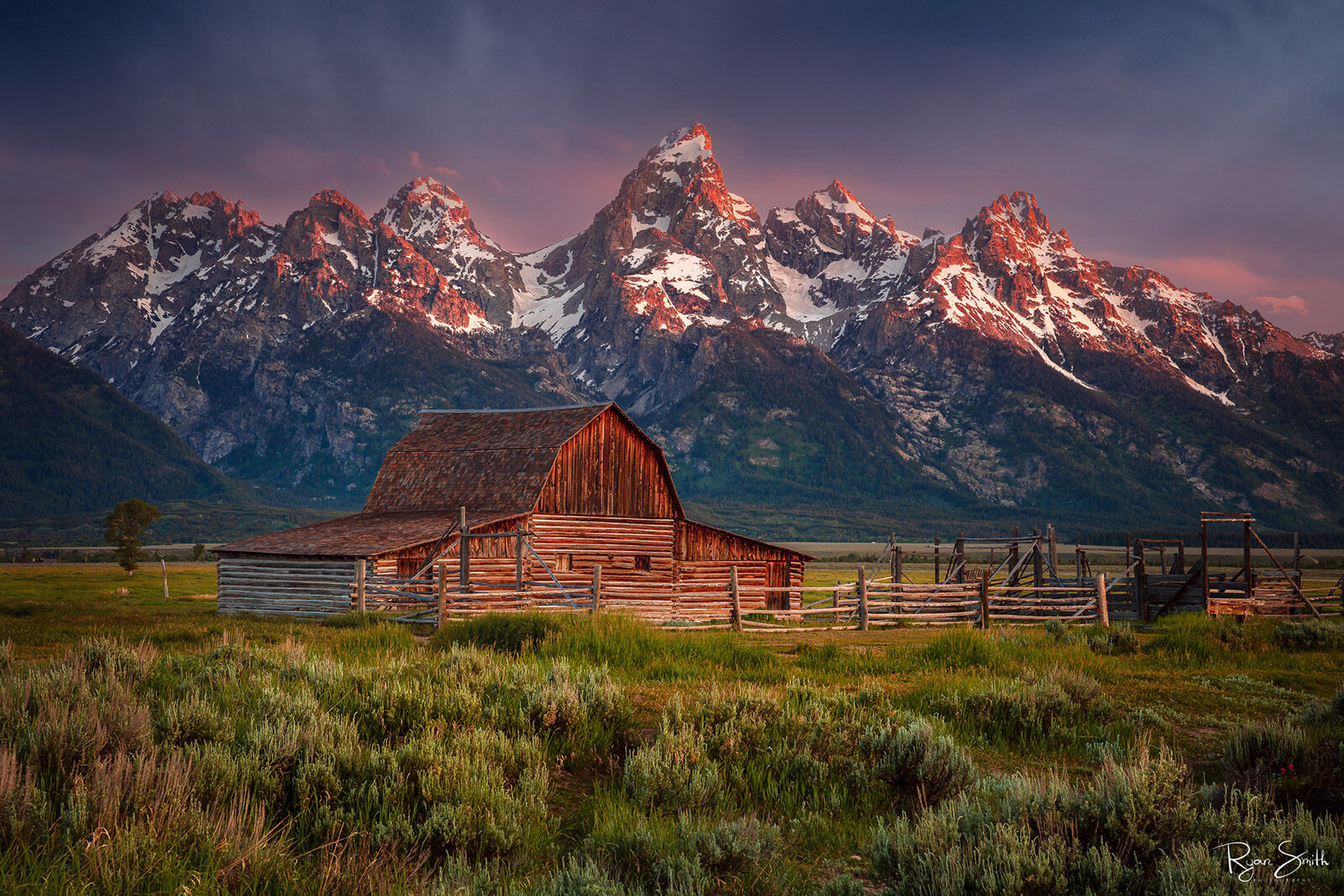 Icons of the Tetons Photography Workshop
June 8-12, 2023
Date & Time: Thur, June 8 - 3PM - Fri, June 12 - 9AM
$2699 Per Person
50% Deposit at Time of Booking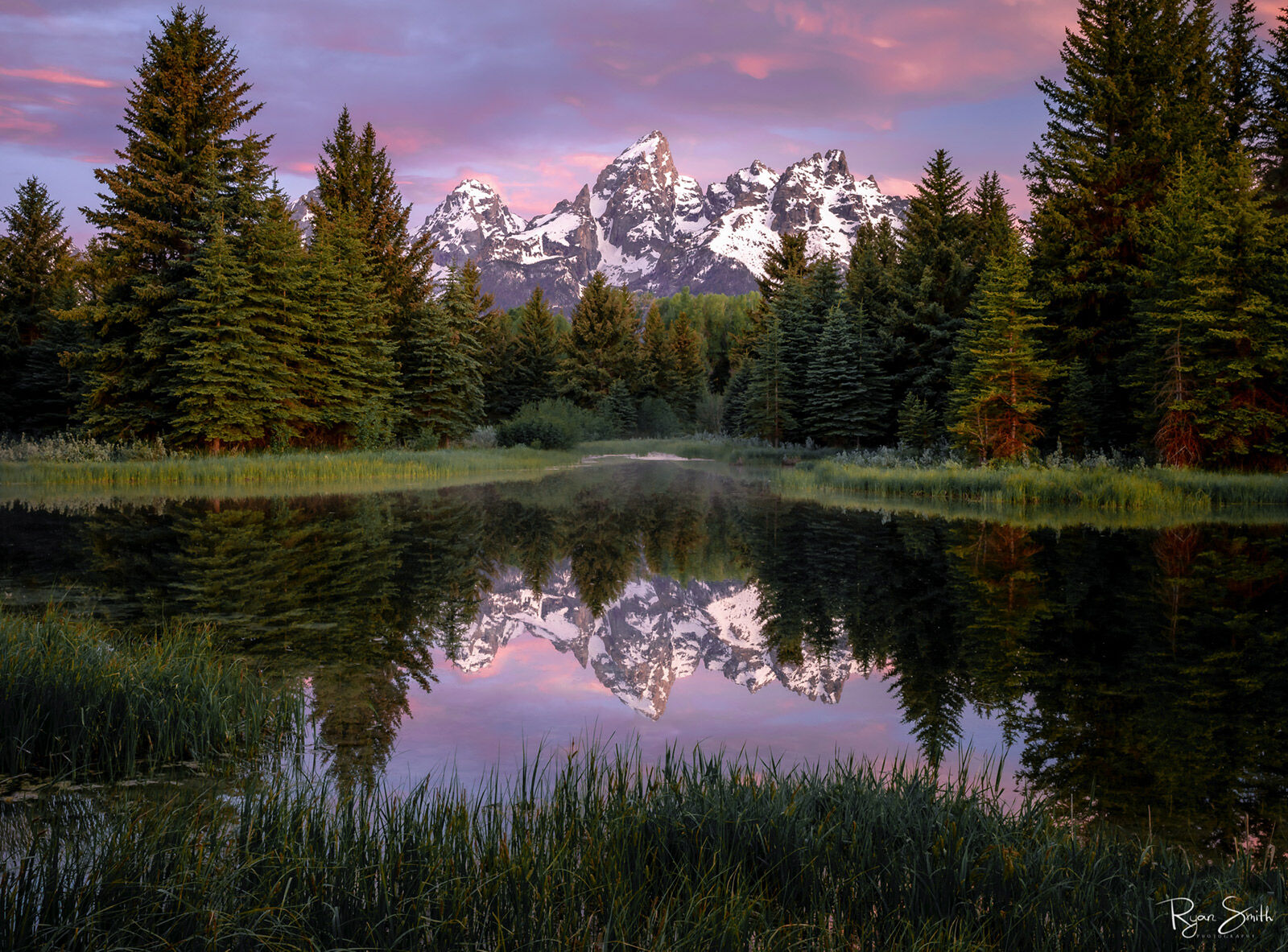 Join Ryan Smith to photograph some of the most breathtaking scenes in West with the majestic Grand Tetons as your backdrop on our Icons of the Tetons Photography Workshop!!
A dynamic landscape carpeted in wildflowers and abundant wildlife on the move, makes Spring an incredibly special time in the Tetons!!
Ryan Smith has an intimate knowledge of this magnificent area, and enjoys sharing his secrets for capturing the beauty of the dynamic landscape, as well as how to spot and photograph the wide variety of wildlife that call the Tetons home.
The itinerary is optimized for the best sunrise & sunset opportunities as well as the possibility of shooting wildlife along the way. If skies cooperate, we will be out shooting Milky Way as well!
You will not only photograph the icons of this beautiful area, but also the lesser known locations that Ryan has discovered during his many years of shooting in the area. The variety of locations and content in this workshop is unmatched!!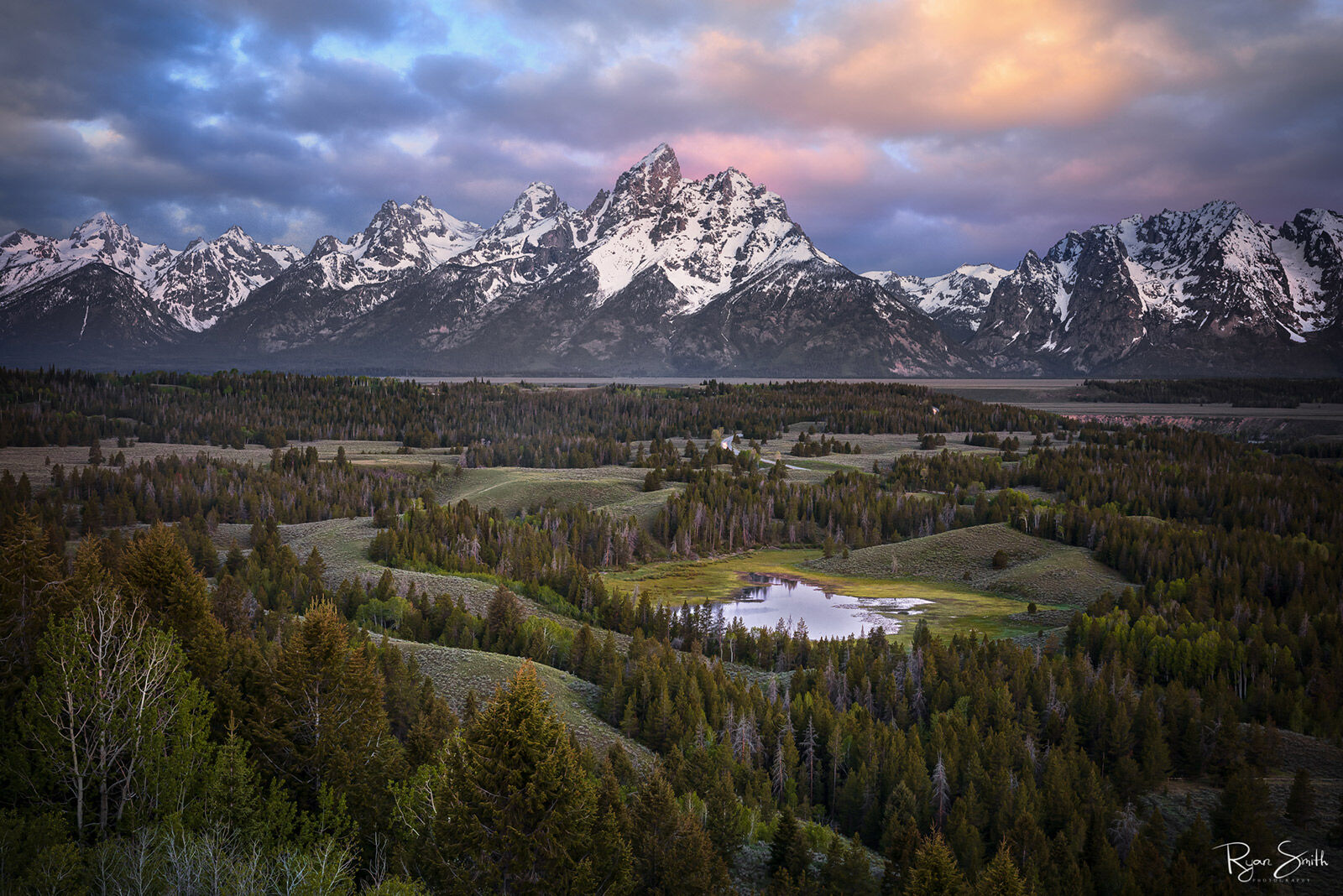 Itinerary & Logistics

Day 1 - Meet & Greet: Meet at 3PM on June 8th for a short orientations session, where we will get to know each other, review the workshop schedule and discuss NPS regulations and safety. After dinner, we will head out for our first sunset shoot!
A flexible daily agenda will allow for optimal conditions, and we will incorporate as many iconic locations as possible. Ryan's trained eye & keen sense of animal behavior will help us find the best wildlife sightings & photographic opportunities. If skies cooperate, we will have the option of Milky Way photography.

We recommend that you fly directly into Jackson (JAC) Wyoming, but Idaho Falls (IDA), Bozeman/Yellowstone (BZN), Billings/Logan (BIL), Salt Lake City (SLC), or Helena (HLN) could also be options. We may be able to assist with airport transfers from the Jackson Airport only, please Contact Us.
What's Included
All transportation is provided during the workshop. There is also the option to drive your own vehicle if preferred.
A great time, good memories, and a lot of laughs!
What's Not Included
Lodging
Meals, snacks and beverages
Transportation to and from Jackson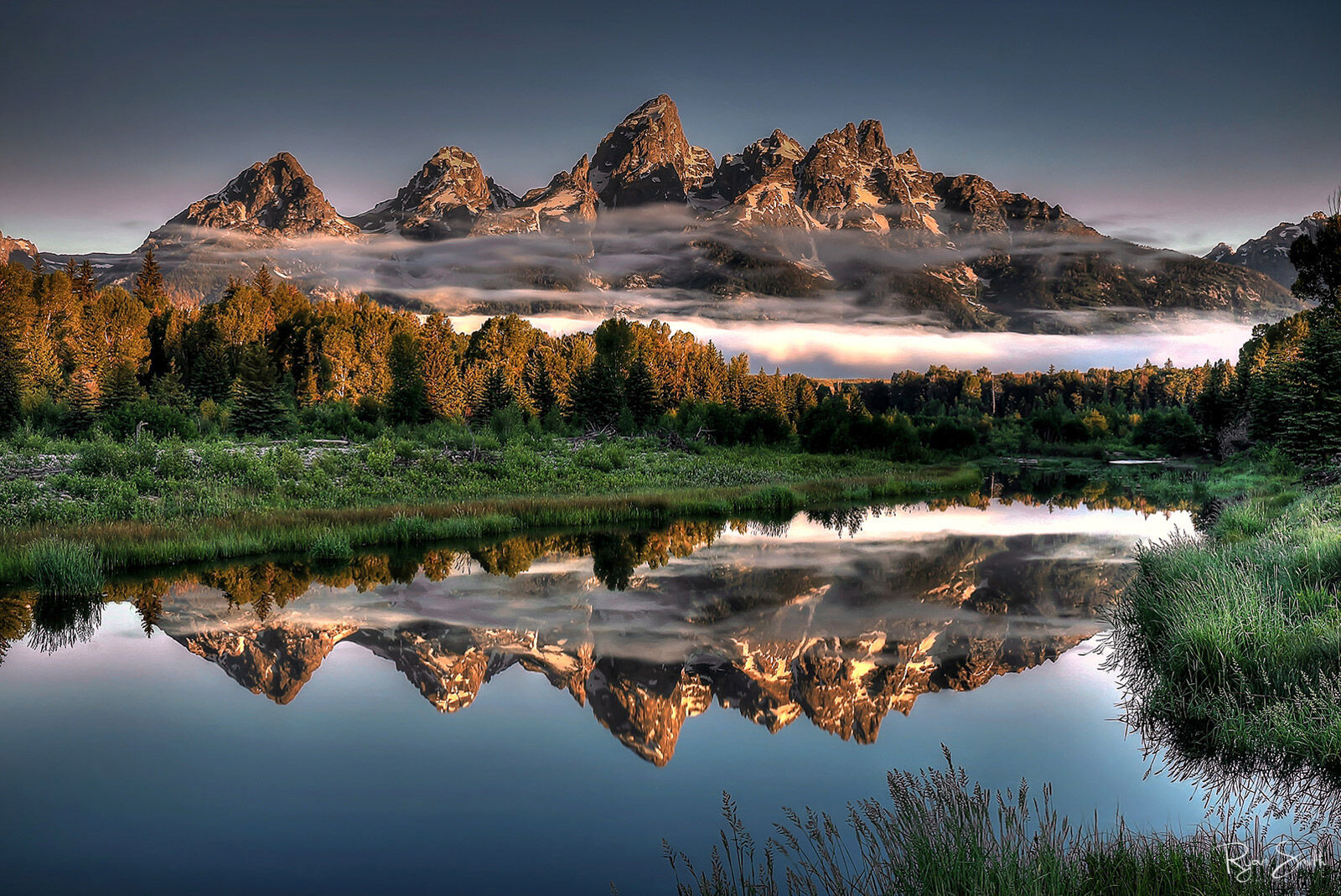 In-Field Instruction
Camera setting considerations for varying conditions, locations and desired effects
Techniques on creating powerful & dynamic compositions
Step by step instruction on shooting & stitching panoramic images
Strategies on gaining full detail in high dynamic range scenes
Bracketing concepts for adding a variety of looks & blending opportunities
Camera settings for maximizing depth of field & nailing focus within an image
Mastering shutter speeds for gaining the desired look & feel of water
Creating compelling compositions and storytelling through images
Controlling your camera in manual mode
Understanding and using the Histogram
Composition techniques
Finding foregrounds
Filters - when and how to use them. Avoiding their pitfalls
How lens selection affects the scene
Technical Tricks: Bracketing, Focus Stacking, Perspective Blending
Understanding and using light.
Capturing difficult scenes
Post-Processing Instruction
Lightroom and Photoshop Techniques
Importing and organizing
Using the clone tool, warping, stretching and eliminating distractions
Blending images in Photoshop
Dodging and burning
Using layers and masks
Image critique
Recommended Camera Gear
DSLR or mirrorless camera (full-frame preferable)
Lenses ranging from wide angle (16-35), mid-range (24-105) & a long telephoto (200-600) is is preferable for wildlife, but a (100-400) will work, and also be useful for landscapes
Memory cards
Sturdy tripod & ballhead (strong winds are a possibility)
Remote shutter release
Circular polarizer and ND filters
Lens cloths
Extra batteries, and memory cards
Rocket blower
Cleaning supplies
Laptop with Adobe Lightroom and Photoshop
Protection for your camera gear & backpack
Recommended Personal Gear/Clothing
Quick dry, lightweight long pants, shorts and shirts
Warm/water resistant hiking boots/shoes
Warm jacket
Fleece underlayers
Water resistant, warm hiking boots or shoes
Headlamp
Refillable water bottle
Hat, gloves, hand warmers
Sunglasses
Rain coat and/or wind shell
Insect repellent
Sunblock
Umbrella
Ryan Smith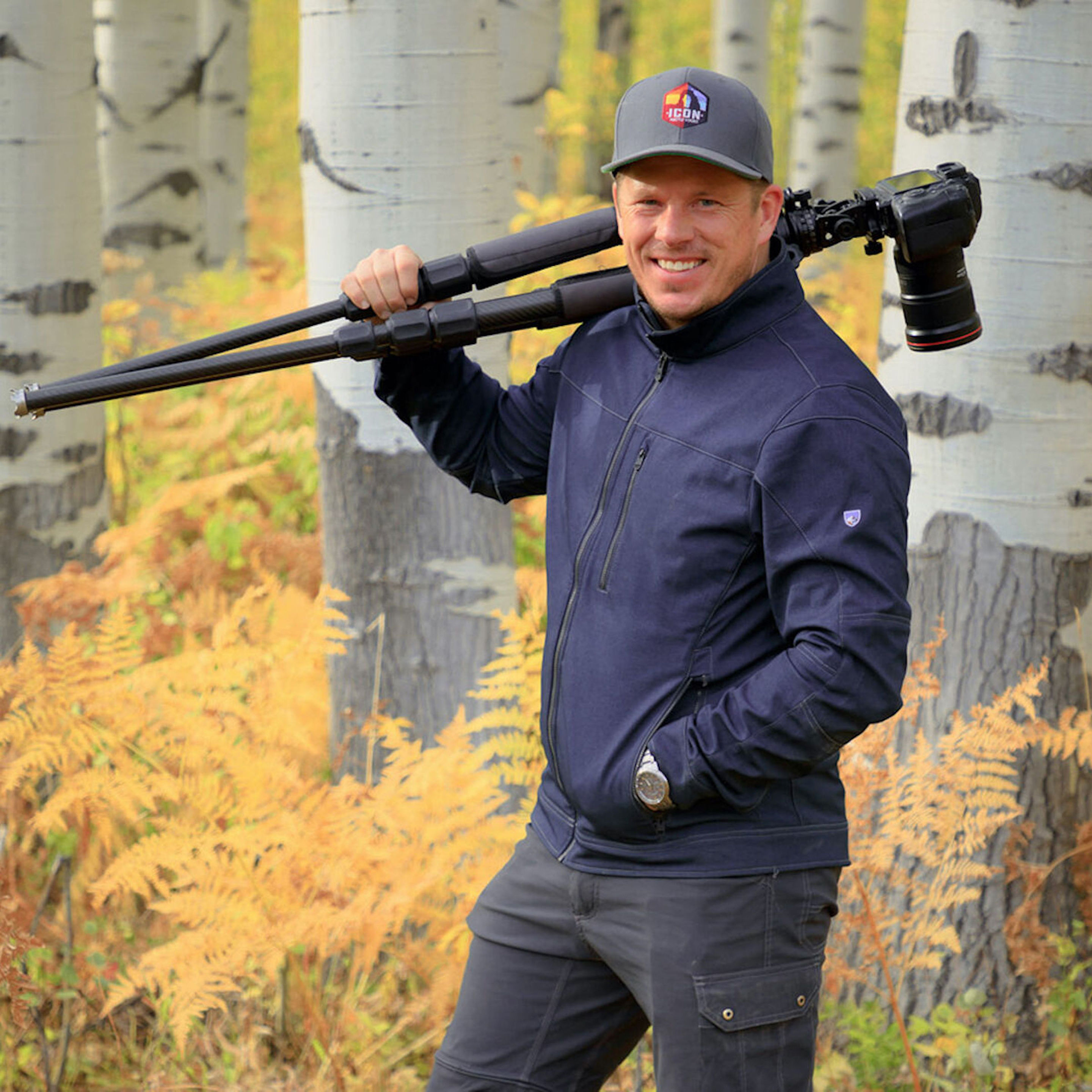 Ryan Smith developed a love and passion for the outdoors early on in life, which fueled an obsession for landscape photography. Growing up in the beautifully diverse state of Utah, Ryan has consistently traveled through the west and beyond capturing iconic views, which spark emotion and tell a story. Ryan's artistic style is unique and unmistakable which has led to prestigious awards and work featured within publications. His work is also found within various high-end galleries throughout the west including Jackson Hole Wyoming.

Combining his professional experience as a corporate trainer with his passion for photography, Ryan has a knack for sharing the technical aspects of photography in an easy to understand way through various workshops, tours, and events through the west and the Hawaiian Islands. He enjoys adapting to the various needs of his attendees whether it's in the field learning the technical side and composition techniques, or if its in the classroom focusing on perfecting post editing techniques and helping achieve a print ready image.