Join Ryan Smith and the man, the myth, the legend......the guy who put Iceland on the map, Iceland's very own Iurie Belegurschi, on an unforgettable adventure in one of the world's most photogenic locations. This is a unique opportunity as Iurie rarely leads tours personally nowadays as he is busy running Iceland Photo Tours among his other business ventures.

When: July 9-16 2024
( SCROLL TO THE BOTTOM FOR REGISTRATION )


Includes 7 nights double-occupancy lodging (single occupancy is available for an additional $800), 4x4 transportation throughout the workshop, breakfast each day and two group dinners!!


Photograph Iceland's iconic landscapes, capture majestic mountain ranges, cascading waterfalls, desolate, otherworldly landscapes, winding braided rivers, emerald lakes, glacial lagoons, black volcanic beaches, towering sea-stacks, colorful wildflowers and captivating wildlife as we journey across some of Iceland's most remote landscapes on this 8 day photography tour of the Highlands and South Coast.

Iceland is truly a photographer's paradise of epic proportions, and with the tutelage and guidance of two world renowned, professional photographers, you definitely don't want to miss out on this adventure of a lifetime!!


July is a truly a special time to photograph Iceland. The days are long, and you will be mesmerized be a natural phenomenon called "Midnight Sun," where sunlight remains visible throughout the night creating incredibly long, glowing sunsets. Be prepared to start early and stay out late discovering and photographing otherworldly scenes in the soft arctic light!!


Journey to the heart of Iceland's remote Highlands where you'll capture desolate scenes of natural beauty and photograph Iceland's iconic landscapes. The Iceland Highlands are an uninhabited, ever-changing wilderness filled with captivating geothermal pools, multi-colored rhyolite mountain ranges, towering waterfalls, and lush, moss-covered canyons.

Iceland truly is a land of contrasts, and the South Coast offers an entirely different landscape of photogenic wonders. Glistening ice crystals nestled in the volcanic black sands of Diamond Beach are Iceland's claim to fame, and the serene glacial lagoon at Jökulsárlón will have you clicking that shutter button at every turn!!

Sample Itinerary
July 9 (Arrival):You will arrive in Reykjavik via Keflavik International Airport (KEF), where a quick and comfortable airport transfer can take you to your accommodations in the center of Reykjavik. The group will meet in the lobby at 7PM before heading to dinner at a local restaurant where we will spend the evening getting to know each other, and reviewing our itinerary for the next week.

July 10 (Kerlingarfjoll Mountains in the Highlands): Our Iceland adventure officially begins!! After an early breakfast, we load up the rig and journey to the central Highlands in the heart of the country. There will be many photo opportunities along the way, one of which being the Hverarvellir geothermal area and nature reserve known for its beautiful azure hot springs, smoking fumaroles, multi-colored rock features and bubbling mud puddles. The mystical mountains of Kerlingarfjöll, are made of rhyolite and appear to glow different shades of red and yellow depending on the light offer another highlight along the way. We will also visit the beautiful and thundering Gýgjarfoss waterfall on the Jökulfall river. This waterfall measures only 5 meters tall but is over 20 meters wide and boasts a stunning backdrop of snow tipped mountains.






July 11 (Landmannalaugar):
Today we head south toward Landmannalaugar, a stunning mountainous area in the Fjallabak Nature Reserve which is only accessible via 4x4 vehicle. Here we photograph rhyolite peaks, black lava fields and the mighty Hekla Volcano. Although Hekla is an active volcano with a pretty ominous nickname ("Gateway to Hell"), the area's multi colored mountains and barren landscape make it a photographer's wonderland! We'll spend the next two days exploring the rich scenery of the Landmannalaugar region. The magical crater lakes of Bláhylur and Ljótipollur in Veidivotn are easily two of Iceland's best kept secrets, and despite translating as "The Blue Puddle" and "The Ugly Puddle," they are a whole lot more breathtaking than the names suggest. Ljotipollur is especially impressive with its red sand slopes giving way to a cool blue pool.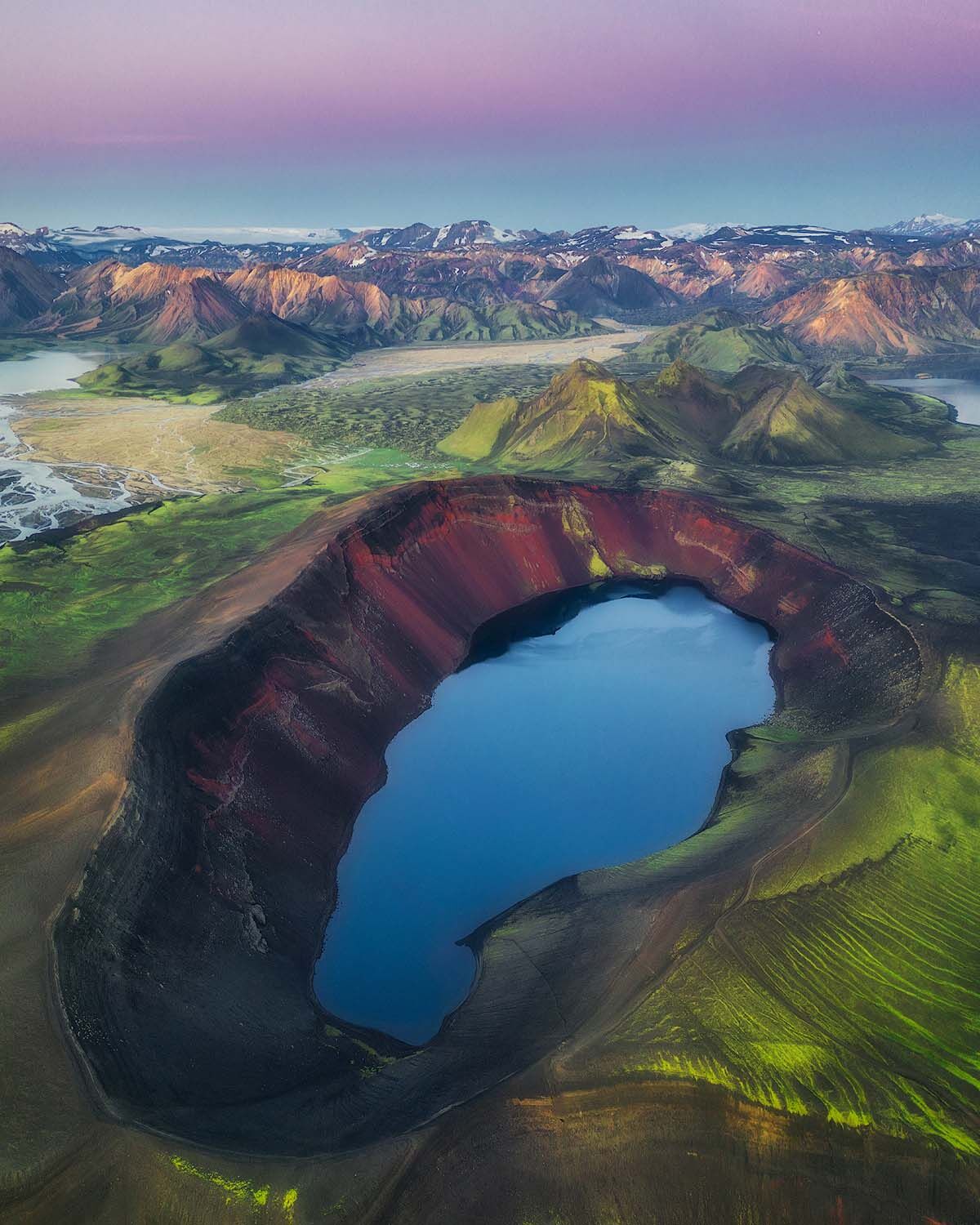 July 12 (Highland Waterfalls):Our exploration of the Landmannalaugurarea continues! We spend the morning photographing Háifoss waterfall, which is also known as "The Tall Falls" and is Iceland's fifth highest
with a torrent of cascading water falling from a height of 122 meters. Háifoss cascades deep into a gorge on the Þórsá Glacier River, and offers a plethora of spectacular angles and a delightful haze. Another
waterfall to discover in this part of Iceland's highlands is Hjálparfosson the river Fossá. This unique, twin basalt structure splits the riverinto two for a matter of seconds before falling into a calm oasis. The
whitewash of the falls gives a fantastic splash effect in our photographs, with rolling hills offering a wonderful backdrop.

July 13 (Jokulsarlon Glacier Lagoon): Today we have one goal....to see and capture Vatnajökull National Park. Being home to the "Crown Jewel ofIceland," Jökulsárlón Glacier Lagoon, it is not surprising that Vatnajökull is one of the most photographed locations in Iceland. Here, giant icebergs break away from the "mother glacier" and float serenely on the waters of the lagoon, before making their way out to sea. Each iceberg is unique inshape and color guaranteeing that no photo is ever the same, and it is often possible to spot resident seals weaving in and out of the icebergs. Next to the lagoon is the world famous Diamond Beach; a stretch of coast where icebergs from Jökulsárlón wash up on theshore and their glittering crystalline appearance contrasts beautifullywith the black sands upon which they rest.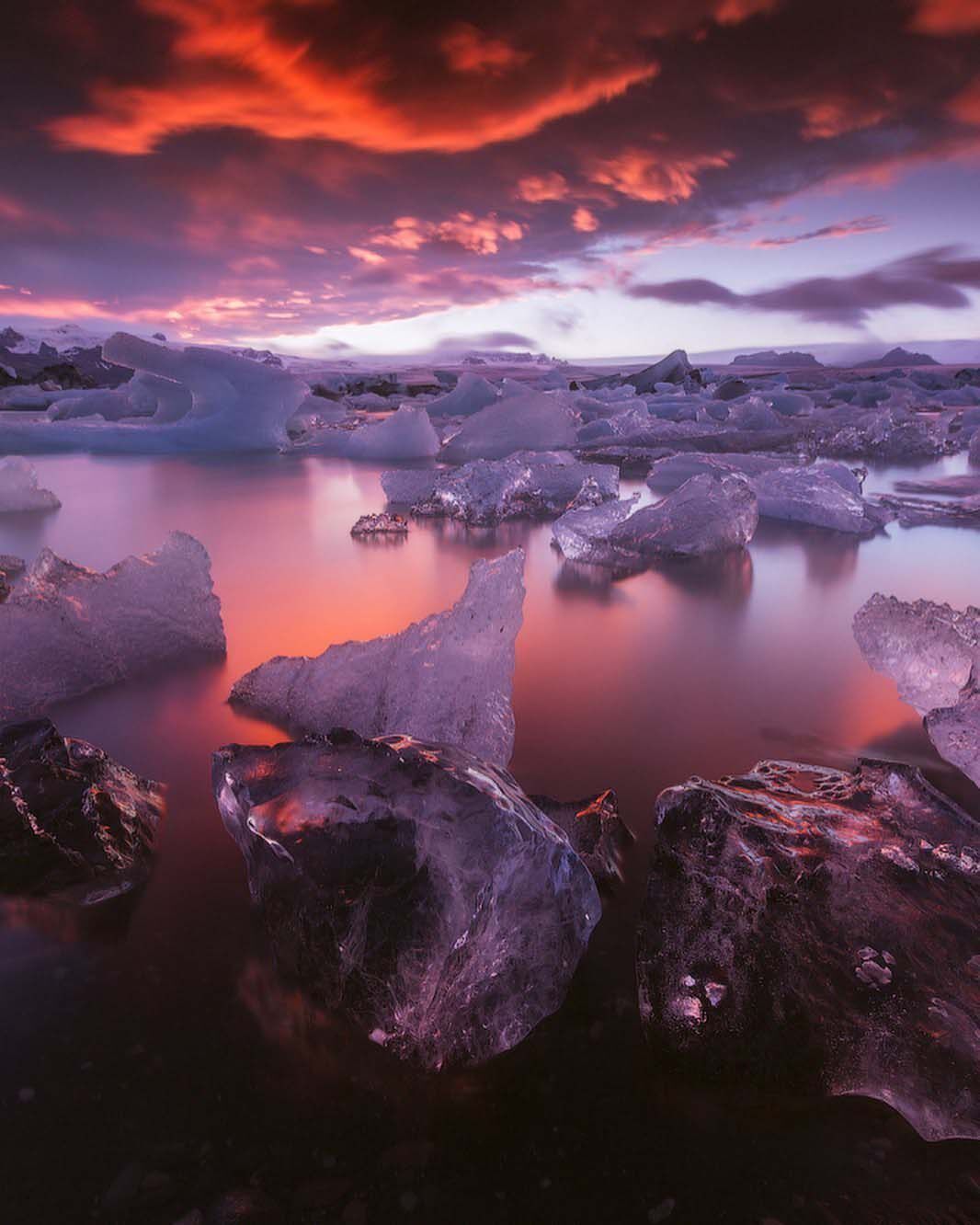 July 14 (Diamond Beach & Vesterhorn): Our exploration of Vatnajökull National Park continues with another visit to Diamond Beach before heading to Mount Vestrahorn, famous for its multiple angular peaks that appear to erupt out of the Atlantic ocean and make for exciting and dramatic photos.


July 15 (South Coast): Today we embark on our long journey back toward Reykjavik. Along the way we will visit many locations along the picturesque South Coast which is dotted with dramatic shorelines, impressive waterfalls and massive rock formations sculpted by time at elements. We will capture the beautiful sea stacks of Reynisdrangar fromReynisfjara Black Sand Beach, a location that was once voted the most beautiful non tropical beach in the world. Marvel at the hexagonal basalt columns and watch as the waves crash in on the shore. We will also visit the majestic Skógafoss and Seljalandsfoss waterfalls.

July 16 (Departure): Hard to believe our Icelandic adventure has come toan end! Laden with unforgettable memories, epic photographs and expert photography tips, we catch a comfortable airport transfer back to Keflavik International Airport

What's Included
7 nights double occupancy lodging (single occupancy is available for an additional $800)
Airport transfers
Breakfast and two group dinners!!
All transportation during the workshop National park entry fees & special accesses
Daily breakfast
Two group dinners
A great time, good memories, and a lot of laughs!

What's Not Included

Flights to and from your home
Travel insurance
Airport transfers
Passport

Snacks
Alcohol & beverages
Lunch and dinner (with the exception of the two group dinners)
Anything not mentioned above as "included"
*U.S. citizens may visit Iceland without a visa for up to 90 days for tourist or business purposes.

In-Field Instruction From Two Professional Photographers
Camera setting considerations for varying conditions, locations and desired effects

Techniques on creating powerful & dynamic compositions

Step by step instruction on shooting & stitching panoramic images

Strategies on gaining full detail in high dynamic range scenes

Bracketing concepts for adding a variety of looks & blending opportunities

Camera settings for maximizing depth of field & nailing focus within an image

Mastering shutter speeds for gaining the desired look & feel of water

Creating compelling compositions and storytelling through images

Controlling your camera in manual mode

Understanding and using the Histogram

Composition techniques

Finding foregrounds

Filters - when and how to use them. Avoiding their pitfalls

How lens selection affects the scene

Technical Tricks: Bracketing, Focus Stacking, Perspective Blending

Understanding and using light

Capturing difficult scenes

Post Processing Instruction



Lightroom and Photoshop Techniques


Importing and organizing

Using the clone tool, warping, stretching and eliminating distractions

Blending images in Photoshop

Dodging and burning

Using layers and masks

DSLR or mirrorless camera (full-frame preferable)
Lensesranging from wide angle (16-35), mid-range (24-105) & a long
telephoto (200-600) is is preferable for wildlife, but a (100-400) will
work, and also be useful for landscapes.
Memory cards
Sturdy tripod & ballhead
Remote shutter release
Circular polarizer and ND filters
Lens cloths
xtra batteries, and memory cards
Rocket blowerC
leaning supplies
Laptop with Adobe Lightroom and Photoshop
Protection for your camera gear & backpack



Recommended Personal Gear


Quick dry, lightweight long pants and shirts

Warm/water resistant hiking boots/shoes

Camera Backpack

Warm jacket

Fleece underlayers

Rain coat and/or wind shell

Headlamp

Refillable water bottle

Hat, gloves

Sunglasses

Insect repellent

Sunblock


Ryan Smith




Ryan Smith developed a love and passion for the outdoors early on in life, which fueled an obsession for landscape photography. Growing up in the beautifully diverse state of Utah, Ryan has consistently traveled through the west and beyond capturing iconic views which spark emotion and tell a story. Ryan's artistic style is unique and unmistakable which has led to prestigious awards and work featured within publications. His work is also found within various high end galleries throughout the west including Jackson Hole, Wyoming; Park City, Utah; Telluride, Colorado; Aspen, Colorado & Sedona, Arizona.

Combining his professional experience as a corporate trainer with his passion for photography, Ryan has a knack for sharing the technical aspects of photography in an easy to understand way through various workshops, tours, and events through the west and the Hawaiian Islands. He enjoys adapting to the various needs of his attendees whether it's in the field learning the technical side and composition techniques, or if its in the classroom focusing on perfecting post editing techniques and helping achieve a print ready images.

Iurie Belegurschi





Iurie Belegurschi is an internationally acclaimed nature photographer with a passion for the outdoors and the Arctic Region. Self-taught, he is renowned for his impressive talent for capturing the power, majesty and vulnerability of the world's most spectacular landscapes. He is particularly esteemed for his breathtaking images of Iceland, where he is based, most notably of the country's Northern Lights, Ice Caves and Volcanoes.

Part of why Iurie is so respected in his field and admired by nature-lovers is his unmatched talent in low-light photography; each shot imparts a stunning air of mysticism. Furthermore, his willingness to put himself in challenging landscapes under extreme conditions, often for weeks at a time, has allowed him to capture images few others would have the steeliness to obtain.

This dedication has unveiled the energy, magic and epic beauty of Iceland's wilderness at its most primordial. As such, Iurie's award-winning photographs are immediately distinguishable by their awe-inspiring compositions.

His extraordinary portfolio, however, does not just bestow a sense of wonder at the world upon its viewers but an understanding of the importance of its preservation. Every photograph pushes an agenda of conservationism more compelling than any words could.

After all, Iurie's photographic mission is to inspire global action dedicated to fighting the climate crisis, driven by his first-hand experiences witnessing the retreat of Iceland's glaciers. Through his documentation of the fragility and majesty of the environment, he seeks to educate his audience on their role in the protection of our magnificent planet.

By collaborating with scientists, conservationists and other artists, this mission gains strength with every image he develops.

Iurie's message has perhaps been most impactful through his acclaimed photography exhibitions of Iceland's nature, which have been excellently received both domestically and abroad. Such showcases of his incredible portfolio have proved his excellence as a visual storyteller, spellbinding audiences with both the striking beauty of his photographs and their impactful, poignant narratives.

Aside from his exhibitions, his groundbreaking images have been featured internationally in calendars, advertising, books, magazines and countless other media outlets.